Budget Chairman Aims to Make Panel Relevant Without Resolutions
Yarmuth broadens committee scope beyond budget resolutions
Recession stimulus to get spotlight at Wednesday hearing
Rep. John Yarmuth has kept busy in his first year as chairman of the House Budget Committee, refereeing debates on immigration, climate change, single-payer health care and other high-profile policy topics. It's a sharp turn for a post that usually revolves around wonky, process-oriented fiscal discussions.
The Kentucky Democrat has faced an uphill battle in keeping the committee productive, especially as lawmakers rethink the budget and appropriations process and even question whether the Budget Committee should exist.
In April, his attempt to rally progressives around a plan to raise statutory spending limits for both defense and nondefense funds was unsuccessful, though lawmakers agreed to a deal in July. Yarmuth also took criticism from Republicans for not producing a budget resolution for fiscal 2020, a document that would have been mostly symbolic.
But he's earned bipartisan praise for his even-handed approach to running the committee and his efforts to keep a spotlight on the panel, despite its limited authority. "It's trying to make the committee relevant," Yarmuth said this summer of his frequent hearings on a wide range of topics. "Obviously, virtually every issue has an impact on the budget."
Yarmuth probably won't write a budget resolution for fiscal 2021, he said, noting top-line spending levels have already been set in the Bipartisan Budget Act of 2019 (Public Law 116-37).
"There's obviously going to be less need for one," Yarmuth said in late July of a fiscal 2021 budget resolution. "I think it's going to be probably highly unlikely."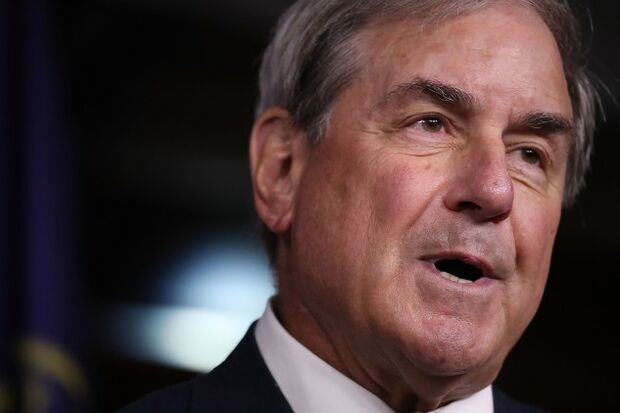 Casting a Wider Net
Despite the lack of budget resolutions, Yarmuth has still raised the committee's profile.
Speaker Nancy Pelosi (D-Calif.) in June asked to speak at a committee hearing on poverty, which Yarmuth said was a pleasant surprise. He also thrust the committee into the fringes of the inquiry into impeaching President Donald Trump, sending a letter with House Appropriations Chairwoman Nita Lowey (D-N.Y.) requesting the White House Office of Management and Budget provide documents explaining the decision to hold defense aid for Ukraine.
Yarmuth's panel will meet Wednesday to discuss policies that could mitigate the significance of recessions. The committee staff produced a two-page document arguing a greater fiscal stimulus would have been beneficial in 2009 and would be especially necessary in the case of a recession in the near future.
The Budget Committee also will hold hearings on budgetary effects of artificial intelligence and on "aging and lack of replacement population, and what that's going to do to the workforce," he said.
But Yarmuth's plans are frustrating to some Budget Committee Republicans, who say the policy hearings are just for show.
"Those continue to waste the time of the American people, to have these show hearings that are doing absolutely nothing to do what the American people want us to do, which is actually spend within our means and do our job," said Rep. Chip Roy (R-Texas), a freshman committee member.
Fighting for Relevance
Part of the Budget Committee's statutory purpose is to draft a budget resolution that sets top-line spending levels and includes assumptions of future policies, as well as deficit projections. But it isn't signed into law and doesn't actually control agencies' budgets, and lawmakers' attention in recent years has drifted from the resolutions, partly due to caps set by the Budget Control Act of 2011 (Public Law 112-25).
Congress and the president have increased those limits to avoid steep spending cuts in a series of two-year spending agreements. Unlike the budget resolutions, those biennial deals were necessary to avoid across-the-board spending cuts, or sequestration. They also don't need to include the policy assumptions and debt estimates that have served as campaign fodder.
Those budget caps deals have largely left the Budget Committee out in the cold. Yarmuth's response has been to double down on the committee's role as a fiscal and economic watchdog.
"We're doing a lot of the work that I think is going to be very important work for the Budget Committee, and that's to serve as the oversight committee on the budget and for the taxpayers," he said. "That's why we're holding the hearings we're holding. Legislatively, we have very limited jurisdiction to begin with."
Some lawmakers aren't happy about the lack of focus on budget resolutions, but Rep. Rob Woodall (R-Ga.) said it's determined by party leadership and is out of Yarmuth's control. Woodall described himself as "somebody who loves John Yarmuth," and praised the chairman's work on committee hearings.
"When we're passing caps deals like this one that make the budget irrelevant for this year and for next year, what's the Budget Committee supposed to do?" said Woodall. "So kudos to him for doing that."
Others like Rep. Mark Pocan (D-Wis.), a former member of the Budget Committee, question the panel's relevance. Pocan told the Select Committee on the Modernization of Congress: "I don't know if I really understood the purpose of the Budget Committee, and I was on it for two sessions."
Revamping the Process
Yarmuth isn't the first chairman of the committee to take a broader aim, but he has changed the tactics more than most. Former Speaker Paul Ryan (R-Wis.) helped bolster his image as his party's fiscal leader as chairman of committee from 2011 to 2015.
But where Ryan used aspirational budget resolutions to pursue his efforts of shrinking the federal government and reducing entitlement programs such as Medicare, Medicaid and food stamps, Yarmuth has focused on hearings to expand his committee's footprint.
Yarmuth's approach also differs from that of Senate Budget Chairman Mike Enzi (R-Wyo.), who produced a budget resolution in March that would have set spending levels at ultra-low sequestration levels but allowed for the numbers to be changed. Enzi's measure essentially declined to take a position on spending levels while still going through the usual motions.
Sen. Tim Kaine (D-Va.) called the markup "a pointless exercise," and Sen. Sheldon Whitehouse (D-R.I.) said "we should just jettison this stupid committee" if lawmakers aren't able to overhaul the budget process.
The Joint Select Committee on Budget and Appropriations Process Reform in 2018 considered a measure that would have switched Congress to two-year budget resolutions, but members rejected the proposal because there was no agreement to consider it on the Senate floor.
Yarmuth has said he still hopes that there will be a deal to revamp the process. Yarmuth said that he, Enzi, and the House Budget Committee's ranking member Steve Womack (R-Ark.) are all still interested in working on a measure to change the process, but said they'll need support from congressional leaders.
In the meantime, Yarmuth has managed to run the panel differently than his predecessors. "It hasn't been used this way since I've been on the committee," he said. "And this is my 10th year."
To contact the reporter on this story: Jack Fitzpatrick in Washington at jfitzpatrick@bgov.com
To contact the editors responsible for this story: Zachary Sherwood at zsherwood@bgov.com; Brandon Lee at blee@bgov.com