Broadband Fight Pits Ultra-Fast Fiber Fans Versus Cable Industry
Industry and public interest groups are pushing speedy service
Cable companies and critics say the move is overly ambitious
Bloomberg Government subscribers get the stories like this first. Act now and gain unlimited access to everything you need to know. Learn more.
A large coalition of industry groups and public interest lobbyists are pushing Congress to invest in "future-proof" high-speed fiber networks in a battle over how to divvy up the $65 billion proposed to expand broadband internet service.
The spending is included in an infrastructure package tentatively agreed to by a bipartisan group of senators and President Joe Biden. But as they move to hammer out details of the plan, lawmakers must address a clash between companies and groups that want the country to invest in the fastest, most innovative networks, and some of the more traditional providers who argue such an approach is too expensive and distracts from the goal of expanding internet reach.
"A few lonely legacy companies want to protect the old and the slow," said Chip Pickering, a former Republican House member from Mississippi who leads Incompas, an internet and competitive networks association.
Pickering took issue with the approach of established internet service providers such as Comcast Corp. in a June 28 press call organized by public interest group Public Knowledge. He said the next few weeks will be critical as lawmakers draft infrastructure legislation. At stake, he said, is both providing internet to those in the U.S. who lack access and being competitive internationally.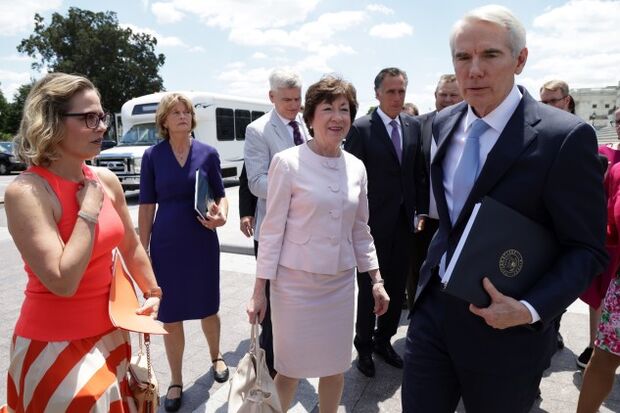 "If our nation doesn't commit the resources and have the will to invest in fast, future-proof networks, we will fall behind," Pickering said.
His group joined more than 100 organizations in signing a letter urging policymakers to incorporate ultra-fast, fiber-based internet into the broader infrastructure deal. The co-signers include education and agriculture groups, the tech sector, public and private broadband providers, low-income advocacy, and urban and rural community economic development entities.
The cable industry, however, says setting an ultra-high-speed standard with fiber risks taking attention away from the first challenge of expanding service to Americans who lack any internet.
"Any infrastructure funding that is siphoned away from the effort to bring broadband to communities that do not have it will stall our efforts to reach the goal of 100% broadband connectivity in America," Brian Dietz, senior vice president of strategic communications at NCTA – The Internet & Television Association, said in an emailed statement.
That association, whose members include Comcast and Charter Communications Inc, is also pushing for permanent subsidies to help people pay for broadband services. The trade group has a large presence on Capitol Hill, spending almost $15.5 million on lobbying last year, according to filings with Congress. By contrast, Incompas spent $160,000 on lobbying in 2020, and Public Knowledge spent $43,250.
Cost Issue
Michael Romano, the senior vice president of industry affairs and business development at NTCA – the Rural Broadband Association, said priority should be given to areas where there is no internet or the slowest service when building these fiber networks. NTCA spent $470,000 on lobbying in 2020.
Ultra-fast fiber "doesn't necessarily need to be the standard that's used to define where you build, it's the standard that should define what you build," he said. Conflating the two, he adds, is "one of the most persistent problems in this debate."
ACA Connects, an industry group representing a swath of the broadband industry, is circulating in Congress a report authored with consulting firm Cartesian that puts a price on building networks at various levels of technology and speeds.
Installing widespread fiber networks at the fast speeds desired by these groups—systems that can download and upload traffic at 100 megabits per second or faster—would cost between $106 billion and $179 billion to install throughout the nation, according to the report .
Ross Lieberman, the top lobbyist at ACA Connects, said the group is more interested in giving policymakers data rather than taking a position on policy, but the advocacy may come as lawmakers draft legislation.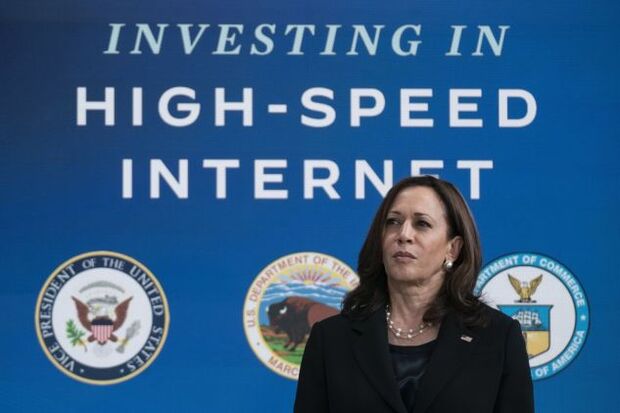 Read More: Cable Firms Fear Being Left in Dust in Biden Broadband Quest
The broader push for fiber connectivity has drawn criticism from the National Taxpayers Union, which said a push toward one technology—fiber—by the government would be problematic.
"While 'future proof' fiber deployment may look appealing on paper, it would present practical problems and make reaching rural areas even more difficult and could close the door on innovative solutions," Will Yepez, a policy and government affairs associate at the group, wrote on the group's website in April.
Read More: Big Cable May Dodge Hit as U.S. Deal Sees Less Broadband Funding
Multiple Proposals
Vice President Kamala Harris said at a June 3 news conference to announce $1 billion in available funds for broadband on Native American land that it was only "a down payment" on the administration's focus on expanding faster internet service.
"We must keep going until we connect every American household," Harris said.
Several congressional broadband-related proposals have been introduced in Congress this year, but there's no clear contender for which one will provide the foundation for the final infrastructure package, lobbyists said.
A measure by Sens. Michael Bennet(D-Colo.), Rob Portman (R-Ohio), and Angus King (I-Maine) (S. 2071), would encourage the "future-proof" highest-speed broadband wanted by many advocates, while allowing "flexibility for areas where high speed options is technologically or financially impracticable." States would be able to choose how to spend the broadband cash allocated by the bill, which was estimated to cost $40 billion.
House Energy & Commerce Chair Frank Pallone (D-N.J.) re-introduced a bill this year (H.R. 1848) that's more expansive and requires federal projects to utilize speeds of 100/100 megabits per second, the "future-proof" network speeds. Bicameral legislation from Sen. Amy Klobuchar (D-Minn.) and House Majority Whip Jim Clyburn (D-S.C.) (H.R. 1783) (S. 745) would also set that standard.
One lobbyist, who asked for anonymity, said groups are lobbying committees with jurisdiction over broadband as well as a group of senators working on the issue.
Ernesto Falcon, senior legislative counsel at the digital rights group Electronic Frontier Foundation, said which approach Congress ultimately chooses is "really the difference between repeating the mistakes of the past, which was anything goes, any basic minimum speed to meet any type of connectivity, versus building something that will last, not just one generation but multiple generations."
With assistance from Todd Shields (Bloomberg News)
To contact the reporter on this story: Megan R. Wilson in Washington at mwilson@bgov.com
To contact the editors responsible for this story: Bennett Roth at broth@bgov.com; Kyle Trygstad at ktrygstad@bgov.com
Stay informed with more news like this – from the largest team of reporters on Capitol Hill – subscribe to Bloomberg Government today. Learn more.