Both Parties Stuck Together on 2019's Biggest Votes in Congress (1)
Extraordinary party unity defined both chambers of Congress in 2019.
As an expanded Republican Senate majority moved to reshape the judiciary, it resisted the legislation House Democratic leaders churned out with broad caucus backing.
Senate Republicans' two-seat net gain in the 2018 elections, to 53 from 51, gave Majority Leader Mitch McConnell (Ky.) more breathing room to advance President Donald Trump's nominees. In the 115th Congress (2017-18), Republican leaders needed Vice President Mike Pence to break 13 tie votes. In 2019, Pence didn't cast any tie-breaking votes.
Of the 428 floor votes the Senate took last year, 320, or 75%, were on Trump's nominees for federal courts and executive branch changes. The other 108 dealt with legislation, according to data analyzed by Bloomberg Government. The Senate confirmed 100 district and appeals court judges in 2019, more than in 2017 and 2018 combined.
"Perhaps the biggest headline news is the continued work we've made on judicial nominations," Sen. John Cornyn (R-Texas), a former majority whip who is up for re-election, said on the Senate floor Jan. 6.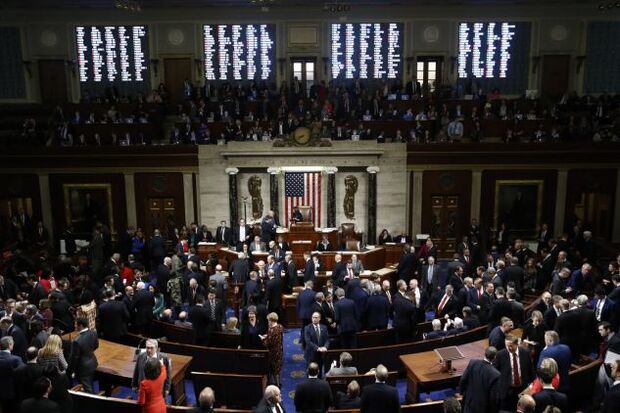 House Democrats voted unanimously for bills including a broad campaign, voting, redistricting and ethics measure (H.R. 1); giving Medicare the power to negotiate prescription drug prices (H.R. 3); barring discrimination against LGBTQ individuals (H.R. 5); expanding "Dream Act" immigration legislation (H.R. 6); and prohibiting the Trump administration from withdrawing from the Paris climate-change agreement (H.R. 9).
"We sent over 400 bills to the Senate, and they sit untended. Why? Because the Senate has been confirming judges," Majority Leader Steny Hoyer (D-Md.) said Jan. 10 on the House floor.
These are among the highlights of Bloomberg Government's year-end analysis of significant House and Senate votes. The 20 floor votes selected from each chamber reflect a range of economic, social, and foreign-policy issues, and they underscore differences both between the two major political parties and within them.
Click here to download the BGOV spreadsheet of vote descriptions and lawmakers' positions
Among Trump's bench picks was Neomi Rao, who was confirmed in March along party lines to a federal appeals court seat vacated by now-Supreme Court Justice Brett Kavanaugh. The following month, McConnell deployed a "nuclear option" rules change to expedite the consideration of district court judges and lower-level administration nominees opposed by Democrats.
With 51 of 53 Republican senators from states Trump won in 2016, there was little political incentive for them to break rank in 2019. Susan Collins (Maine) and Cory Gardner (Colo.), the only Republican senators from states Trump didn't carry, are seeking re-election in November.
Collins was more likely than Gardner to vote on occasion with Democrats. She voted against a bill (S. 109) that would have banned federal funds for abortion, against Trump's nomination of Andrew Wheeler for EPA administrator, and against the "nuclear option" rules change.
Collins has touted her political independence in campaign ads asking Maine voters for a fifth term. Democrats, who may need to unseat Collins to win a Senate majority, have brandished her votes in 2017 for the Republican tax-cut law (Public Law 115-97) and in 2018 to confirm Kavanaugh to the Supreme Court.
House Unity
In the House, the new Democratic majority was mostly unified in passing policy bills while prodding the Senate without success to act on them.
The politically charged impeachment votes last month accusing Trump of abusing his power and obstructing Congress was no different. Only two Democrats joined Republicans to oppose both articles of impeachment (H. Res. 755). One of them, Agriculture Committee Chairman Collin Peterson (Minn.), represents a district Trump won by a 2-1 ratio in the 2016 election. The other, Jeff Van Drew (N.J.), switched to the Republican Party over the Democratic impeachment probe but voted for most of the Democrats' major legislative measures in 2019.
Even first-term Democrats from districts Trump won easily, including Anthony Brindisi (N.Y.) and Joe Cunningham (S.C.), voted to impeach Trump.
The party-line votes underscored how Democrats and Republicans have each become more ideologically homogeneous on a variety of issues that include contentious gun policy.
In February, when the House passed legislation (H.R. 8) that would require background checks on all gun purchases, just two Democrats voted no and eight Republicans voted yes. In 1993, when the House passed what would become the Brady Act that required background checks and initially mandated a five-day waiting period on firearm purchases, 70 Democrats voted no and 56 Republicans voted yes. There were more conservative and moderate Democrats and more moderate and liberal Republicans then willing to defy party lines.
Bipartisan Bills
Amid a polarized and divided government, the first session of the 116th Congress included some bipartisan accomplishments. Both chambers voted lopsidedly to extend the 9/11 Victim Compensation Fund (Public Law 116-34) and for a public lands package (Public Law 116-9). The House's last vote of 2019 went overwhelmingly for legislation (H.R. 5430) that would implement the U.S.-Mexico-Canada Agreement, a trade pact to replace the North American Free Trade Agreement.
On rare occasions votes underscored differences within a political party. In June, 95 progressive House Democrats, including Rep. Alexandria Ocasio-Cortez (N.Y.), voted against a Senate-passed border funding measure (Public Law 116-26) that Speaker Nancy Pelosi (Calif.) allowed a vote on without the changes the Congressional Progressive Caucus and Congressional Hispanic Caucus sought. The House cleared the bill with a majority of the votes coming from Republicans.
In July, more than two-thirds of House Republicans voted against a two-year bipartisan budget agreement (Public Law 116-37), signed into law by Trump, which raised discretionary spending caps.
Previous BGOV major-vote analyses:
2018 Major Senate and House Votes
2017 Major Senate and House Votes
2016 Major Senate Votes
2016 Major House Votes
2015 Major Senate Votes
2015 Major House Votes
With assistance from Madison Alder
To contact the reporter on this story: Greg Giroux in Washington at ggiroux@bgov.com
To contact the editors responsible for this story: Bennett Roth at broth@bgov.com; Kyle Trygstad at ktrygstad@bgov.com