Border Talks to Avert Shutdown Underway; Senate Sets Syria Vote
House and Senate negotiations for a spending bill to avoid another government shutdown next month have begun, after President Donald Trump reiterated his demands for physical barriers along the southern border. But House Democrats this afternoon unveiled an outline of their border priorities, calling for "balanced investments" that don't rely on physical barriers.
Here's what Bloomberg Government is tracking so far today.
Shutdown Talks Center on Barrier Deal All Sides Can Like
Members of Congress began negotiations today on averting a second government shutdown with the outcome riding on a key question: Whether there's a border barrier that Democrats can live with and the president will accept.
"That is probably the biggest bone of contention," Sen. Shelley Moore Capito (R-W.Va.) said ahead of her first meeting with fellow members of a bipartisan conference committee charged with creating with a plan both sides can accept.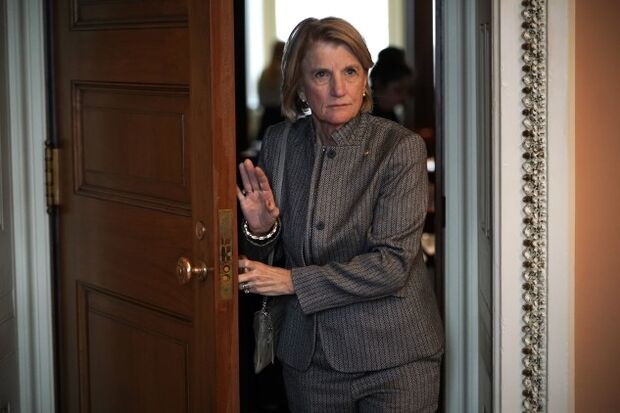 Congress must break the logjam over border security to pass new spending bills for about one-fourth of the government, including the Department of Homeland Security. Current funding run out Feb. 15.
Trump views a wall on the Mexican border as so central to his presidency that he forced a five-week partial shutdown to win funding for it. But the president also has expressed willingness to consider a barrier short of a concrete wall.
House Democrats circulated an outline of their border security policy goals. The bullet-point summary of their priorities for "smart, effective border security" calls for "balanced investments" that don't rely on "costly physical barriers." No estimated price tag was attached to the proposal, Erik Wasson reports.
Read more: Trump Says No Spending Deal Without Wall or 'Physical Barrier'
Senate Appropriations Chairman Richard Shelby (R-Ala.) told reporters before the meeting began, "We are going to have to have some physical barriers. We have some already." He said he told Sen. Patrick Leahy (D-Vt.) that if the negotiators were given free rein by their leaders, they could have a deal by Thursday night. Read more from Erik Wasson and Laura Litvan.
Rep. Chuck Fleischmann (R-Tenn.) said he wants an agreement on the federal debt-limit increase and budget control to be part of any deal, making him the first Republican to say so as negotiations kicked off. Fleischmann also said a wall should just be one part of a broader plan to bolster security along the U.S. southern border, Wasson reports.
Tax Extenders May Get Attached to Package: A package to extend expired tax breaks may get enacted this year, with one option being the must-pass spending bill, Senate Republican Whip John Thune (R-S.D.) said, Nancy Ognanovich reports. Thune said tax extenders might get attached to the spending package if negotiators also decide to take on matters such as extending the federal debt limit or raising the budget caps for two more years.
Lawmakers Chat at BGOV's Hill Watch
Sen. Mike Rounds (R-S.D.) and Rep. John Yarmuth (D-Ky.) were guests at Bloomberg Government's 2019 Hill Watch event this morning, where they talked about government shutdowns, budget resolutions, and health care.
Avoiding Shutdown Repeat: There's "absolutely no appetite" for a second government shutdown as lawmakers work against a Feb. 15 budget deadline, Rounds said. "Shutdowns are never good."
The problem is that lawmakers don't pay a political price for partial shutdowns as they would if the entire government ceased operating, he said, suggesting the federal government enact a law similar to one his home state, South Dakota, has: Property tax assessments automatically increase if lawmakers don't reach budget agreement, so the fear of tax increases prompts action. Laura Curtis and John Hughes report.
On-Time Budget: House Democrats plan to do a budget "on time," with no lingering effects from the partial shutdown, even though the White House's Office of Management and Budget will likely delay Trump's budget request by two to three weeks due to the shutdown, Yarmuth, who chairs the House Budget Committee, said.
Yarmuth said there's "no way we can get to a balanced budget in a 10-year window." Their budget resolution will show how Democrats "envision the future of the country," he said, adding that he expects Democrats will try and reverse some of the Republican-backed tax law to prevent the fiscal situation from worsening. The budget over the next two years will resemble those enacted at the end of 2018 and 2019, then will be free of sequestration caps after 2021, John Hughes and Derek Wallbank report.
Medicare-For-All Idea: Yarmuth said the Democratic-controlled House will hold hearings on the idea of Medicare-for-all to see what's possible, adding they will "assess all the variables we have to consider." The plan has become popular among the Democratic base, though concerns persist on cost and effects on private employer-based health care model, Derek Wallbank reports.
Happening on the Hill
Syria Measure: Senate Majority Leader Mitch McConnell (R-Ky.) has scheduled a procedural vote at 3:30 p.m. tomorrow on his amendment that urges the U.S. to continue the fight against Islamic State and al-Qaeda in Syria and Afghanistan. The amendment would express the sense of the Senate that the "precipitous withdrawal" of U.S. troops from Syria and Afghanistan, as Trump has said he wants to do, would risk U.S. national security. Read the BGOV Bill Summary by Naoreen Chowdhury and Adam M. Taylor.
Congress Pushes Ending U.S. Support for Saudis in Yemen: House and Senate lawmakers are re-introducing a war powers resolution which would withdraw U.S. forces from the Saudi-led operation in Yemen. Lawmakers in both chambers say they are confident they have the votes to pass the resolution, which was first introduced last year in response to the suspected involvement of Saudi Crown Prince Mohammed bin Salman in the murder of columnist Jamal Khashoggi.
"The Saudis lied to us for two weeks about what happened to Jamal Khashoggi just as they were lying to us for years about their true intentions in Yemen," Sen. Chris Murphy(D-Conn.). Sen. Bernie Sanders (I-Vt.) said it will be the same resolution that already passed the Senate in December 2018, and expects it to undergo the same process on the Senate floor, which included certain amendments, Megan Howard reports.
Giving Federal Workers a Raise: Federal government employees would get a 2.6 percent pay raise retroactive to the beginning of January under legislation the House passed today. The Federal Civilian Workforce Pay Raise Fairness Act (H.R. 790), passed by a 259-161 vote, would override the freeze on across-the-board pay increases in 2019 that's currently in effect under an executive order issued by Trump in December. Read the BGOV Bill Summary by Michael Smallberg.
A similar pay raise for military personnel was supported in defense policy an spending bills Senate Democrats introduced similar legislation Tuesday. Republicans in both chambers said in October they would support a 1.9 percent pay increase for federal workers this year. Neither the House bill nor a companion bill (S. 262) is likely to get far in the Republican-controlled Senate, Louis C. LaBrecque reports.
Veterans Child-Care Legislation: The House next week will take up legislation (H.R. 840) that would expand a veterans' child-care program, Majority Leader Steny Hoyer(D-Md.) said in an end-of-week leadership colloquy. Other legislative items are possible, Hoyer said. The House meets Tuesday at noon, with no votes expected, Catherine Dodge reports. For more on the measure, read the BGOV Bill Summary by Michael Smallberg.
Oversight of Taxpayer Money Usage: The House Appropriations Committee is planning oversight hearings aimed at the Trump administration's stewardship of taxpayers' money next week, Chairwoman Nita Lowey (D-N.Y.) said, Nancy Ognanovich reports. "As soon as next week, I expect that the committee will begin holding necessary oversight hearings, which will eventually transition into budget hearings on the fiscal year 2020 bills and an aggressive markup schedule," Lowey said at the panel's organizational meeting today.
Warren, Smith Offer Nuclear Weapon Bill: Senate Armed Services member Elizabeth Warren (D-Mass.) and House Armed Services Chairman Adam Smith (D-Calif.) unveiled a bill that would make it U.S. policy not to use nuclear weapons first. The U.S. currently retains the option to be first to use nuclear weapons in a conflict, Warren and Smith note in a written statement. Read more from Kathleen Miller.
Top Republicans on Oversight Subcommittees: House Oversight and Reform Committee Republicans announced their top subcommittee members today in a statement. They are:
Democrats Press Equal-Pay Bill: House Democrats are making a new push for legislation making it easier for workers to uncover and sue over pay discrimination, as part of their economic agenda ahead of 2020. The bill unveiled today would protect employees from retaliation for discussing pay, limit defenses employers can make for paying some workers less, bar employers from basing pay on someone's wage history, and prohibit employers from paying less because an employee works in a different office. Read more from Emma Kinery.
Drug Pricing Fix: House Oversight Chairman Elijah Cummings (D-Md.) is optimistic that legislation to lower the rising costs of prescription drugs will be possible this Congress. Cummings said today his enthusiasm comes from the fact that Trump, Health and Human Services Secretary Alex Azar, Senate Finance Chairman Chuck Grassley (R-Iowa), and House Democrats are on board with addressing the issue. Read more from Shira Stein.
Brown Seeks Hike in Banks' Capital Requirements: Sen. Sherrod Brown (D-Ohio), the top Democrat on the Banking, Housing and Urban Affairs Committee, said the Federal Reserve should use all its powers to require banks to add more capital to gird for possible deterioration. Brown pitched a case for using remedies, including a counter cyclical capital buffer tool, in a letter to Fed Chairman Jerome Powell and other governors, Terrence Dopp reports.
Nielsen Testimony Up in Air: The House Homeland Security Committee has yet to agree with the Homeland Security Department on a date for an oversight hearing with Secretary Kirstjen Nielsen as shutdown-related delays complicate scheduling, staffers for the committee and Nielsen said. Read more from Michaela Ross.
Labor Nominees: The Senate Health, Education, Labor and Pensions Committee is scheduled Feb. 6 to consider whether to advance a series of Trump's Labor Department nominees for a Senate floor vote. It will vote on the nominations of Cheryl Stanton to run the Wage and Hour Division, Scott Mugno to run the Occupational Safety and Health Administration, William Beach to be Bureau of Labor Statistics commissioner, and John Pallasch for assistant secretary for employment and training. Read more from Tyrone Richardson.
$100 Billion for School Infrastructure: Public schools serving low-income students could see a $100 billion boost in funding for buildings and technology infrastructure via legislation introduced by Democratic lawmakers in the House and Senate. The bill would target K-12 schools that have difficulty raising additional funds and have severe issues with their buildings. About half of schools said they needed repairs, renovations or modernization for the buildings to be in good condition, the National Center for Educational Statistics reported in 2014. Read more from Emily Wilkins.
Measuring the Lobbying Industry: Largest Firms of 2018
Lobbying on trade, agriculture, and consumer privacy helped make 2018 a great year for the lobbying industry, which reported $3.4 billion in spending in filings for last year.
Spending during the second year of the Trump administration, which featured debates on trade relationships, cybersecurity, immigration and border security, reached an eight-year high. Annual lobbying spending has increased by 8.3 percent since 2016, and lobbying firm revenue, a component of that spending, increased by 12 percent.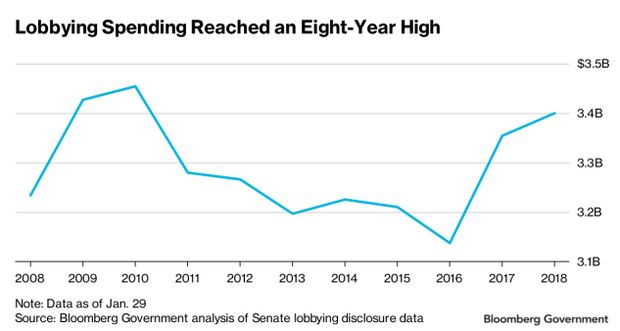 Lobbying spending had declined since 2010, coming down from the apex reached in the second year of President Barack Obama's administration, when the Affordable Care Act and Dodd-Frank financial regulation laws were signed. By 2016, overall reported spending on lobbying declined to $3.1 billion. Jorge Uquillas tacks the country's largest firms by revenue and client count.
Defense and Foreign Affairs
Syria Exit Hurts Iran Policy, Think Tank Says: The Trump administration's efforts to counter Iran in the Middle East are "on life support" because of the potential U.S. troop withdrawal from Syria, according to a new think tank report featuring a forward by former National Security Adviser H.R. McMaster. The hawkish Foundation for Defense of Democracies recommends the administration suspend any plans to pull approximately 2,000 troops from Syria because it undermines the strategy toward Iran on the ground in the region, according to a draft of the report obtained by Bloomberg Government.
It is part of a wide-ranging assessment of Trump's foreign and national security policy at the midpoint in his presidency, and is the think tank's first major publication since it announced its new Center on Military and Political Power and named McMaster the chairman on Jan. 22. Trump replaced McMaster as his top national security aide in March 2018. Read more from Travis Tritten.
Earlier today, Trump attacked the U.S. intelligence community as "extremely passive and naive" about the threat posed by Iran, a day after members of his own national security team undercut some of his biggest foreign policy claims. Trump tweeted that Iran is testing rockets and the only thing holding it back from spreading discord is a crashing economy, adding that U.S. intelligence agency leaders should perhaps "go back to school." Read more from Terrence Dopp and Chris Strohm.
U.S., China Hold First Day of Trade Talks: The U.S. and China launched high-level trade talks in Washington with little indication that Beijing will bend to U.S. demands to deepen economic reforms.
Talks between senior officials from the two sides, led by U.S. Trade Representative Robert Lighthizer and Chinese Vice Premier Liu He, at the White House complex in Washington that began this morning were expected to be followed by a working dinner. Negotiations will resume tomorrow, when Trump is expected to meet Liu.
Related: China Protesters Scuffle With Security as Trade-War Talks Begin
Related: Rush to Beat Trump Tariffs Turns Into Another Headwind for China
It's the highest-level talks since Trump sat down with Chinese President Xi Jinping in Argentina on Dec. 1 and declared a 90-day truce to reach a lasting deal to end the trade war. Read more from Jenny Leonard.
U.S. Mulling Humanitarian Corridor for Venezuela Aid: The Trump administration is ready to offer more humanitarian aid to Venezuela and is weighing the possibility of a corridor to help people hit by the country's turmoil, the State Department's envoy for the crisis said.
"We're making a big and growing humanitarian effort," Elliott Abrams, Secretary of State Mike Pompeo's special representative for Venezuela, told reporters in Washington today. "The humanitarian corridor is something we are looking at, but of course it requires the cooperation of the regime. I don't know how practical that is — it hasn't been possible to date." Read more from Nick Wadhams.
Meanwhile,Trump congratulated the leader of Venezuela's National Assembly, Juan Guaido, in a phone call today for declaring himself the country's interim president as the U.S. attempts to maintain pressure on Maduro, reports Alyza Sebenius.
Afghanistan Government Control Slipping: Afghanistan's government found its control over the country slipping further in the final months of 2018 as Trump accelerated efforts for a deal with the Taliban to let the U.S. begin withdrawing troops. President Ashraf Ghani's government controlled territory that's home to about 64 percent of the Afghan population as of Oct. 31, according to the latest assessment by a Pentagon watchdog. Roughly 11 percent of the population live in areas under the control of Afghanistan's insurgency, and more than a quarter are in contested regions. Read more from Glen Carey.
U.S.-Korea Joint Exercises: Democratic lawmakers said they are "concerned the ongoing suspension of exercises with the Republic of Korea (ROK) Armed Forces may be undermining readiness for little benefit," in a letter to acting Defense Secretary Pat Shanahan today. "With the International Atomic Energy Agency assessment that the North Korean nuclear program is continuing and developing further, we believe it would be appropriate to resume exercises in coordination with the ROK," they said. Kathleen Miller has more.
Hacker Tests Prompt DOD to Remedy Vulnerable Files: The Pentagon, which is spending $5.4 billion to overhaul its electronic health records system, has created a working group to remedy new cybersecurity vulnerabilities discovered last fall by a team of military hackers and information technology specialists. The tests found the Military Healthcare System Genesis, which will eventually serve more than 9 million beneficiaries at dozens of military hospitals and hundreds of clinics, was still "not survivable" when the system was hit with staged attacks. Read more from Travis Tritten.
Around the Administration
Eased Private Care Access for Veterans: More veterans would be eligible for care under access standards released by the Veterans Affairs Department today, but the changes could raise concern about privatization of the veterans' care, Megan Howard reports. The new standards would increase community care eligibility for those who are not within a 30 minute drive time of a VA medical facility. If an appointment wait time is more than 20 days for primary or mental health care services, they would also be able to seek private health care services.
USDA Pushed to Implement Farm Law: The Agriculture Department needs to move fast on implementing the new farm law as the possibility of another partial shutdown looms, agriculture lawmakers said. "I haven't heard anything back from them yet," House Agriculture Chairman Collin Peterson (D-Minn.) said, referring to his request to the USDA for more information on when it will begin putting into place dairy-related provisions in the new law. Read more from Teaganne Finn.
DOJ Seeks Delay on Nuclear Dispute: Justice Department attorneys are concerned about another shutdown following the recent deal to reopen the government for three weeks, and are asking a court to maintain a stay in proceedings in a nuclear waste contract dispute, Daniel Seiden reports. A lapse in appropriations may recur following the expiration of the three-week period of appropriations, they told the U.S. Court of Federal Claims.
Related: This U.S. Federal Contractor Got Out of the Shutdown Unscathed
Auto Rules Changes in USMCA: Rules for auto trade are part of a list of changes to U.S. law that the Trump administration says will be needed to comply with the U.S.-Mexico-Canada Agreement. "This is an important step required under U.S. law to implement the new trade deal with Mexico and Canada," Senate Finance Chairman Grassley said in a statement. Read more from Rossella Brevetti.
H-1B Visa Lottery Gets Overhaul: The lottery for H-1B skilled guestworker visas will be getting an overhaul a mere two months before it takes place. A final rule released today by U.S. Citizenship and Immigration Services switches the order that the lottery is run to maximize the number of visas awarded to workers with advanced degrees from U.S. colleges and universities. Read more from Laura D. Francis.
Related: Visa Decision Wait Times Reaching 'Crisis' Levels, Group Says
Chemical Data Collection Rule: An EPA-proposed rule to update information that chemical manufacturers must provide periodically is being reviewed by the White House, a critical step before the agency can proceed to get comment on its ideas. The Environmental Protection Agency's proposal could alter the information that companies would submit next year or propose changes for future data collection cycles, Pat Rizzuto reports.
To contact the reporter on this story: Brandon Lee in Washington at blee@bgov.com
To contact the editor responsible for this story: Zachary Sherwood at zsherwood@bgov.com