Border Policy Limits Information on Smugglers, Watchdog Says
Pandemic-era policy allows quick expulsion of migrants
Agents gather less information on illegal activity, GAO says
A Trump administration policy allowing the quick expulsion of migrants in the pandemic has prevented federal agents from obtaining information about smugglers operating at the border with Mexico, a new analysis says.
The Government Accountability Office released a report Monday detailing how Title 42, a public health declaration allowing the U.S. to expel many migrants and asylum-seekers swiftly, has affected Customs and Border Protection's border security operations.
The Trump administration adopted the policy in response to the Covid-19 pandemic. The Biden administration has kept Title 42 in place, with some exceptions, and is facing increasing pressure to end it from immigrant rights advocates and some Democratic lawmakers.
Biden Approach to Covid Border Restrictions Irks Both Parties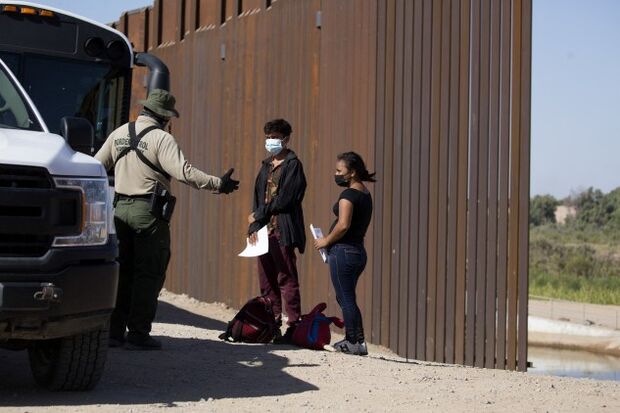 The CBP used Title 42 for more than 110,000 expulsions in May, according to the latest data.
The policy means CBP officers spend less time processing people apprehended at the border, the GAO report said, citing interviews with Border Patrol officials. That frees up resources for on-the-ground enforcement work but also reduces agents' ability to interview people about smugglers or other illegal activity at the border, the officials told GAO.
"One sector manager cited two instances in which agents apprehended groups of individuals and expelled them immediately under Title 42, limiting the opportunity to gather information on illegal activity," the report said.
Quickly expelling people after they cross the border also limits the agency's ability to conduct Covid-19 contact tracing, the report said, "because they lose the ability to trace an outbreak back to an apprehended individual."
GAO also issued a report on the Transportation Security Administration's pandemic-era policies and made two recommendations for the agency to reduce the spread of infectious diseases and evaluate its performance.
To contact the reporter on this story: Ellen M. Gilmer in Washington at egilmer@bloomberglaw.com
To contact the editors responsible for this story: Sarah Babbage at sbabbage@bgov.com; Robin Meszoly at rmeszoly@bgov.com