Boeing Shuffles Defense Revenue Streams Aiming to Elevate Space
Bloomberg Government subscribers get the stories like this first. Act now and gain unlimited access to everything you need to grow your opportunities. Learn more.
The Boeing Co.'s defense business reorganization will put a spotlight on a newly created division to reverse a several-year trend of falling revenue from the Pentagon in order to meet the goals set out in the company's announcement Thursday.
The Boeing press release defined the business lines grouped into four defense divisions it consolidated from eight.
Defense is the only Boeing business expected to burn rather than generate cash next year, the company told investors earlier this month.
Over the five-year period ending in fiscal 2021, Boeing's unclassified prime contracts from the Defense Department and NASA dropped 1% overall to $23.9 billion, according to Bloomberg Government data and analysis.
Fiscal 2022 is likely to fall far short of that level, based on the company's previous years' fourth-quarter procurement totals. As of data available Nov. 18, Boeing's unclassified defense and space business revenue had not yet hit $11 billion.
Pentagon procurement is reported on a 90-day delay for national security reasons, and full data for Boeing's unclassified contract revenue will be available early January. The Pentagon accounts for more than 90% annually of the revenue from these Boeing units.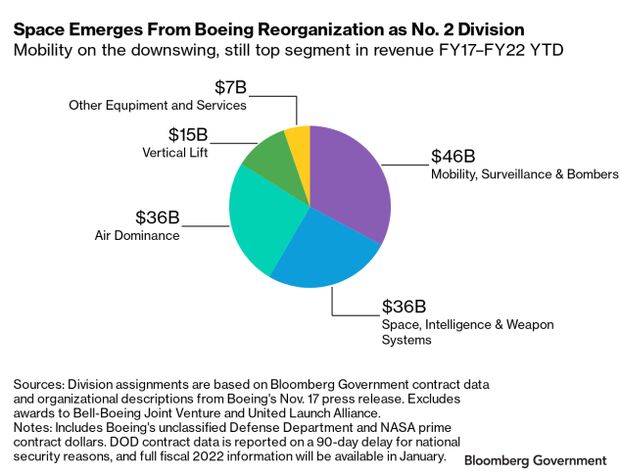 The Space, Intelligence, and Weapons Systems division will be the second-largest of the four business lines Boeing is creating. It includes components at the company that over the last five full fiscal years, and with data reported so far for fiscal 2022, accounted for $35.9 billion in revenue from unclassified contracts with the Defense Department and NASA.
Boeing is active in several expanding space-based programs, both on its own and within its partnership with Lockheed Martin Corp. in the United Launch Alliance.
NASA launched a test for its Artemis I mission Nov. 16, using the Boeing-built Space Launch System rocket in its inaugural flight. The uncrewed test is part of the agency's plan to return humans to the moon for the first time in 50 years.
Division Performance
Despite its shrinking revenue base, Boeing consistently performed as the No. 2 DOD-NASA prime vendor behind Lockheed Martin. It fell to third behind Raytheon Technologies Corp. only once, in fiscal 2020.
With about a month of full Pentagon contract reporting still ahead for fiscal 2022, however, Boeing is struggling in fifth place with $11 billion, behind Lockheed, Raytheon, General Dynamics Corp., and Northrop Grumman Corp.
Also at $11 billion is Pfizer Inc., a relative outsider in defense contracting, only breaking into that group as a result of the Army's management of vaccine development and supply for the federal government's Covid-19 response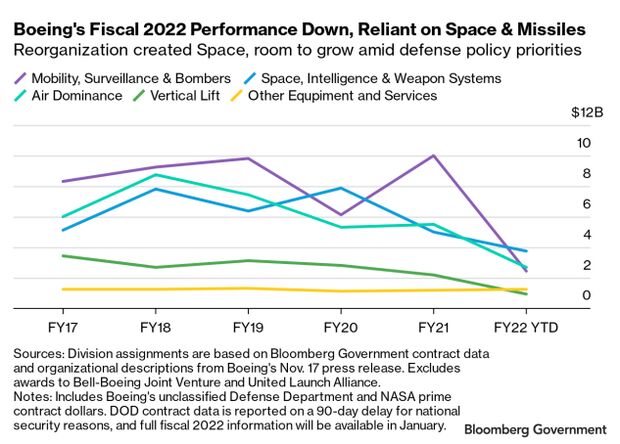 In fiscal 2021, the Mobility, Surveillance, and Bombers division accounted for 42% of Boeing's DOD and NASA annual revenues, the highest share since at least fiscal 2017. Air Dominance accounted for another 23%.
Mobility is the only division to grow in the period from fiscal 2017 through fiscal 2021. A 20% surge for the group led to hitting the $10 billion mark in fiscal 2021.
Boeing's fiscal 2021 performance overall was buoyed some by $4 billion in Pentagon spending on the KC-46 Pegasus, the Air Force's new aerial refueling and strategic transporter based on Boeing's 767 jetliner.
The Pentagon also spent $2.1 billion on the P-8A Poseidon, a maritime patrol and reconnaissance plane based on Boeing's 737-800. Together, these two Mobility division programs accounted for 26% of Boeing's fiscal 2021 contract revenue.
Air Dominance, which includes fighter jets and attack drones, was the second largest division in fiscal 2021, but it had fallen 8% across the five-year period to $5.5 billion. The 2021 total was a dramatic drop from the unit's peak of $8.8 billion in fiscal 2018.
Space, Intelligence, and Weapon Systems fell 1.4% to $5 billion from fiscal 2017 through fiscal 2021. Recent spending on logistics and surveillance comes amid the Defense Department's response to Russia's invasion of Ukraine and the steady re-supply of Ukraine and NATO forces.
Organizing the Data
Bloomberg Government assigned Defense Department and NASA procurement data to one of each of the four reorganized units based on weapon system codes, information contained in the contract title, information contained in the transaction description, product service code and category management definitions, funding agency, and place of performance.
Less than 6% of unclassified DOD and NASA revenue is currently unassigned, and most of that work comprises professional services and generically named parts.
The analysis covers only procurement revenue for Boeing itself, excluding independent entities of which Boeing is a partner—the Bell-Boeing joint venture, and United Launch Alliance. Bell-Boeing makes the V-22 Osprey tiltrotor aircraft. ULA is a Boeing-Lockheed Martin joint venture that manufactures and launches rockets that carry satellites, astronauts, and equipment into space.
Explicit references to Boeing's management of its portion of the two joint ventures was not available in the initial information released by the company, and Boeing did not respond immediately for comment.
To contact the reporter on this story: Paul Murphy in Washington at pmurphy@bloombergindustry.com
To contact the editors responsible for this story: Amanda H. Allen at aallen@bloombergindustry.com; Fawn Johnson at fjohnson@bloombergindustry.com
Stay informed with more news like this – the intel you need to win new federal business – subscribe to Bloomberg Government today. Learn more.