Blockchain Spending Steady in FY19, May Dip in FY20: This Is IT
Bloomberg Government subscribers get the stories like this first. Act now and gain unlimited access to everything you need to grow your opportunities. Learn more.
The federal government's exploration of blockchain technology was seen as a potential boon to companies that could provide applications, yet contract obligations remained steady from fiscal 2018 to 2019, and are on track to rise only slightly—or even decline—this year.
Blockchain is a semi-anonymous public ledger of verifiable and unalterable transactions, best known as the technology behind the virtual currency Bitcoin but with applications beyond finance that federal agencies want to implement.
In fiscal 2018, agencies obligated $13.3 million on blockchain-related contracts, more than double the obligations in fiscal 2017. Federal agencies formed a blockchain community of practice and came up with about 200 blockchain use cases during a forum in July 2017, including supply chain management, financial management, and smart contracts.
The Homeland Security Department, which has the second-most blockchain contract obligations among agencies, released a paper titled Blockchain and Suitability for Government Applications in 2018 that discussed implementation challenges, blockchain applications, and the federal government's role in investing in the technology.
Based on spending trends and agency initiatives, Bloomberg Government predicted an uptick in fiscal 2019 obligations. In an April 2019 paper, the market intelligence firm IDC Government Insights said it anticipated federal agencies would spend more than $123 million on blockchain in 2022.
But in fiscal 2019, obligations rose just $1 million, and based on historical spending, Bloomberg Government projects fiscal 2020 obligations to be somewhere in the range of $7.1 million to $15.1 million. The projection is a wide range, but in such a small market, it could be the difference of one or two awards. In any scenario within that range, the same takeaway holds true: agency spending on blockchain didn't take off as expected in fiscal 2017 and 2018.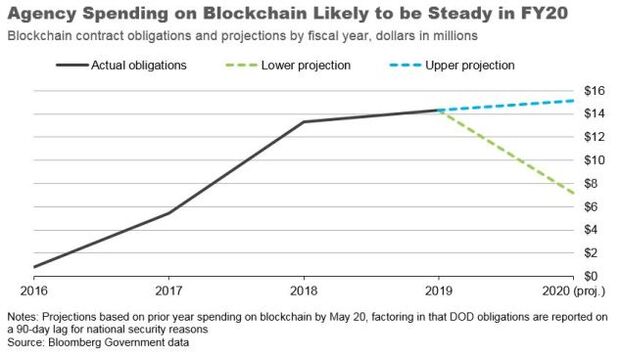 Spending has probably tapered off because most of the contracting work and projects across the federal government are still in pilot phases and therefore have low values.
"In the past two years the hype and buzz surrounding blockchain has begun to quell, and real work and building has begun," the Global Blockchain Business Council (GBBC) told Bloomberg Government in a May 22 email.
Projects Underway
The Homeland Security Department has eight blockchain projects currently in Phase 1 through its Silicon Valley Innovation Program, which is aimed at using emerging technologies to solve homeland security problems. There are five phases. The first four phases are worth as much as $200,000 each. If Phase 5 is required, additional funding may be available.
The Data Foundation, a nonprofit think tank, highlighted seven additional programs in a June 2019 report titled Bringing Blockchain into Government. Obligations for four of them can be found in Bloomberg Government's data. Two are multimillion-dollar contracts, but none of their contract obligations have surpassed $10 million.
Obligations haven't shown up for the other three. It's possible that blockchain spending is incorporated into those programs but doesn't appear in the reported obligations because agencies don't specify that blockchain is being used. Agencies may also still be exploring how to use the technology in these programs and have yet to award any blockchain-related obligations.
What's Ahead
There are more blockchain investments that agencies have reported in BGOV, but most are low-value contracts and task orders. It's possible that investment will increase in fiscal 2021 and 2022 as these projects progress, open solicitations are awarded, and agencies transition from exploring blockchain use cases into implementation.
"The consolidation of projects, proofs of concept, and working groups are a potential indicator of this shift towards 'professionalization' and a heads down approach to building at the federal level," GBBC told BGOV.
But the future of the federal blockchain market will probably depend on whether these pilot programs are successful and agencies decide to continue investing in and expanding the uses of blockchain. At this rate, as agencies take longer than expected to test their pilot programs and explore use cases for blockchain, the market won't take off dramatically in the near future.
To contact the analyst on this story: Laura Criste in Salt Lake City, Utah at lcriste@bgov.com
Stay informed with more news like this – the intel you need to win new federal business – subscribe to Bloomberg Government today. Learn more.