Bipartisan Privacy Talks Split With Second Senate GOP Bill (1)
(Updates with comments by Wicker and others beginning in fifth paragraph.)
Bloomberg Government subscribers get the stories like this first. Act now and gain unlimited access to everything you need to know. Learn more.
Months-long bipartisan negotiations over a federal privacy bill have hit a rough patch in the Senate, with Sen. Jerry Moran (R-Kan.) releasing his own measure after disagreements with Sen. Richard Blumenthal (D-Conn.) over whether to allow individuals to sue over privacy violations.
Legislation unveiled by Moran on Thursday would create a national privacy standard that preempts most state laws, according to text obtained by Bloomberg Government. Missing from the measure is a private right of action—a provision to allow consumers to sue companies over privacy violations that has become a key sticking point in negotiations.
Individual lawsuits and preemption remain the two areas where Republicans and Democrats are at odds. Democrats, including Blumenthal and Sen. Maria Cantwell (D-Wash.), the Senate Commerce, Science, and Transportation Committee's ranking member, are pushing for private lawsuits and opposing broad preemption in a federal bill.
Moran's measure comes a week after Senate Commerce Chairman Roger Wicker (R-Miss.) said the panel had hit a "log jam" over a private right of action. The Senate's second-ranking Republican, John Thune (S.D.), also said last week he didn't see any path forward on talks at this point.
"I think it's important for me to introduce a bill because I think that the thought process we've gone through, the input we've had from consumers and FTC and industry, I think we have a product that is of great value in this debate of what data privacy should look like," Moran said in an interview Wednesday.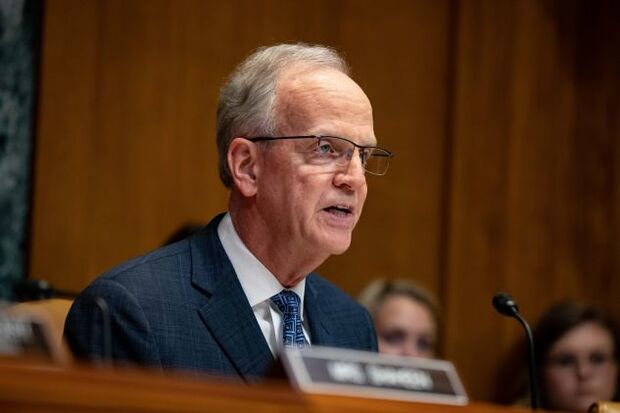 Wicker on Thursday echoed earlier comments that talks were currently at an impasse. "Until we can get the Democrats from considering the private right of action as a Holy Grail, we're not going to get anywhere," he said.
"It's disappointing that we seem to be stuck on that, but it's something we knew about from the outset and until there's some movement there, there's no way it could pass the Senate," Wicker told reporters.
Moran said he was open to a more narrow private right of action, such as injunctive relief, which is a court order directing a defendant to stop a specified act or behavior. Wicker said late last year that he'd be open to injunctive relief. But Moran and Blumenthal couldn't come to agreement, Moran said.
Moran said he was also "disappointed" that he and Blumenthal couldn't agree on a bipartisan bill. If they had "put together a product that would bring other Republicans and Democrats to the table, we would have accomplished something of greater significance," he said.
Talks Continue
There is still room for negotiations. Moran and Blumenthal indicated they plan to continue to work through the disputed privacy provisions in the future.
"We always knew these issues would be tough to solve," Blumenthal said in an email. "I appreciate Senator Moran's collaboration and look forward to continuing the conversation with him and our colleagues."
"There are number of areas where we simply have been unable to reach agreement so far, but we may have some bill at some point," he told reporters on Thursday.
Moran's bill is now the second Republican measure in the Senate, after Wicker put forward a privacy draft bill last December that similarly wouldn't allow for individual lawsuits. Cantwell introduced a Democratic bill (S. 2968) in November that would allow consumers to seek civil action in a state or federal court over privacy violations.
The tech industry anxiously awaits a federal bill as more state pass piecemeal privacy measures that will drive up business compliance costs, Carl Szabo, vice president and general council of tech trade group NetChoice, said in an interview.
"Starting with a non-starter just doesn't make sense. And stuff like a private right of action or no preemption are just non-starters," he said. "It almost makes me think that there is not a legitimate interest in creating a privacy bill, but creating the appearance of interest."
Szabo said he's "cautiously optimistic" a bill can get done. "As more business feel the pain, they're going to turn to Congress to address the situation."
Privacy Protections, Stronger FTC Enforcement
Moran's bill is otherwise similar to Wicker and Cantwell's measures in areas including allowing consumers to access, port, correct, and erase their personal data.
Moran's bill goes further than the other proposals in authorizing the Federal Trade Commission to hire 440 new employees to increase the agency's privacy enforcement. Moran, a senior Senate appropriator, said he wants to boost FTC funding.
"If we're going to have a national standard and enforcement is going to be at the national level or through state attorneys general, for this to be a success, for data privacy to occur, the FTC needs the resources, people and money," he said.
Moran's bill differs from Wicker's measure in that it doesn't include language that would require data brokers to register with the FTC. Moran's bill also lacks language around algorithmic decision-making that's present in both Wicker and Cantwell's proposals.
Under Wicker's draft bill, the list of data brokers would be published online by the FTC. Failing to register under Wicker's bill could lead to fines capped at $10,000 each year.
BSA|The Software Alliance, which represents companies like IBM and Salesforce, said they were glad Moran's bill distinguishes between businesses that control data and those that process data on behalf of others. "This distinction is key to safeguarding consumer privacy without creating new security risks," Craig Albright, BSA's vice president of legislative strategy, said in a statement.
Moran remains optimistic that a bipartisan privacy bill is feasible.
"As this issue becomes more prevalent, as time goes on there will be a greater cry for this," he said. "I'm certainly interested in talking to other Democrats to see if there's an opportunity to pursue this issue with them."
To contact the reporter on this story: Rebecca Kern in Washington at rkern@bgov.com; Daniel Stoller in Washington at dstoller@bloomberglaw.com
To contact the editor responsible for this story: Zachary Sherwood at zsherwood@bgov.com
Stay informed with more news like this – from the largest team of reporters on Capitol Hill – subscribe to Bloomberg Government today. Learn more.