Biden's Drug Agency Nominee Returns With Deeper Industry Ties
Califf sat on drugmaker boards, earned money from Alphabet
Democratic senators concerned about industry ties
Bloomberg Government subscribers get the stories like this first. Act now and gain unlimited access to everything you need to know. Learn more.
President Joe Biden's choice to lead the Food and Drug Administration made millions of dollars from health and drug companies since his last stint in government, raising new questions about his ties to firms the agency oversees.
Robert Califf was paid $2.7 million by Verily Life Sciences, the biomedical research organization operated by Alphabet Inc., and sits on the boards of two pharmaceutical companies, AmyriAD and Centessa Pharmaceuticals PLC. He also reported ties to 16 other research organizations and biotech companies, ethics and financial disclosure documents show.
Califf's deep industry ties have prompted at least two Democratic senators to oppose his nomination, complicating his path to confirmation and echoing concerns that emerged when he was last nominated. While Califf previously was paid largely as a consultant for drugmakers before, in recent years he's been hired as a top adviser and board member to major health-care companies creating innovative technologies and medicines.
"For people like Robert Califf every time they spin through the revolving door they can demand higher salaries from the private sector," Craig Holman, a lobbyist with consumer advocacy group Public Citizen, said. "This is a money making operation for revolvers."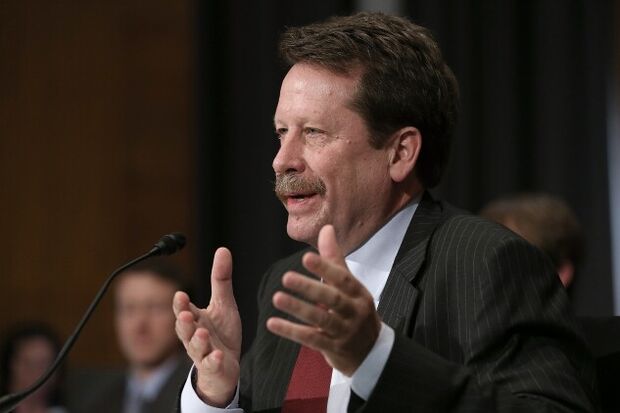 Public Citizen opposes Califf's nomination over his connections to various pharmaceutical companies.
Biden picked Califf to return to the FDA, a post he served in under the Obama administration, despite the qualms of some Democratic senators.
Democratic Senator Warns White House He Opposes Top FDA Choice
"I have made it abundantly clear that correcting the culture at the FDA is critical to changing the tide of the opioid epidemic," Sen. Joe Manchin (D-W.Va.) said in a statement shortly after Califf was nominated. "Instead, Dr. Califf's nomination and his significant ties to the pharmaceutical industry take us backwards not forward."
Sen. Richard Blumenthal (D-Conn.) has also said he will oppose Califf's nomination based on his industry ties.
One thing working for Califf: 69 senators currently serving voted to confirm him in 2016.
Consulting, Stock Options
Califf's reported income from the health industry skyrocketed between stints at the FDA.
Califf was a paid consultant for Johnson & Johnson, GlaxoSmithKline PLC, AstraZeneca PLC, and Eli Lilly from 2009 to 2016, according to disclosures compiled by ProPublica. During this time he collected fees ranging from $2,160 to $9,000. Califf had also disclosed accepting consulting fees from drugmakers Amgen Inc., Eli Lilly & Co., and Merck & Co.
After his time leading the FDA, Califf earned $56,299 in fees from the biopharmaceutical firm Cytokinestics Inc. and unvested stock options worth as much as $5 million from Centessa Pharmaceuticals.
Califf is an expert in clinical trial research and cardiovascular medicine and founded the Duke Clinical Research Institute, a large academic center that received more than half its funding from the drug industry.
This kind of expertise is almost impossible to acquire without working with or for the pharmaceutical industry, David Magnus, director Stanford Center for Biomedical Ethics, said. Drugmakers have historically provided the funding for most clinical trials, he said.
"It's unfortunate but we have a system where you can't find quality people in this field who don't have some industry ties," Magnus said.
Whiteboard Tracking
Those who worked with Califf at the FDA say he deftly navigated his previous connections to industry while in government.
During his first tour at the FDA, Califf kept a whiteboard in his office that listed all the activities and projects that required his recusal, Howard Sklamberg, who was a deputy commissioner under Califf, said.
"He was very, very, very careful," Sklamberg, who's now an attorney at Arnold & Porter LLP, said.
He may have more ties to track this time.
"It seems he would have to recuse himself from a large number of decisions," Lisa Bero, chief scientist for the University of Colorado Center for Bioethics and Humanities, said.
Califf's years of ties to the pharmaceutical industry don't seem to have been "a deciding factor" in the White House's nomination decision, Diana Zuckerman, president of the National Center for Health Research, said in an interview with Bloomberg Law.
"Dr. Califf has these other very important, positive attributes of having been FDA commissioner, having been a high-level person at FDA even before he was commissioner, and having a track record of showing his commitment to scientific evidence," Zuckerman said.
The plan offered by Califf to manage his financial interest appears to fairly standard and routine, New York University bioethicist Arthur Caplan said. "I don't find it disqualifying that he has industry ties," he said, adding that he's breaking ties with for-profit, academia, and other think tank types of organizations. Califf "showed himself to be independent and fair" when he was last at the agency, Caplan said.
To contact the reporters on this story: Alex Ruoff in Washington at aruoff@bgov.com; Jeannie Baumann in Washington at jbaumann@bloombergindustry.com; Celine Castronuovo at ccastronuovo@bloombergindustry.com
To contact the editors responsible for this story: Sarah Babbage at sbabbage@bgov.com; Robin Meszoly at rmeszoly@bgov.com
Stay informed with more news like this – from the largest team of reporters on Capitol Hill – subscribe to Bloomberg Government today. Learn more.