Biden's Covid Vaccine Strategy Shift Eludes Lawmakers, Pharma
Shift to private sales will impact patients, insurers
Lawmakers fret White House isn't preparing the public
Bloomberg Government subscribers get the stories like this first. Act now and gain unlimited access to everything you need to know. Learn more.
Members of Congress and their staff have unsuccessfully pushed the White House to make public its plan for winding down its role in the distribution of Covid vaccines and therapies.
All parties involved admit that at some point, vaccinating for Covid will stop being a breakneck public health emergency, with the federal government rushing to buy up vaccine supplies directly from drugmakers, then distributing them to states, hospitals, and clinics nationwide, and paying for all of it.
Instead, Covid vaccines will become like those for influenza—sold by drugmakers to hospitals, health departments, pharmacies, and doctors, and largely paid for by private insurers. The challenge is how to get from point A to B, from emergency to routine, from federal fiat to decentralized private market.
What should be a coordinated process between the administration, drugmakers, and Congress, they say, has instead become a siloed waiting game that could lead to delays in this transition, which could take six to nine months.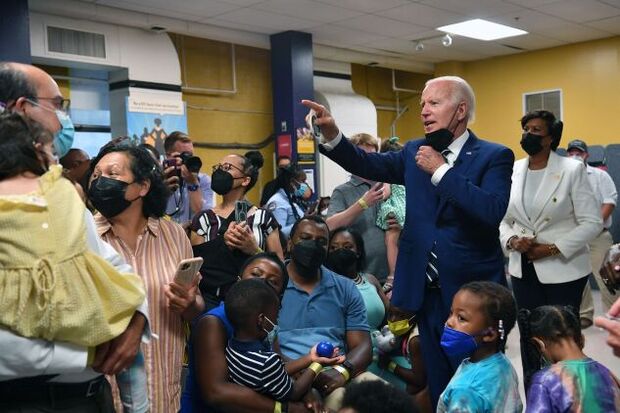 "We should be shifting now," said Rep. Cathy McMorris Rodgers (Wash.), the top Republican on the House Energy and Commerce Committee, which oversees a range of federal health programs. "We're ready to do this now."
The White House has declined to say when it will end the federal emergency on Covid-19. Opening the door to private sales could have a broad impact on the government's Covid response, particularly around equitable distribution of vaccines.
A Department of Health and Human Services spokesperson confirmed the agency is planning for contingencies given the lack of funding from Congress, but declined to provide details.
In public, the administration since March has been asking for more than $20 billion in new pandemic funds, warning that without the money it may not be able to order enough vaccines and protective equipment if a surge in cases develops later this year. Still, Congress shows little interest in meeting this request any time soon.
"We have the tools for the summer," Ashish Jha, the White House's lead on Covid response, told reporters this month. "We will not have the tools for the fall and winter unless Congress acts."
Already Happening
In the absence of a clear plan for the future, providers say they are already feeling the effect of dwindling public funds and changes in the nature of the pandemic response.
Christi Siedlecki, chief executive officer of Oregon-based Grants Pass Clinic, said when Covid shots were first available to the 88,000 residents of Josephine County, there was a rush to vaccinate everyone who wanted one.
Now, the demand fluctuates, she said, with increases when federal officials recommend boosters. She still gets Covid vaccines the same way—monthly orders that come in multi-dose vials, which can produce wasted doses.
And the public funds Siedlecki was getting to vaccinate anyone are drying up. Next month, her clinic will only vaccinate patients who have health insurance or can pay for a shot; she'll direct the rest to other sites for treatment. "I have a list of places they can go," she said.
Read More: Covid Federal Aid Fight Risks Future Pandemic Drugs, Vaccines
Siedlecki's experience reflects what could soon become a pattern nationwide, potentially complicating progress in getting shots to the remaining 30% of the country that hasn't gotten fully vaccinated, and complicating efforts to vaccinate or treat the uninsured.
President Joe Biden's allies in Congress say the rollout of Covid vaccines and therapies stands as a major accomplishment for the administration. Democrats are calling for more funding to sustain the progress, particularly if case surges occur this fall or winter.
"It's up to us to stay the course in our support in our investment if we're going to protect our community and families," Sen. Patty Murray (D-Wash.), chair of the powerful Health, Education, Labor, and Pensions Committee, said last week.
Sharing the Destination
But Republicans and others have criticized the administration for failing to look ahead, to a time when the pandemic is treated less as an emergency.
"When is someone going to share with the American people the destination we're trying to get to?" Sen. Richard Burr (R-N.C.) asked administration officials at a Senate hearing last week.
The pharmaceutical industry has also been pushing the Biden administration for answers about when the health emergency will end and when and how it will permit private sales, insiders say. The Covid vaccines were all originally given emergency approvals, a system buttressed by a federal emergency declaration.
The Biden administration last extended an official declaration of a public health emergency in April, through mid-July. Officials have promised at least 60 days' notice before allowing it to expire.
"There's a lot of uncertainty right now regarding criteria to be used to determine the end" of the public health emergency, said Anne Pritchett, senior vice president for policy and research at the Pharmaceutical Research and Manufacturers of America, the nation's largest drug lobby.
Ending the government purchase of vaccines and shifting sales to the private market could take six to nine months, starting with the Food and Drug Administration approving such sales and the Centers for Disease Control and Prevention issuing guidance on future boosters. The move could have wide-ranging implications for the health care industry and Americans, particularly those who lack insurance.
The US has spent $30.4 billion to buy 1.97 billion doses of Covid-19 vaccines over the past two years and paid about $14 billion to health-care providers, clinics, laboratories, and hospitals for Covid testing and vaccines for between May 2020 and March 2022, according to public dataanalyzed by Bloomberg Government. It also spent $5.8 billion for Covid treatments to people without insurance.
Read More: U.S. Vaccine Data Shows Gulf Between Doses Bought, Shots in Arms
"Right now, the government has set up a system that says: if you're eligible, go get it," said Mark Howell, director of policy at the American Hospital Association, which represents hospital interests in Washington.
Equity Concerns
Some lawmakers are eager to stop paying for Covid response efforts with emergency appropriations, instead folding it into the annual government funding bills.
Jha and Dawn O'Connell, the assistant secretary for preparedness and response at Department of Health and Human Services, have briefed senators and their staff on the vaccine coverage discussions but offered few details around the timeline for commercialization, two aides familiar with these briefings said.
Jha told Republican staffers the White House worries that state governments will end up competing for vaccines, with an advantage for states with larger budgets in buying vaccines and therapies, according to one of the aides.
Equity has been a focal point of the Biden administration's Covid response, with the aim to ensure that parts of the country with substandard health care—most often rural areas and poor communities—don't fall behind on vaccinations and access to therapies. Allowing commercial sales of vaccines and reducing government purchases could stymie that effort, allowing wealthier counties and states to outbid smaller, poorer ones.
Sen. Roy Blunt (Mo.), the top-ranking Republican on the appropriations panel for the bulk of federal health agencies, said the lack of open communication from the White House has complicated discussions around new Covid funds. He said he has little faith the administration is preparing properly for major shifts in the pandemic response.
"I don't think they're doing short- term planning well, so I assume they're not doing long-term planning well," Blunt said.
Private Sector Decisions
Once commercial sales are approved, hospitals, providers, and public and private insurers would need to decide how much to pay for vaccines and therapies, and how much of that cost will fall back on consumers.
It's likely, Howell said, that private payers will pay at least what the government currently spends. The US paid $15 per dose for Moderna Inc.'s Covid vaccine, and $19.50 per dose for Pfizer Inc.'s, according to an analysis published in the BMJ in 2021.
"There is now a floor on the price for each dose and each product, and that's only going to go up at least for the foreseeable future," Howell said.
Kristine Grow, a spokeswoman for AHIP, the insurer trade group, said insurers expect to eventually cover Covid vaccines like other recommended vaccines, with no cost to the patient when delivered by an in-network provider.
But insurance plans would need to determine how premiums would be affected, as they'd take on higher costs related to Covid vaccines and therapies being bought and administered by hospitals, pharmacies, and doctor's offices, said Rebecca Davison, a director at consulting firm ADVI Health.
Billions of dollars are at stake, especially for major drugmakers. Both Pfizer and Moderna have seen huge increases in profits during the pandemic thanks to vaccine profits. Moderna reported $6.1 billion in revenue during the first quarter of 2022, compared to $1.9 billion during the same time period of 2021; and Pfizer reported $25.7 billion in revenue over that time, compared to $14.6 billion in the same period in 2021.
Stéphane Bancel, chief executive officer of Moderna, told Yahoo Finance in March the company was preparing for "a private-market situation" after the White House warned it was running low on pandemic funds.
Filling Gaps
The cost of vaccines and therapies could fall harder on the uninsured. A federal program that paid providers to give Covid treatment and vaccines to those without insurance ran out of money this year after Congress failed to replenish its budget.
A shift to private sales should include a new way to ensure people without insurance or easy access to health care can still get vaccines and treatment, said Chip Kahn, head of the Federation of American Hospitals, which represents for-profit hospitals.
Read More: Covid Testing, Vaccinations for Uninsured at Risk as Funds End
"You got to make sure the uninsured don't get left out in the cold, or you're going burden the whole system," he said.
The government could remain a major buyer of Covid vaccines and therapies once private sales begin—or the White House would need to stand up some kind of program aimed at vulnerable populations, Kahn said.
The government also needs to make sure pharmacists, hospitals, and doctors' offices can buy enough protective equipment, syringes, needles, and other tools necessary to administer Covid vaccines, said Soumi Saha, vice president of advocacy at Premier Inc., a health care purchasing and improvement alliance. Supply chain issues have made it harder to obtain these supplies, she said.
"In a world of privatization you have to make sure everyone who can buy a vaccine can buy these supplies too," Saha said.
To contact the reporter on this story: Alex Ruoff in Washington at aruoff@bgov.com
To contact the editors responsible for this story: John Martin at jmartin@bloombergindustry.com; Anna Yukhananov at ayukhananov@bloombergindustry.com
Stay informed with more news like this – from the largest team of reporters on Capitol Hill – subscribe to Bloomberg Government today. Learn more.