Biden Touts Mixed Jobs Report; House Readies New Defense Bill
President Joe Biden said he's optimistic that more Americans are getting back to work after the country's unemployment rate fell in a mixed jobs report today. Meanwhile, the House next week may take up a compromise defense policy bill in order to overcome an impasse on the legislation in the Senate.
Here's what Bloomberg Government is tracking so far today.
Biden Says U.S. Is 'Back to Work'
President Joe Biden said Americans are returning to work and the U.S. economy continues a strong rebound from the pandemic, after today's Labor Department report offered a mixed view on the job market.
"Simply put, America, America is back to work," Biden said in remarks at the White House. "Because of the extraordinary strides we've made, we can look forward to a brighter, happier New Year, in my view."
The country recorded this year's weakest gain yet in payrolls in November, but increases in each of the two previous months were revised upward and the unemployment rate fell more than forecast to 4.2%. Nonfarm payrolls climbed 210,000, less than half the median forecast, while the labor force participation rate edged up to 61.8%.
Biden acknowledged widespread anxiety about the economy, driven by higher than normal inflation. Recent polls have shown that most Americans believe that the country is headed in the wrong direction and that the economy isn't in good condition—perceptions the president continues to try to change by pointing to favorable economic data like job and wage gains. "It's not enough to know we're making progress," Biden said Friday. You need to see it and feel it in your own lives around the kitchen table and in your checkbooks."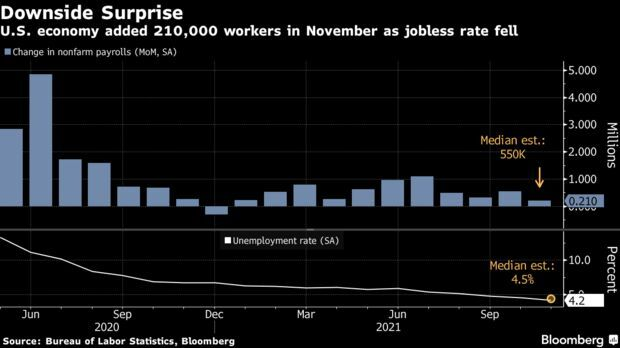 The annual pace of inflation exceeded 6 percent in October, the fastest in three decades. Many economists say that unprecedented U.S. consumer demand for material goods is the culprit, a phenomenon that's also contributing to supply-chain logjams. But Biden said American families are doing better than they may realize. "Even after accounting for rising prices, the typical American family has more money in their pockets than they did last year," he said. Read more from Nancy Cook and Jennifer Epstein.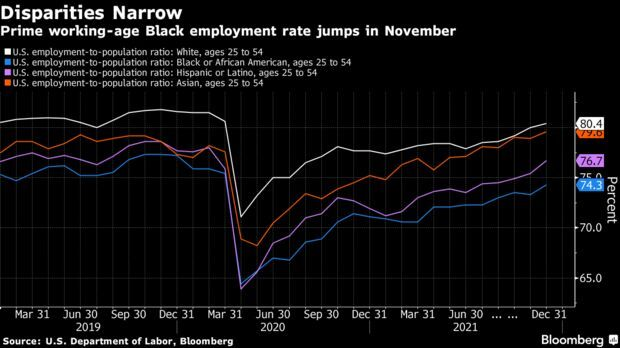 Happening on the Hill
House Readies Compromise Defense Bill: The House next week may take up a compromise defense bill in order to overcome gridlock in the Senate that has upended the regular conference process, Roxana Tiron reports. The Senate has been unable to reach agreement in order to vote on the defense authorization bill (H.R. 4350), so the two chambers have worked behind the scenes on a ping-pong negotiating scenario, which Rep. Adam Smith (D-Wash.), chairman of the House Armed Services Committee, told reporters last month was a possibility. House Majority Leader Steny Hoyer (D-Md.) indicated in a statement yesterday that a compromise bill would be coming to the floor next week.
It's not the first time the armed services committees have had to use a back-and-forth negotiating process because the Senate couldn't agree on its version of the defense bill. The Senate wasn't able to pass its own defense legislation in 2013 and 2014, so lawmakers have practice with the technical process of getting a bill to the president's desk for his signature.
Toomey Says Biden's Fed Supervision Pick to be Grilled: Sen. Pat Toomey (R-Pa.), the top Republican on the Banking Committee, said Jerome Powell's nomination as Fed chair will have broad bipartisan support in Congress, but "that may not be the case" with the nominee to be vice chair of supervision. Toomey today in an interview said he hopes for someone "who will respect the limited role they should play, the focus on actual supervision," Maria Luiza Rabello and Steven T. Dennis report.
House Panel Demands Permian Drillers Disclose Methane Leaks: Oil producers in the Permian Basin must do more to disclose and stop the leak of methane, a powerful greenhouse gas, House Science, Space and Technology Committee Chair Eddie Bernice Johnson (D-Texas) wrote in a letter to 10 major oil companies. Johnson said the committee is investigating whether existing leak detection and repair programs "possess the capabilities to achieve wide-ranging, quantifiable emission reductions from oil and gas sector methane leaks" and if additional policies are needed for a stronger federal role. The committee said it was requesting private sector leak detection and repair program information to inform its efforts. Read more from Ari Natter.
White House Supports Uyghur Human Rights Bill: The White House supports the Uyghur human right bill and is not lobbying against it, White House spokeswoman Jen Psaki said today, Daniela Sirtori-Cortina reports. The U.S. is concerned about forced labor in China's Xinjiang region, Psaki said. Washington Post columnist Josh Rogin said in an article that Biden administration officials told lawmakers to slow down and water down the bill, citing unidentified administration sources.
House Rules Chair Jim McGovern (D-Mass.) on Thursday said the House may take up legislation next week that could potentially including a bill that would target goods produced in the Xinjiang region where the government is allegedly holding Uyghur Muslims in forced labor camps, Daniel Flatley reports.
Senators Ready Bill to Overturn Biden Vaccine Mandate: The Occupational Safety and Health Administration's Nov. 5 rule requiring private sector employers to enforce Covid-19 vaccination or testing policies would be overturned by S. J. Res. 29. The resolution appears to have enough votes for Senate passage after Sen. Joe Manchin (D-W.Va.) stated his support last night. Minority Leader Mitch McConnell (R-Ky.) said he expects a vote the week of Dec. 6. If the Senate does pass the resolution, it would likely stall in the Democratic-controlled House, Bloomberg Government Analyst Adam M. Taylor writes.
Ethics Panel Launches Investigative Subcommittee for Fortenberry: The House Committee on Ethics in a release today said its members voted unanimously to establish an investigative subcommittee following the filing of criminal charges against Rep. Jeff Fortenberry (R-Neb.) in the U.S. District Court for the Central District of California. The subcommittee is tasked with determining whether Fortenberry's 2016 campaign accepted illegal donations, and if the lawmaker concealed facts or made false statements during a federal investigation into the contributions, according to the release.
Defense & Foreign Affairs
Trudeau Trade Czar Sees Slog on EV Tax Credits: Justin Trudeau's trade chief signaled Canada is willing step up its fight against the Biden administration's proposed Buy American tax incentives for electric vehicles after meetings with lawmakers from both parties on Capitol Hill. The Trudeau government is now girding for a drawn out campaign to make its case that the tax credits, included in the $1.75 trillion Build Back Better Act, violate the newly overhauled North American free-trade agreement, Trade Minister Mary Ng said today in a phone interview.
"There is more work to be done. We're not going to get to a solution overnight," she said after two days of meetings in Washington, where she was accompanied by lawmakers from opposition Canadian parties and auto industry leaders. While Ng described her talks as "productive," she added that "some of the senators that I met with had only heard of this for the first time." Read more from Brian Platt and Stephen Wicary.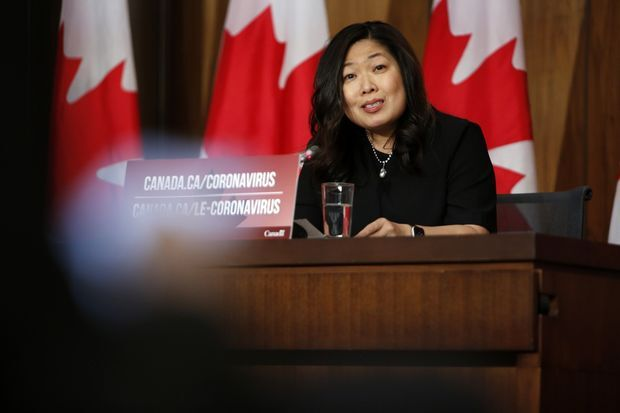 EU Envoy Says Major Problems, Not Much Time on Iran Talks: Diplomats attempting to restore the nuclear deal between Iran and world powers face substantial challenges that need urgent solutions, the top European envoy said today, with talks set to resume in the middle of next week. Negotiations ended today after just a week without suggestion the sides have begun to bridge their differences. Senior European officials, who asked not to be named in line with diplomatic rules, expressed disappointment and concern after analyzing the proposed Iranian changes. Tehran is walking back almost all of the difficult compromises crafted after many months of hard work, they said. Read more from Jonathan Tirone.
Biden Says He'll Make It 'Very Hard' for Putin: Biden said he's coordinating with allies in Europe to make it "very, very difficult" for Russian President Vladimir Putin to consider attacking Ukraine. "What I am doing is putting together what I believe to be will be the most comprehensive and meaningful set of initiatives to make it very, very difficult for Mr. Putin to go ahead and do what people are worried he may do," Biden told reporters today. The statement comes as Russian and U.S. officials plan a call or video call between their leaders, perhaps in the next several days. Read more from Jennifer Epstein and Justin Sink.
State Employees Targeted with Spyware: Spyware from Israel's NSO Group was used to hack the mobile phones of a number of U.S. State Department employees, according to two people familiar with the attack. The hacks targeted officials based in Uganda or focused on issues concerning the East African country and took place in the last several months, according to the people, who requested anonymity because the information hasn't been released publicly. The people said the victims were notified by Apple. Read more from William Turton, Mark Gurman, and Nick Wadhams.
Treasury Refrains From Naming Any Currency Manipulators:The U.S. Treasury again stopped short of labeling any foreign economies as manipulators of their exchange rates, while continuing to say that Taiwan and Vietnam met all three criteria for the designation. Switzerland dropped off the list. Treasury has had "enhanced engagement" with all three of the countries, the department said today in a statement accompanying its semiannual report to Congress on macroeconomic and foreign exchange policies of major U.S. trading partners. Read more from Chirstopher Condon.
Politics & Influence
DOJ Blasts 'Crude' Trump Words While Backing Him in Carroll Case: The Biden administration today sided with Donald Trump in urging a federal appeals court to scuttle a defamation lawsuit brought by a woman who claims the former president raped her two decades ago. Lawyers for Trump and the Justice Department argued at a hearing in Manhattan that Trump is protected from New York advice columnist E. Jean Carroll's lawsuit because his denial of her 2019 claims fell within his duties as a government employee. DOJ lawyer Mark R. Freeman said at the hearing that Trump had made "crude and offensive" remarks about "very serious accusations of sexual assault" made by Carroll. Read more from Erik Larson.
Business Rountable Announces Leadership Changes: The Business Roundtable lobbyist group today announced it's chief operating officer Marcus Peacock is retiring, and that Kristen Silverberg, it's current executive vice president of policy, will become president and COO beginning in January, among other promotions at the group.
Around the Administration
Raspy-Voiced Biden Diagnosed With Congestion: Biden is experiencing nasal congestion and a "frog" in his throat, and has tested negative for Covid-19 and other viral illnesses, his doctor said today. Biden's voice has sounded raspy in public appearances late this week, drawing questions from reporters about the 79-year-old's health. The White House released an evaluation from the president's physician, Kevin O'Connor, detailing his minor illness. Biden suggested he'd gotten it from his "1 ½-year-old grandson who likes to kiss his pop." Read more from Jennifer Epstein.
Biden Looks to Auditors to Grow Trust in Infrastructure Spending: Biden today said government auditors will have open access to agency officials in the coming months, as his administration gears up to spend billions on the new infrastructure law. The directive, released by the White House budget office, calls on a senior official at each agency to serve as point person for government watchdog staff as they audit federal spending. It instructs department leaders to assure the correct amount is sent to the right recipients—before the checks go out the door. The directive is part of Biden's effort to build public confidence in his administration's ability to deliver on the promises of the $1.2 trillion law (Public Law 117-58), after fraud from last year's coronavirus spending drew negative attention. Read more from Courtney Rozen.
Gensler Doubles Down on Concerns About Spot Bitcoin ETFs: Securities and Exchange Commission Chair Gary Gensler zeroed in on his concerns about exchange-traded funds that directly hold Bitcoin, the latest snub to hopes that the long-desired product would gain clearance by U.S. regulators. "The markets for actual Bitcoin itself today are largely unregulated," Gensler said in comments sent to Congress last week, according to a spokesperson for Senate Banking ranking member Toomey. "This lack of regulatory oversight and surveillance leads to concerns about the potential for fraud and manipulation." He said that even though non-U.S. regulators have approved a spot ETF, the SEC's decision wouldn't be influenced by that. Read more from Akayla Gardner.
Biden Fiduciary Definition Moves Could Wrap In Annuities, IRAs: Retirement advisers who market proprietary investment products and profit from advice they give to workplace investors are bracing for regulatory upheaval next year that for the first time could bind broad sectors of the insurance and financial industries to strict fiduciary obligations. The Labor Department's Employee Benefits Security Administration wants to ensure the advisers who recommend nest egg rollovers into individual retirement accounts or annuities—products that sometimes carry lofty hidden fees—are acting solely in participants' interests, or at least "best interests," under the law. Read more from Austin R. Ramsey.
Biden Sees Gasoline Savings in Reach: Biden said U.S. drivers are beginning to see lower prices at gasoline pumps, but that China has not yet participated in a global release of oil reserves his administration has tried to coordinate."Since the end of October, the average weekly price of gasoline on the wholesale market—that's what you sell to the gas stations—has fallen around 10%," Biden said in remarks at the White House today. "These savings are beginning to reach Americans and should pick up in the weeks ahead. And that can't happen fast enough." Read more from Justin Sink and Nancy Cook.
Groups Sue EPA for 'Overreach' in HFC Rule: An association representing heating and cooling wholesalers sued the Environmental Protection Agency over its recently unveiled hydroflurocarbon rules, claiming the agency overstepped its authority granted by Congress. The agency's rulemaking to phase out climate superpollutants called HFCs exceeded its authority and "will increase costs on the HVACR wholesale distribution and contracting industries and could potentially cause major disruptions that will affect consumers," Heating, Air-conditioning & Refrigeration Distributors International (HARDI) said in a news release on the lawsuit. Read more from Jennifer Hijazi.
DOJ Probes New York Mount Vernon's City, Police: The Justice Department is opening a civil "pattern or practice" investigation into the city and police department of Mount Vernon, N.Y. The investigation will focus on whether the police department engaged in unconstitutional practices, particularly with regard to actions taken against African Americans and minors, U.S. Attorney for the Southern District of New York Damian Williams told reporters. Read more from Chris Strohm.
Boeing 787 Flaws Subject of Two FAA Directives: Aviation regulators issued two airworthiness directives requiring inspections on the carbon-fiber structure of 787 jetliners, more than 100 of which have piled up at a Boeing factory the past year. The Federal Aviation Administration today finalized requirements for inspections of planes already in service to ensure potential flaws during construction don't develop into safety issues. Read more from Alan Levin.
With assistance from Roxana Tiron
To contact the reporters on this story: Michaela Ross in Washington at mross@bgov.com; Kenneth P. Doyle in Washington at kdoyle@bgov.com
To contact the editors responsible for this story: Zachary Sherwood at zsherwood@bgov.com; Giuseppe Macri at gmacri@bgov.com