Biden to Pardon Pot Possession; DACA Defeat Pressures Congress
President Joe Biden took his first major steps toward decriminalizing marijuana, saying he would pardon thousands of Americans convicted for possession of the drug and ordering a review of its treatment by law enforcement authorities.
Biden announced Thursday in a tweet that he would pardon all prior federal offenses for simple possession of marijuana. He will also urge governors to issue similar pardons for state offenses involving marijuana, senior administration officials said.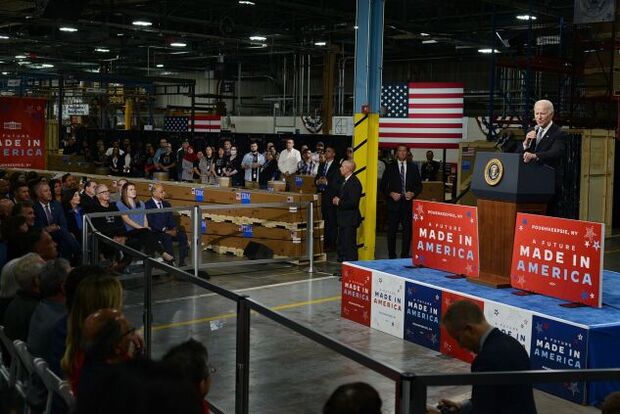 "Sending people to prison for possessing marijuana has upended too many lives and incarcerated people for conduct that many states no longer prohibit," Biden said in a statement, noting that people of color have been disproportionately arrested, prosecuted and convicted for the crime.
The moves fulfill a Biden campaign pledge about a month ahead of midterm congressional elections, which may attract more young people and voters of color Democrats need to show up at the polls. Democratic candidates including Pennsylvania Senate hopeful John Fetterman had pressured the president to decriminalize pot.
Biden's announcements stop short of decriminalizing marijuana, which would require an act of Congress. Lawmakers have not taken action on the matter but the issue has gained support among members of both parties. Nonetheless, they mark some of the most sweeping steps taken by a president to lessen criminal offenses related to the drug. Jordan Fabian has the story.
Also today, Biden toured an IBM plant to tout the recently enacted bipartisan semiconductor law. The president praised the company's plans to invest $20 billion over the next decade in New York, saying it could make the region a hub for quantum computing and resulted from legislation.Read more.
DACA Defeat Puts Pressure on Congress to Shield 'Dreamers'
Lawmakers are facing a torrent of calls to protect young immigrants known as Dreamers after a federal court dealt another blow to their legal status. It remains to be seen whether the ruling creates enough urgency to spur action.
The US Court of Appeals for the Fifth Circuit on Wednesday ruled that the Obama-era Deferred Action for Childhood Arrivals program contradicts federal immigration law. Current DACA recipients will retain their status, for now, while litigation continues over the Biden administration's recent rule codifying the program.
More than 600,000 undocumented immigrants who arrived in the US as children rely on their DACA status to work legally and avoid deportation. The Fifth Circuit ruling highlights the precarious nature of Dreamers' protections despite historically bipartisan support for their cause.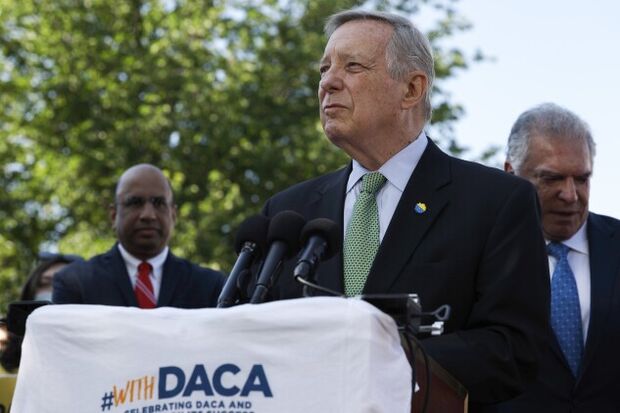 Congress has tried and failed several times to pass legislation providing a pathway to citizenship, and increasingly polarized border politics have only intensified the challenge.
Before the decision, DACA supporters pointed to the looming court action as a likely catalyst for legislation to protect Dreamers. But the fact that DACA recipients won't lose their status at this stage in the legal fight may dampen the urgency that's needed to mobilize sympathetic Republicans, even if the program's long-term prospects are bleak.
"The pressure that Congress would feel to act if things were absolutely dire isn't there," Cris Rámon, an independent consultant who works on immigration policy, said, after the ruling. Read more from Ellen M. Gilmer.
Also Happening on the Hill
Sen. Ben Sasse (R-Neb.) is expected to resign from the chamber in the near future and accept a job at the University of Florida, Politico reports, citing two people familiar with the matter.
The House committee investigating last year's attack on the US Capitol announced it will convene a rescheduled hearing Oct. 13, resuming the public portion of its inquiry into how the insurrection happened.
House Speaker Nancy Pelosi (D-Calif) urged regulators to closely scrutinize Standard General LP's proposed purchase of broadcaster Tegna, citing concerns the transaction could result in less local news, journalism job cuts and higher prices for consumers.
Senate Republicans are throwing their weight behind calls to impeach Homeland Security Secretary Alejandro Mayorkas, citing record migrant encounters at the US-Mexico border.
"We fully expect that in a few months' time a Republican-led Congress will hold you to account for your willful negligence regarding the security of the southern border and the safety of the American people," Sens. Lindsey Graham (S.C.) and Ted Cruz (Texas) told Mayorkas on Wednesday.
House Republicans have already pledged to bring impeachment proceedings against Mayorkas and other Biden administration officials next year, when they're expected to take control of the chamber.
BGOV Bill Summary: S. 4543, FY23 Defense Authorization: Defense programs at the Pentagon, Energy Department, and other agencies would be authorized to receive about $846.9 billion under S. 4543, the fiscal 2023 National Defense Authorization Act.
The measure would authorize $45 billion more than the White House requested to address inflation, provide additional security assistance to Ukraine, and accelerate production for certain munitions. Read more from Christina Banoub, Dan Lee, Lauren Turenchalk and Brittney Washington.
Elections, Politics and Probes
Republicans are opening a new line of attack on Biden and congressional Democrats as US stocks head for their worst year since 2008, sapping Americans' retirement accounts in the run-up to the midterm elections.
Georgia Democratic Senator Raphael Warnock is taking direct aim at Republican rival Herschel Walker's escalating family drama in a new ad highlighting longstanding domestic violence allegations against the former football star.
Beto O'Rourke's best hope for becoming Texas's first Democratic governor in almost three decades runs through a county where ultra-conservatives are remaking education with book bans and limits on teaching about racism.
Around the Administration
The Commerce Department said it observes "unprecedented, heightened" ethical standards in response to criticism from Senator Elizabeth Warren (D-Mass.) and others that it's beholden to the interests of the world's largest technology companies, including Alphabet's Google, Amazon, Apple and Meta.
The US will lose out on 6.6 million international travelers and $11.6 billion in their spending in 2023 if visa processing delays persist, an industry group projects.
Biden said he's disappointed by the surprise OPEC+ decision to slash oil production, but that he doesn't regret a trip to Saudi Arabia just three months ago in which he urged its leaders to keep crude flowing.
Secretary of State Antony Blinken announced $240 million in new humanitarian assistance and regional aid in the Western Hemisphere as the US seeks to stem a migration crisis that's becoming an increasingly big political liability for President Joe Biden.
Foreign Affairs
The US sanctioned seven Iranian officials it said played a role in an internet cutoff and crackdown on protests that have wracked the country, part of the Biden administration's move to take a more forceful stand against the regime's response.
The US will begin redirecting travelers from Uganda to five airports to screen for Ebola, as the East African country grapples with an outbreak of a strain of virus for which there is no approved vaccine.
With its troops losing ground almost daily, the Kremlin has told some of its state media to start admitting some of the failings of President Vladimir Putin's invasion of Ukraine, worried that its relentlessly upbeat propaganda was fueling growing public doubts.
An ISIS official was killed during a helicopter raid in northeast Syria, US Central Command said in a statement. Rakkan Wahid al-Shammri, known to facilitate the smuggling of weapons and fighters to support ISIS operations, was the target of the raid.
What Else to Know
Uber inked a deal to offer driverless deliveries and rides, rekindling its vision of a self-driving taxi fleet nearly two years after it sold its autonomous vehicle division. Read more.
Mortgage rates in the US fell, shifting direction after a six-week streak of gains that sent borrowing costs to a 15-year high. Read more.
Applications for US unemployment insurance rose by more than forecast last week, though remained at a historically low level. Read more.
To contact the reporter on this story: Andrew Small at asmall@bgov.com
To contact the editor responsible for this story: Michaela Ross at mross@bgov.com