Biden to Meet DeSantis; GOP Stands by Herschel Walker
President Joe Biden will meet with Florida Governor Ron DeSantis during a tour of areas in his state devastated by Hurricane Ian on Wednesday.
Biden plans to meet with workers aiding in the recovery and be briefed by DeSantis, White House Press Secretary Karine Jean-Pierre said.
"Governor DeSantis, the FEMA Administrator Deanne Criswell, and other state and local officials will also provide the president with an operational briefing on the current response and recovery efforts," she said at a briefing on Tuesday.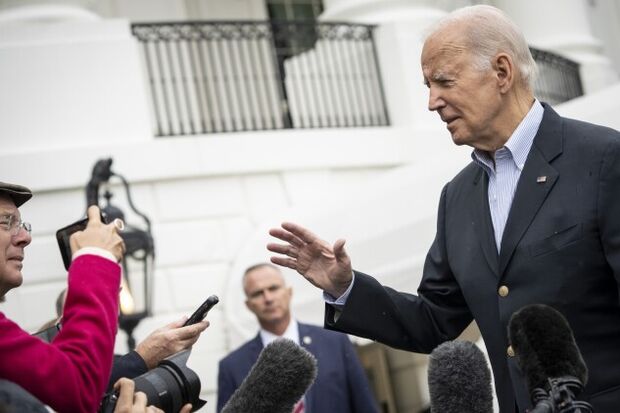 Biden and DeSantis have feuded over political issues but are coordinating on assistance for Floridians hit by a hurricane Biden's called "among the worst in the nation's history."
DeSantis, a Republican whose name has been floated as a potential 2024 presidential candidate, has been a sharp critic of Biden and Democratic policies. The governor, who is running for re-election this year, has boosted his national profile by assailing Democrats on culture-war issues that play well with the Republican base. Read more from Akayla Gardner.
GOP Stands by Herschel Walker as He Denies Paying for an Abortion
Republicans are standing by embattled Herschel Walker in his race for a US Senate seat in must-win Georgia as he emphatically denies a Daily Beast report that he once paid for a girlfriend's abortion 13 years ago.
Abortion has emerged as among the top issues that could decide control of the Senate, and Walker is a fierce advocate for a nationwide abortion ban with no exceptions for rape, incest or the risk to the mother.
"I deny this in the strongest possible terms," Walker said in a statement that was posted on Twitter Monday night.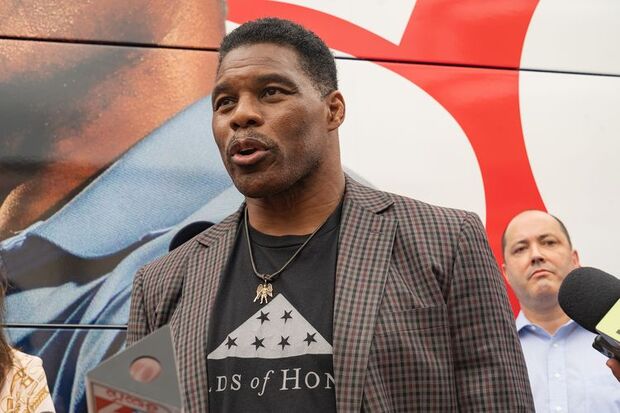 Walker, a football star at the University of Georgia who won the Heisman Trophy and went on to a career in the NFL, entered the race at the urging of former President Donald Trump.
The National Republican Senatorial Committee signaled that it doesn't plan to abandon Walker's candidacy in light of the reports.
"This is just like the smears they attempted against Brett Kavanaugh and Clarence Thomas, and it will not work. Herschel has denied these allegations and the NRSC and Republicans stand with him, and Georgians will stand with him too," NRSC Chairman Rick Scott said in a statement Tuesday. Read more from Mario Parker.
Election, Politics and Probes
The US Supreme Court's conservative wing considered limiting the creation of majority-Black voting districts, even amid forceful pushback from new Justice Ketanji Brown Jackson.
Less than 24 hours after filing suit against CNN, Trump is asking his supporters to donate to his cause.
Former Trump White House strategist Steve Bannon was given a November 2023 trial date on charges he defrauded contributors to a privately funded US-Mexico border wall out of more than $15 million.
Voters in five states will decide whether to toss out vestiges of America's slavery era, while the Supreme Court considers arguments about how redistricting needed to be done in a race-neutral way in the latest Ballots & Boundaries newsletter.
Around the Administration
Biden will head to the New York area Thursday for a jobs event hosted by IBM and a pair of fundraisers ahead of November's midterm elections. The trip will include a visit to the IBM campus in Poughkeepsie, according to a White House official who asked not to be identified because the trip hasn't yet been announced.
New York Governor Kathy Hochul called on the Biden administration to present a "federal solution" to the influx of thousands of migrants that are being bused from border states, saying the state can only do so much.
Biden assured Prime Minister Fumio Kishida of the US's "ironclad commitment" to defending its Pacific ally after North Korea fired a missile over Japan for the first time in five years.
Treasury Secretary Janet Yellen on Tuesday dismissed speculation that she plans to depart from her post in the near future.
Biden Spoke With Ukraine's Zelenskiy, Pledged $625M More Aid
Biden told Ukrainian President Volodymyr Zelenskiy the US would continue to support Ukraine for as long as it takes, according to a statement, Megan Howard reports. Biden pledged a new $625 million in a security assistance package in a call today that includes additional weapons and equipment, including High Mobility Artillery Rocket Systems, artillery systems and ammunition and armored vehicles.
The Group of Seven industrialized economies are within weeks of announcing a formal cap on the price of Russian oil, according to a US Treasury official.
The federal government's central purchaser put out a request on Tuesday to learn more about the availability of low-carbon construction materials that are made in America.
What Else to Know
Elon Musk is proposing to buy Twitter for the original offer price of $54.20 a share, potentially ending one of the most contentious acquisitions in recent history. Read more.
US job openings plummeted in August by the most since early in the pandemic, likely a welcome sign for Federal Reserve officials as they seek to cool demand for workers without triggering a spike in unemployment. Read more.
To contact the reporter on this story: Andrew Small at asmall@bgov.com
To contact the editors responsible for this story: Michaela Ross at mross@bgov.com; Giuseppe Macri at gmacri@bgov.com