Biden Hails Unemployment Drop; President Has Few Options on Gas
President Joe Biden celebrated the latest jobs figures, despite U.S. job growth in September being the slowest so far this year. Biden is also facing pressure from rising gas prices, but a solution might conflict with his environmental agenda.
Here's what Bloomberg Government is tracking so far today.
Biden Celebrates Drop in Unemployment
President Biden celebrated a decline in the unemployment rate, even as U.S. job growth in September weakened to the slowest pace this year.
"Today's report has the unemployment rate down to 4.8%, a significant improvement from when I took office and a sign that our recovery is moving forward, even in the face of a Covid pandemic," Biden said today at the White House.
While the unemployment rate dropped to a pandemic low of 4.8%, that was partly because thousands of Americans—especially women—left the labor force and gave up looking for jobs, the Labor Department data showed. September's report showed a 194,000 gain in payrolls, weaker than all but one of 71 forecasts in Bloomberg's survey. Wages climbed as companies sought to lure workers.
The report, predictably, triggered a partisan reaction. Speaker Nancy Pelosi (D-Calif.) said the release showed the need for a sweeping social-spending package Democrats are working on in Congress. That bill will provide jobs in health care, child care, education and clean energy, Pelosi said in her statement.
Republican lawmakers have, by contrast, argued that federal support will only undermine the incentive for Americans to take up job openings. Read more from Jennifer Epstein.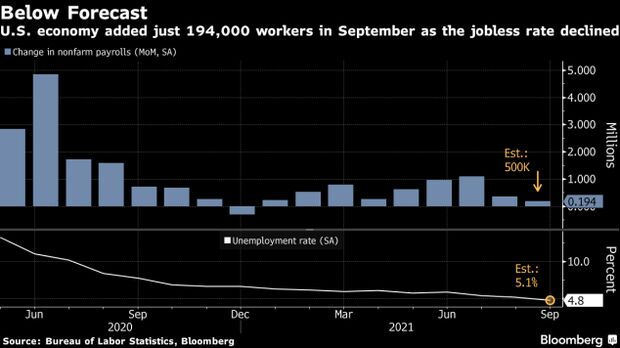 More Headlines:
Biden's Options on Gas Clash With Climate Agenda
Biden is under intensifying pressure to keep a lid on rising gasoline and natural gas prices that threaten the economic recovery and Democrats' political ambitions.
But he has little power to control global energy markets.
"The toolbox is actually pretty limited," said Kevin Book, managing director of research firm ClearView Energy Partners. "The U.S. government doesn't have the ability to move earth and molecules any faster than the private industry that is responsible for producing energy."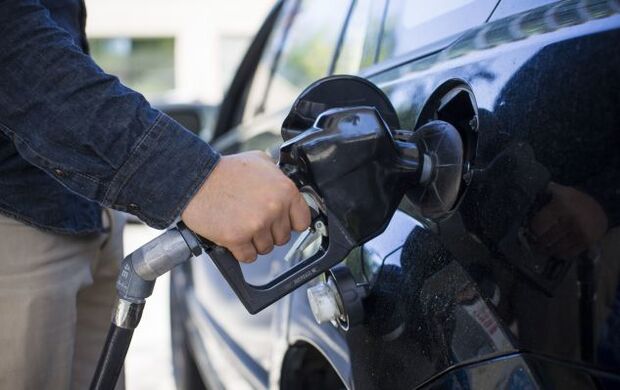 Moreover, some options—from tapping the nation's emergency oil stockpile to banning natural gas exports—clash with the president's green agenda and could anger European allies. Other tactics commonly used to fill supply gaps after natural disasters are of little use to combat price spikes.
Rising motor fuel prices pose a political risk to any U.S. president. But Biden has added reason to worry, as high energy costs and rising inflation threaten his bid to nurture an economic rebound from the pandemic and enact major social-spending and infrastructure legislation.
Jennifer A. Dlouhy and Ari Natter take a look at some of Biden's options.
Happening on the Hill
Deadlines Shift on Fiscal Cliff, Democrats' Agenda: Lawmakers struck a deal on a short-term debt limit hike that alleviated immediate concerns about a default while syncing the issue with a deadline for government spending in about eight weeks.
But first, Democrats are seeking a deal to enact the bulk of Biden's economic agenda. House leaders scrapped a vote on the Senate-passed bipartisan infrastructure package (H.R. 3684) as progressives called for action on the social spending, climate, and tax package (H.R. 5376) that is being developed using budget reconciliation.
Michael Smallberg highlights deadlines that will help drive the congressional agenda in the months ahead in an updated BGOV OnPoint.
Biden Economic Plan Will Be Worth About $2 Trillion: Sen. Mark Warner (D-Va.) said the cost of Biden's spending and tax agenda will likely come in "around $2 trillion" after negotiations. Warner hopes the Democrats "will have a plan out shortly" and it will include new social-spending initiatives "as well as some long-overdue tax fairness," he said in a Bloomberg Television interview, Catherine Larkin and David Westin report.
McConnell's Grip Erodes After Trump: Senate Majority Leader Mitch McConnell (R-Ky.) found himself this week in the unenviable position of begging for votes from within his own caucus. McConnell was able to deliver on the short-term deal with one vote to spare, but he was only able to muster 10 of the 49 other GOP senators. McConnell's case wasn't helped by a couple of withering statements from former President Donald Trump and the spreading fear of primary challenges from the populist right. It underscored the continuing hold Trump exerts over Republicans in Congress as he seeks to re-assert his dominance of the party. Read more from Mike Dorning.
Biden Biomedical Agency's Future Gets Complicated: Biden's proposed new biomedical research agency may fall short of funding or approval from Congress this year after Senate Democrats signaled they've booted the initiative from their pending social spending and tax package. House leaders proposed earmarking $3 billion for what the White House calls the Advanced Research Projects Agency for Health, or ARPA-H, modeled on similar research initiatives at the Pentagon and the Department of Energy. Biden has said he hopes the new agency would be housed within the National Institutes of Health to speed up game-changing biomedical discoveries.
A Senate Democratic aide confirmed today the money is now unlikely to be included in a sweeping domestic policy package being debated by Democrats. Senate rules would prohibit such a move under the budget procedure Democrats plan to use to pass the package with a simple majority vote, Politico reported earlier. Read more from Alex Ruoff.
Voting and Campaigns Legislative Package: Voting options, election procedures, and campaign finance rules would be modified by S. 2747. Timing for Senate consideration of the elections and voting measure hasn't been announced. Democrats would likely need the support of at least 10 Republicans for the measure to overcome procedural hurdles. Adam M. Taylor and Brittney Washington have more in the BGOV Bill Summary.
Jan. 6 Panel Threatens Former Trump Aides: The House committee investigating the Jan. 6 attack on the Capitol says it will not allow Steve Bannon or other witnesses to defy subpoenas and will consider pursuing a criminal contempt charge if necessary, Megan Howard reports. "Mr. Bannon has indicated that he will try to hide behind vague references to privileges of the former President. The Select Committee fully expects all of these witnesses to comply with our demands for both documents and deposition testimony," Chairman Bennie Thompson (D-Miss.) and Vice Chair Liz Cheney (R-Wyo.) said in a statement. "The Committee is making rapid progress and will not be deterred by those who seek to obstruct our efforts," they added
Trump D.C. Hotel Lost $70 Million in Four Years: Donald Trump's Washington hotel lost more than $70 million during his time in the White House, despite receiving millions in payments from foreign governments, according to federal documents released today. The documents "raise new and troubling questions about former President Trump's lease," which was managed by the General Services Administration, according to a letter from Rep. Carolyn Maloney (D-N.Y.), chair of the House Oversight and Reform Committee. Read more from Sophie Alexander and Tom Maloney.
Holding Big Tech Accountable on Protecting Kids: The Federal Trade Commission should use its full authority to ensure tech companies comply with their new policies on protecting young users online, three Democratic lawmakers told FTC Chair Lina Khan, Se Young Lee reports.
The FTC has "a statutory obligation to ensure that powerful technology platforms comply with their public statements and policies on children's and teen's privacy," Sen. Ed Markey (D-Mass.), along with Reps. Kathy Castor (D-Fla.) and Lori Trahan (D-Mass.) wrote in a letter. "We therefore encourage you to use every tool at your disposal to vigilantly scrutinize companies' data practices and ensure that they abide by their public commitments."
New Office of Cybersecurity Proposed in Bipartisan Bill: An new federal office focused on telecommunications cybersecurity policy and analysis is being proposed in a bill introduced by Sens. Shelley Moore Capitol (R-W.Va.) and John Hickenlooper (D-Colo.). The office would reside within the National Telecommunications and Information Administration, and would develop cyber policy relating to telecommunications, the internet, consumer software services and public media. It would also aim to provide assistance for small and rural communications and software providers.
Capito said in a statement that the proposed office would "develop cybersecurity guidance, identify potential vulnerabilities, and promote collaboration between the public and private sectors, all with the ultimate goal of protecting consumers."
Dems Warn Cryptocurrencies Aid Ransomware: The rapid increase of cryptocurrency has facilitated an explosive growth in ransomware attacks, largely by offering easy methods for laundering illicit gains, Democratic lawmakers said in letters sent to the Departments of Justice, Treasury, State, and Homeland Security, Maria Luiza Rabello reports. "Increasing enforcement of existing money laundering and financial crimes statutes would play an important role in deterring ransomware attacks and facilitating the recovery of cryptocurrency paid to ransomware attackers," they wrote.
The Biden administration should pursue all options available to protect U.S. from "the growing threat of ransomware," and since many attacks originate in jurisdictions outside the country, U.S. agencies should work with foreign partners and cryptocurrency exchanges in order to seize ransomware payments or other related assets, they added.
Stablecoin Rules Must Come From Congress: Sen. Pat Toomey (Pa.), the ranking member of the Senate Banking Committee, said it "would be very unfortunate" if rules for stablecoins, a crypto subset often pegged to fiat currencies such as the dollar, were set by the Financial Stability Oversight Council.
"Rather than have regulators stretch existing laws or take advantage of ambiguities to cover stablecoins, Congress should enact new clarifying legislation," Toomey said in a letter today to Yellen. Letting the FSOC declare stablecoins a potential hazard would "cause tremendous damage to an emerging technology" and run counter to the council's authority, he contended, "since stablecoins do not pose a threat to the stability of the U.S. financial system." Read more from Jesse Hamilton.
Marijuana Decriminalization by DOJ Sought: Democratic Sens. Elizabeth Warren (Mass.) and Cory Booker (N.J.) are calling on the Justice Department to decriminalize cannabis by removing the drug from the federal controlled substances list. The so-called descheduling would allow states to regulate the substance as they see fit, begin to remedy racial disparities in enforcement of cannabis laws and facilitate valuable medical research, the lawmakers wrote in a letter to Attorney General Merrick Garland, Laura Curtis reports.
Defense & Foreign Affairs
Global Corporate-Tax Overhaul Advances: A vast overhaul of corporate taxation won support from 136 countries, as nations resolved key differences over the level of a global minimum rate and an end to new digital taxes that the U.S. has deemed discriminatory. The Organization for Economic Cooperation and Development, which has chaired the talks and made today's announcement, said a minimum rate could ultimately raise government incomes by $150 billion a year, while new rules would reallocate $125 billion of profits to be taxed in nations where big corporations generate revenue but may have little physical presence. Read more from William Horobin and Isabel Gottlieb.
Russia Threatens to Expel U.S. Embassy Employees: Russia is asking the U.S. embassy to lift the diplomatic immunity of three employees accused of theft, Interfax reported, citing the Foreign Ministry in Moscow. The Foreign Ministry said the three will have to leave Russia if the U.S. doesn't remove their protected status, Interfax reported. With relations at the lowest in decades, the two sides have also been locked in a struggle over the number of diplomats working in each other's embassies, Torrey Clark reports.
China's Xi to Make Fresh Appeal to Taiwan: Chinese President Xi Jinping is expected to make a new overture to Taiwan tomorrow, days after sending a record number of warplanes near the island as part of a years-long pressure campaign against its democratically elected government.
The anniversary follows a particularly tense week in the Taiwan Strait, with China sending scores of military planes into the island's air-defense-identification zone while the U.S. and its allies held military exercises in nearby waters. On Friday, Beijing urged Washington to abide by its agreement to keep troops out of Taiwan after an American defense official confirmed reports that U.S. military advisers had been deployed there. Read more from Bloomberg News.
Around the Administration
Biden Restores Protections at Three Monuments: Biden today signed executive actions reversing former President Donald Trump's decision to shrink Bears Ears National Monument by nearly 85% and Grand Staircase-Escalante National Monument by almost half, Justin Sink and Jennifer Epstein report.
SEC Chief Warns a Crackdown Is Coming: Securities and Exchange Commission Chief Gary Gensler is laying out one of the most ambitious agenda's in the SEC's 87-year history—some 49 proposals, many already drawing opposition from hedge funds, stock exchanges, online brokers and public companies. He's been similarly aggressive on agency enforcement cases, which can tank share prices, spur fines and trigger embarrassing publicity. Gensler says he's confident the SEC can move ahead on many issues at once. But his full agenda has allies has critics questioning: Can he do it? Read more from Robert Schmidt and Ben Bain.
DeJoy's 10-Year Plan May Slow Ballots: Postmaster General Louis DeJoy is again trying to make major changes that pose a threat to timely delivery of mail-in ballots, according to a complaint filed by a group of Democratic state attorneys general.
DeJoy's 10-year strategic plan for the U.S. Postal Service will permanently slow delivery standards for first-class mail nationwide, affecting everything from election mail to government benefits, 19 states and the District of Columbia said in an administrative complaint with the Postal Regulatory Commission. USPS spokeswoman Kim Frum said today the Postal Service would ask for the dismissal of the complaint, which she said "has no legal or factual merit." Read more from Erik Larson.
EPA Grants Petitions to Stem Climate Pollutants: The Environmental Protection Agency will begin crafting rules to transition certain sectors way from using hydrofluorocarbons, a move authorized by legislation to phasedown the use of the potent greenhouse gas. The EPA granted ten petitions to cut the use of the chemicals, also called HFCs, in the refrigeration and air conditioning, aerosols, and foam sectors, according to an announcement today. The move supplements regulations finalized last month.
"Today's actions are another step forward in advancing President Biden's commitment to tackle the climate crisis, as we work to phase down and restrict the use of super-polluting HFCs as Congress directed," EPA Administrator Michael Regan said in a statement. Read more from Jennifer Hijazi.
Impact of Federal Highway Grants on Local Spending: For every additional dollar in federal highway grants, state and local governments spent about $0.26 less of their own funds on highway capital projects, according to a new Congressional Budget Office paper published today. The paper used two decades of highway spending for its analysis.
As Congress debates a major infrastructure bill (H.R. 3684), the paper also looks at the impact of previous surges in additional funding for highway grants. In response to grants given in the 2009 stimulus, state and local governments increased their own spending by about 13 cents for each federal highway dollar through the American Recovery and Reinvestment Act, which also authorized Build America Bonds for highway projects. That is similar to the House Ways and Means' reconciliation bill now before Congress, which would create a Build America Bonds-style debt program, Lillianna Byington reports.
With assistance from Lillianna Byington
To contact the reporter on this story: Katrice Eborn in Washington at keborn@bgov.com
To contact the editor responsible for this story: Zachary Sherwood at zsherwood@bgov.com