Biden, DeSantis Tour Ian Damage; Jackson's Voice Emerges
President Joe Biden and Florida Governor Ron DeSantis stressed joint efforts to respond to damage wrought by Hurricane Ian, largely ignoring their past political squabbles.
"Today we have one job and only one job — and that's to make sure that the people of Florida get everything that they need to fully thoroughly recover," Biden, standing at a podium next to DeSantis, said Wednesday following a helicopter tour of a swath of Southwest Florida devastated by Ian.
Biden's joint appearance with DeSantis — a potential 2024 rival — came as part of a briefing on recovery efforts from the governor, FEMA Administrator Deanne Criswell, and other state and local officials. Biden, accompanied by first lady Jill Biden, also met with local residents affected by the storm.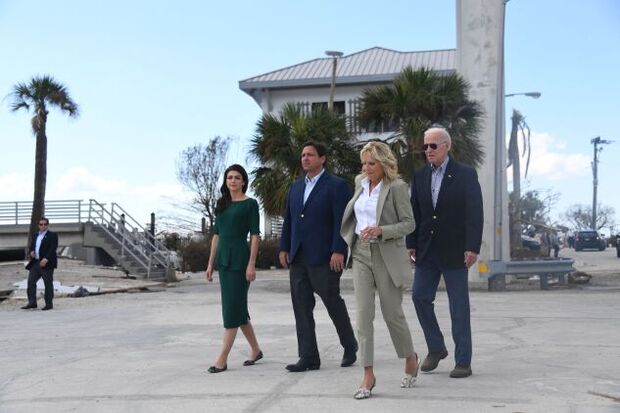 "I think he's done a good job," Biden said of DeSantis's efforts in regards to Ian, noting that he and the governor have different political philosophies "but we've worked hand in glove."
Biden on Wednesday granted a request from DeSantis to extend to 60 days the period for which the federal government will cover the full cost of clearing debris, distributing food and water and supporting shelters.
DeSantis thanked Biden for approving the request and for the federal assistance provided so far, telling the president that power had been restored to about 97% of the state and that the Sanibel Causeway bridge had been repaired. "We have 100% reimbursement, just got extended," the governor told one resident. Read more from Akayla Gardner.
Jackson Rapidly Emerges as Active Force on Divided Supreme Court
It didn't take long for Justice Ketanji Brown Jackson to find her voice on the US Supreme Court. Four arguments into her new job, the court's first Black female justice has emerged as an active, forceful questioner, willing to directly lay out her views and even take on her more conservative colleagues. She spoke more than any other justice in her first two days on the bench.
Jackson made her first public appearance on the Supreme Court bench Friday when the court held a formal investiture ceremony to mark her arrival. Hours later she told a cheering audience at the Library of Congress, "I have a seat at the table now, and I'm ready to work."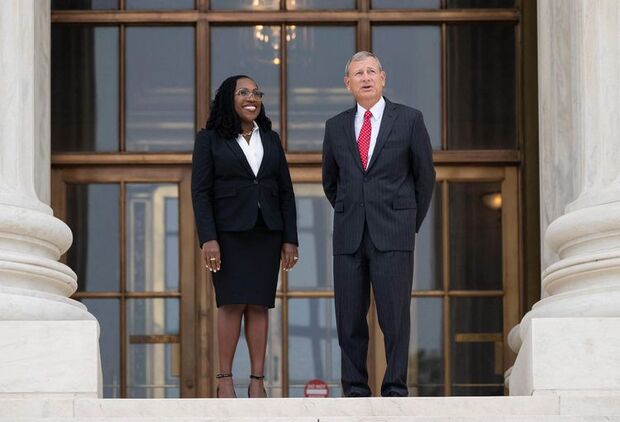 The court's newest justice made her biggest mark so far in Tuesday's Voting Rights Act case, an Alabama dispute that could mean a reduction in the number of majority-Black and majority-Hispanic legislative districts, rejecting suggestions from a lawyer representing Alabama that redistricting must be done in a race-neutral way.
Jackson said the framers of the post-Civil War amendments to the Constitution were focused on racial inequalities, and authorized Congress to address them.
Those framers "were in fact trying to ensure that people who had been discriminated against — the freedmen during the Reconstruction period — were actually brought equal to everyone else in the society," Jackson said. The Voting Rights Act, she said, "by its text is doing that same thing." Read more from Greg Stohr.
Elections, Politics and Probes
Support for Republican Mehmet Oz's bid for US Senate from Pennsylvania has jumped, closing what was a 10-point gap in the race just three weeks ago to bring it within the margin of polling error.
US Senator Raphael Warnock of Georgia has opened a double-digit lead in his bid for re-election next month against Republican challenger Herschel Walker, a new poll shows.
Former President Donald Trump publicly said that one reason that the FBI found boxes of classified documents improperly stored at his Florida estate was that federal workers had packed up the White House after his 2020 defeat.
But documents obtained by Bloomberg News under a Freedom of Information Act request suggest a different story. One thing is clear: The boxes were packed when the movers got there.
A federal appeals court granted the Justice Department's request to expedite its challenge to a Florida judge's appointment of a so-called special master to review thousands of White House documents seized from Trump's Mar-a-Lago estate.
A challenge to Georgia voting practices stemming from a 2017 special congressional election fell flat when the Eleventh Circuit on Wednesday said the state's administrative concerns justified printing hard-copy backup voter lists before early voting has been completed.
Things are looking up for the winners of two recent House special elections, although the overall outlook for House control hasn't changed, Emily Wilkins reports.
Sabato's Crystal Ball moved Rep. Mary Peltola's (D-Alaska) race to "Leans Democratic" from "Toss-up." Meanwhile, Rep. Mayra Flores's (R-Texas) district on the southern border has moved from "Leans Democratic" to "Toss-up." Cook Political Report also moved the race between Flores and Rep. Vicente Gonzalez (D-Texas) from "Leans Democratic" to "Toss-up.
Around the Administration
The White House expressed frustration with plans by OPEC+ to cut output targets by 2 million barrels a day, announcing steps to curb its impact on energy prices and threatening repercussions for the oil cartel.
US gasoline demand is roaring back just as OPEC+ moves to cut global oil supplies — a scenario that could intensify the Biden administration's worries over pump prices heading into November elections.
The Treasury Department is expediting the formulation of scores of regulations that will carry out the $270 billion worth of energy tax incentives included in Biden's signature climate and tax bill.
The Army isn't in a strong enough position to respond to a changing climate or on track to reach its 2050 climate goals without careful planning, according to a military implementation plan released Wednesday.
What Else to Know
To contact the reporters on this story: Andrew Small at asmall@bgov.com
To contact the editors responsible for this story: Michaela Ross at mross@bgov.com; Giuseppe Macri at gmacri@bgov.com