Biden Court Picks Fast-Tracked as Democrats Follow GOP Playbook
Senate Democrats retain Trump-era rules on judges
Liberals fear fate of Biden picks if GOP regains control
Bloomberg Government subscribers get the stories like this first. Act now and gain unlimited access to everything you need to know. Learn more.
Senate Democrats are embracing many of the hardball judicial confirmation tactics they once criticized Republicans for using as they press to fill dozens of federal vacancies before the 2022 midterm elections.
They've retained GOP rules implemented during the Trump administration to expedite nominees to fill more than 100 judicial vacancies. Senate Majority Leader Chuck Schumer (D-N.Y.) said he plans to confirm another nine federal judges this week, including three for the influential circuit courts.
There's an urgency to move quickly given that their tenuous hold on the 50-50 chamber—and with it, President Joe Biden's ability to put his imprint on the judiciary—may be short-lived.
Even as the Senate proceeds with other legislation, "we will not relent on speedily filling the vacancies in our federal judiciary with qualified, mainstream, and diverse jurists," Schumer said on the floor Tuesday. "Our federal courts have long been presided over by former corporate lawyers and prosecutors and men. They should better reflect the richness and diversity of our nation."
During the Trump years, Republicans expedited floor debate on judges and limited individual senators' say over appellate court nominees from their home states. Democrats decried the changes at the time, but they've been urged to keep them in place by liberal advocates who want more like-minded jurists named by Biden on the federal bench to offset the influence of Trump's conservative picks and to play a role in decisions on key issues such as abortion and voting rights.
"The votes exist within the Democratic majority on Judiciary to move these judges forward," Democratic strategist Max Burns said. "The American people deserve that representation and to have a functioning judiciary, and I think voters certainly would not scold Democrats for doing something that they've watched Republicans do for years and have become accustomed to this idea that you use power when you have it."
In 2017, Schumer criticized then-Majority Leader Mitch McConnell(R-Ky.) when he moved to end the practice of honoring home state senators' preferences when filling key federal circuit court vacancies. The long-standing tradition called for senators representing states where judicial vacancies occur to be sent "blue slips" where they'd indicate whether or not they supported a proposed nominee. Previously, if lawmakers objected to a pick for a circuit or district court in their state, leaders wouldn't advance the nominee.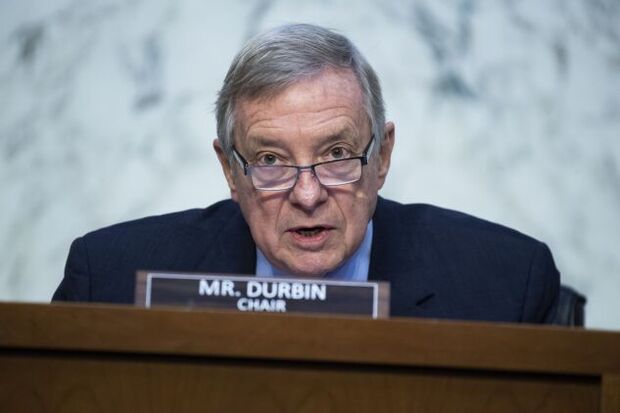 Schumer said at the time the blue slip tradition was one of the few mechanisms "to create bipartisanship and bring people to an agreement." But since taking the majority, he and Judiciary Committee Chairman Dick Durbin (D-Ill.) said they'll follow McConnell's rule, with Durbin saying it may also be extended in some cases to district court judges.
Durbin said in an interview that the desire to ensure diversity also is driving why, in some limited cases, he might ignore home state senators' wishes in the filling of district court judges.
"I was trying to make an exception for those people who send in blue slips in some circumstances that were not based on the merits of the judge but rather whether it's a woman or a question of sexual orientation or something of that nature," Durbin said. "So I've kind of reserved that possibility."
Limiting Debate
Democrats are using the McConnell rules change to also limit debate on circuit and district court judges, even though they previously criticized the move to cut post-cloture debate time down to two hours from 30 hours. Under the tighter time limits, Democrats have been able to confirm about 20 of Biden's picks, which is a better record by this time in his term than any president since Richard Nixon.
Democrats' push is aided by moves they instituted in 2013 when then-Senate Majority Leader Harry Reid (D-Nev.) changed the threshold for confirming most judges from 60 votes to a simple majority.
Democrats and their allies argue it's more important to confirm judges even as many of Biden's second-tier executive branch appointees await consideration.
The other concern is timing. Liberal groups said they're increasingly worried that if Democrats lose the chamber McConnell will slow down or stop the confirmation of Biden judges over the final two years of his term. McConnell engineered a blockade of many of former President Barack Obama's judicial nominees, including Merrick Garland to serve on the U.S. Supreme Court, and helped keep open numerous vacancies for Trump to fill.
"I think Democrats are very, very clear in what will happen if McConnell becomes majority leader again in 2023," said Dan Goldberg, legal director at the Alliance for Justice.
Republicans who once championed the blue slip rules changes are urging caution.
Sen. Chuck Grassley (R-Iowa), the Senate Judiciary Committee's ranking member, said in an interview that the blue slip rule must be "definitive" and respected for district courts.
"At the circuit court level all we Republicans are going to be concerned about is there's good faith consultation between the senators and the White House," Grassley said.
Slowdown Strategy
Republicans have adopted a "slowdown strategy" requiring separate procedural and final confirmation votes on every judge, even if it's clear they'll be confirmed, said Steven Smith, a Washington University political scientist. The result is "a minimum of 100 cloture votes forced on nominations by the minority," he said in an interview.
So far, the Senate leadership has focused on judicial picks from states with Democratic senators and where opposition to a nominee is unlikely.
Bigger tests will come when they try to fill vacancies in states represented by Republican senators. But Amy Steigerwalt, a political scientist at Georgia State University, said even if Republicans slow walk nominees, Biden can ignore them and nominate who he wants.
"The purview and the power to nominate is solely with the president," she said. "The president technically doesn't have to negotiate with the senators at all."
Burns said putting judges in place is a "political winner" for Democrats showing government is working and can be highlighted in the election season to change the narrative.
"It's a question of whether the president is willing to take some bad press in red states to do something that will in large part secure his agenda," he said.
To contact the reporter on this story: Nancy Ognanovich in Washington at nognanov@bgov.com
To contact the editors responsible for this story: Bennett Roth at broth@bgov.com; Kyle Trygstad at ktrygstad@bloombergindustry.com
Stay informed with more news like this – from the largest team of reporters on Capitol Hill – subscribe to Bloomberg Government today. Learn more.