Biden Confronts $1 Trillion Cost for Trump's 500-Ship Navy Plan
CBO analyzed Trump's shipbuilding plan submitted in December
Plan would cost $34.1 billion a year, highest since last world war
Bloomberg Government subscribers get the stories like this first. Act now and gain unlimited access to everything you need to know. Learn more.
The U.S. Navy's latest shipbuilding plan would cost more than $1 trillion over 30 years to build a fleet of 500 surface vessels, submarines, and unmanned ships, the Congressional Budget Office said.
The 30-year shipbuilding plan would average $34.1 billion per year—an amount that would be "unprecedented since World War II," the CBO said in its analysis on Thursday. The Navy's long-term shipbuilding plan, required by Congress, is based on the Trump administration's last-minute and ambitious plans to boost naval power by 2045.
Overall, the plan called for 403 battle force ships, up from about 300 manned ships today, and 143 unmanned vessels by 2045. It would double the Navy's average annual budget over the last three decades.
The Trump administration submitted its blueprint to Congress in December, even though the Navy is required to submit it together with the yearly budget request. The driving forces behind it were then-National Security Adviser Robert O'Brien and Budget Director Russel Vought.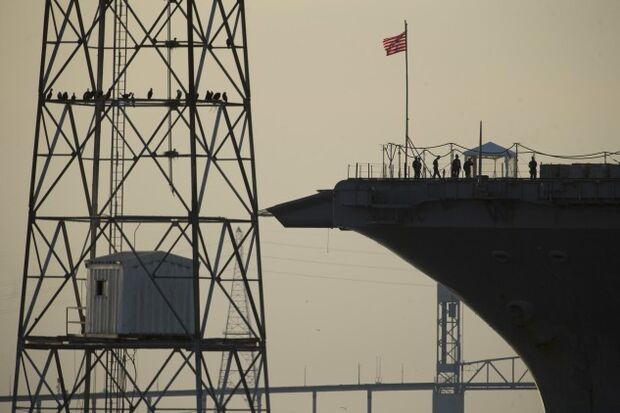 Many observers saw the plan as designed to paint the Biden administration into a corner on the assumption it would draw bipartisan support from lawmakers representing shipbuilding states, such as Rhode Island, Connecticut, Alabama, and Mississippi.
Sticker Shock
The CBO last month in a separate report assessed the planned submarine increase in former President Donald Trump's plan and concluded many vessels "could spend years waiting for maintenance rather than being deployed" because current shipyards have major backlogs. The Navy's four shipyards already experienced "significant" delays in maintaining existing submarines, so backlogs would increase "unless the shipyards' capacity was increased to accommodate" the larger plan, CBO said.
The Trump plan sought 80 attack submarines, compared with 65 in the Navy's fiscal 2020 plan. CBO projected the sub fleet's planned size already "will exceed the yards' capacity to maintain it, not only over the next several years but in 25 of the next 30 years."
The new plan and its estimated $1 trillion price tag have yet to survive Office of Management and Budget scrutiny and policy reviews by Defense Secretary Lloyd Austin's team. If it does, it's likely to give lawmakers sticker shock as they debate national security spending for the next fiscal year and how to best compete strategically and militarily against China and Russia.
The Biden administration said it plans to request $715 billion for the Pentagon in fiscal year 2022, a figure Republicans criticized as too small and some Democrats saw as an unnecessary increase from this year.
Biden's $715 Billion Pentagon Plan Stirs Debate Over Size, Focus
Obsession With Numbers
While both Republicans and Democrats have supported increasing the size of the fleet, Adam Smith (D-Wash.), the chair of the House Armed Services Committee, has said that a 500-ship fleet is an arbitrary number, and that it would be "utterly nonsensical to obsess about numbers." Instead, Smith argues, it's the capabilities of weapons systems that matter.
Half of the plan's funding would be for Virginia and Columbia-class submarines, as well as a new class of attack submarines, about one-third would be for aircraft carriers and surface combatants, and the remainder would go toward amphibious ships, combat logistics, support ships, and other items, according to the CBO.
Although the plan calls for building a significant number of unmanned systems, they represent a small fraction of the overall costs of the plan—an average of about $1.2 billion per year, or 4% of all shipbuilding costs, the CBO added.
Doubled Navy Budget
The CBO's estimates are based on 2021 dollars and also incorporate a projection that labor and materials costs would continue to grow 1.2% faster in the naval shipbuilding industry than in the economy as a whole, as they have for the past several years.
Fully purchasing, operating, and maintaining a larger fleet would increase the Navy's total annual budget by about 40% by 2051, CBO estimates. According to the Navy's estimates, new ship construction under the December plan would cost an average of $29.1 billion per year over the next 30 years, or $6.3 billion more than under the previous blueprint submitted for fiscal year 2020.
It would also be $9 billion more per year than what has been appropriated, on average, over the past 5 years. Adjusted for inflation, that annual amount would double what the Navy has received, on average, over the past 30 years, and boost by 45% what the service has received over the past 5 years, according to CBO. The Navy has wrestled with increasing costs and delays, particularly on new classes of ships.
For example, the Navy had been counting on an affordable frigate as a crucial component in its effort to meet Trump's goal of having 355 deployable ships by 2035, up from about 299 now.
But House and Senate lawmakers have already raised alarm that the new frigate program faces significant risks amid a surge in cost estimates for the next-generation vessel built by the American unit of Fincantieri SpA. The CBO warned in an October report that the first 10 vessels in the frigate contract, awarded this year, may cost $12.3 billion, or 40% more than the service calculated.
Costly Navy Frigate Cited by Lawmakers for 'Significant' Risks
Unmanned Ships
Unlike the Navy's fiscal 2020 shipbuilding plan, the December plan would incorporate large numbers of unmanned undersea and surface vehicles into the fleet—a concept that has congressional backing. The blueprint included inventory goals of 119 to 166 unmanned medium surface vehicles and large surface vehicles, and 24 to 76 extra-large unmanned undersea vehicles, for a total of 143 to 242 systems.
The large unmanned ships would operate in conjunction with other ships, carrying offensive and defensive missiles that manned ships could employ as needed. The medium ones would serve as sensor or command and control platforms, providing information about opponents to other ships in the Navy's fleet.
The Navy is still developing its concept of operations for unmanned systems, which increases the risk for both higher costs and delays in their construction and operations.
To contact the reporters on this story: Roxana Tiron in Washington at rtiron@bgov.com; Tony Capaccio in Washington at acapaccio@bloomberg.net
To contact the editors responsible for this story: Anna Yukhananov (Bloomberg Government) at ayukhananov@bloombergindustry.com; Larry Liebert (Bloomberg News) at lliebert@bloomberg.net
Stay informed with more news like this – from the largest team of reporters on Capitol Hill – subscribe to Bloomberg Government today. Learn more.