Biden Border Move Sows Congress Divide as Democrats Splinter (1)
Bipartisan group proposes threshold for ending border policy
Some lawmakers see fresh prospects for bipartisan action
(Adds House bill in eighth paragraph.)
Bloomberg Government subscribers get the stories like this first. Act now and gain unlimited access to everything you need to know. Learn more.
A once-obscure border policy created chaos on Capitol Hill this week and showcased the increasingly fraught nature of immigration politics, as well as some unexpected avenues for bipartisan action.
Opposition to the Biden administration's plan to nix a pandemic-related border restriction known as Title 42 derailed a Covid-19 aid package in the Senate, gummed up an unrelated House vote, and sparked legislation to rebut the move.
The policy change was opposed by a contingent of moderate Democrats, some of whom face challenging fall elections. Their opposition highlights the difficulty of achieving Democratic unity on immigration, while revealing the potential for bipartisan work on border security ahead of the 2022 midterms.
The public health authority, invoked at the start of the pandemic, allows U.S. officials to turn away asylum-seekers and other migrants at the border. Human rights advocates and many Democrats had pressured the Biden administration to end the policy, saying officials were using it for border management, not to protect public health.
The Centers for Disease Control and Prevention plans to wind down the policy by May 23.
BGOV OnPoint: Biden Moves to Lift Pandemic Border Restrictions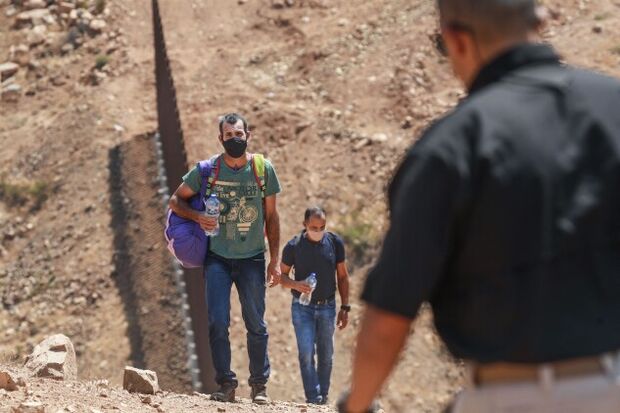 Republicans are leading most of the blowback to the decision, but a handful of prominent Democrats have joined in. Sen. Kyrsten Sinema (D-Ariz.) and four of her Democratic colleagues teamed up with Sen. James Lankford (R-Okla.) and other Republicans on a measure to restrict the Biden administration's ability to lift Title 42.
The bill would allow the CDC to lift Title 42 only after it ended the national emergency declaration for Covid-19 and after the Department of Homeland Security submitted to Congress a plan to manage anticipated increases in border crossings.
A bipartisan group of House lawmakers unveiled a similar measure Thursday. "Title 42 cannot remain in place permanently, but President Biden must ensure that DHS and its personnel, facilities, and processes are ready before rolling it back," Rep. Jared Golden (D-Maine) said in a statement.
Immigration Outlook
Sen. Thom Tillis (R-N.C.), a cosponsor, said the diverse set of bill supporters suggests some Democrats are increasingly willing to work on tightening enforcement at the U.S.-Mexico border. Previous bipartisan efforts to overhaul the immigration system and provide legal status to some undocumented individuals have failed in part because of impasses on border security.
Lankford said he's hopeful the bipartisan bill will open up more conversations. Sen. Dick Durbin (D-Ill.) separately told reporters Thursday that he and Sen. John Cornyn (R-Texas) are eager to zero in on bipartisan immigration measures that have the potential to notch 60 votes in the Senate.
But the timing is challenging as Republicans use border issues as a primary line of attack against Democrats ahead of the midterms, said Theresa Cardinal Brown, managing director of immigration and cross-border policy at the Bipartisan Policy Center.
"Both sides have to give up something and everything has to be done in good faith," she said. "That's harder to do in an election year."
Fractures
Early reaction to the Lankford-Sinema measure highlights the perils that lie ahead for further bipartisan work on immigration. Ten Republicans, led by Sen. Marco Rubio (R-Fla.), unveiled tougher legislation to keep Title 42 in place until 2025.
Rubio said the bipartisan bill would leave the Biden administration too much discretion on ending Title 42 whereas his approach "would actually stop this from happening."
Some conservatives, meanwhile, questioned the motives of Democrats involved in the bipartisan bill and doubted the gambit would lead to broader policy negotiations.
"The calendar is what's driving them, the midterm election," said Lora Ries, director of the Heritage Foundation's Center for Border Security and Immigration. "It's disappointing because it begs the question: Are they serious about border security?"
Rep. Veronica Escobar (D-Texas) conceded that electoral politics are now playing into Democrats' calculations.
"The current political situation is such that the public doesn't have the appetite for complex solutions and complex conversations," Escobar, who supports lifting Title 42, said. "Vulnerable Democrats feel nervous about that."
"You know the old saying, 'When you're explaining, you're losing,'" Escobar said. "Republicans are capitalizing on that."
'Political Misstep'
Progressives and immigrants' rights advocates, meanwhile, are urging Democrats to move in the other direction. Sergio Gonzalez, executive director of advocacy group Immigration Hub, called Democrats' support of Lankford's bill "a gross political misstep."
A House Homeland Security subcommittee heard testimony Wednesday from immigrants' rights advocates who said Title 42 doesn't serve a public health purpose and actually drives up border encounter numbers by creating an incentive for repeat crossings.
The party should instead embrace the Biden administration's decision to end the restrictions that prevented asylum-seekers from seeking protection in the U.S., advocates said.
A recent strategy memo from Immigration Hub calls on Democrats to lean into immigration issues rather than viewing them as politically toxic.
"Contrary to the common misconception that immigration is a third rail issue to pivot away from, Democrats can and should counter Republican immigration attacks and misinformation," chief political and communications officer Beatriz Lopez wrote.
With assistance from Nancy Ognanovich
To contact the reporter on this story: Ellen M. Gilmer in Washington at egilmer@bloombergindustry.com
To contact the editors responsible for this story: Sarah Babbage at sbabbage@bgov.com; Meghashyam Mali at mmali@bloombergindustry.com
Stay informed with more news like this – from the largest team of reporters on Capitol Hill – subscribe to Bloomberg Government today. Learn more.