Biden Ally Chris Coons Emerges as Liaison to Senate Republicans
President-elect calls Coons "brilliant" asset in Senate
Delaware lawmaker seeking to broker deals with GOP
Bloomberg Government subscribers get the stories like this first. Act now and gain unlimited access to everything you need to know. Learn more.
Chris Coons emerged over the past decade as a leading foreign policy voice in the Senate, pushing plans that echo President-elect Joe Biden's calls for restoring alliances and expanding the U.S. role in global development.
It nearly earned the Delaware Democrat a top post in the incoming administration. Some Biden picks have already received vocal Republican pushback, but Coons likely would have received bipartisan backing from his colleagues.
"Some Republicans would have been supportive if he had been the secretary of State nominee, and I'm sure he's heard that," Sen. Roy Blunt (R-Mo.) said in an interview.
Instead, thanks to the relationships he's built across the aisle since winning a 2010 special election to the seat Biden once held, he's now positioned to serve as an unofficial White House liaison in the next Congress. In the near term, he's charged with helping build support for Cabinet nominees and other prominent lame-duck issues.
In an interview last week on CNN, Biden called Coons "a brilliant guy" and said he's one of the people "deeply involved" in the negotiation of a Covid-19 relief package, which Biden said should be passed by the end of the year.
Coons in recent days spent considerable time on the Republican side of the Senate floor. He's repeatedly trekked across the well to discuss policy deals with GOP lawmakers who are emerging as potential partners and who may be helpful to Biden's agenda.
Weeks after winning re-election to a second full term, Coons camped out there for long discussions with Sens. Lisa Murkowski (R-Alaska), Susan Collins (R-Maine), Mitt Romney (R-Utah), and other lawmakers who've congratulated Biden on his electoral victory and signaled a willingness to work with the new administration.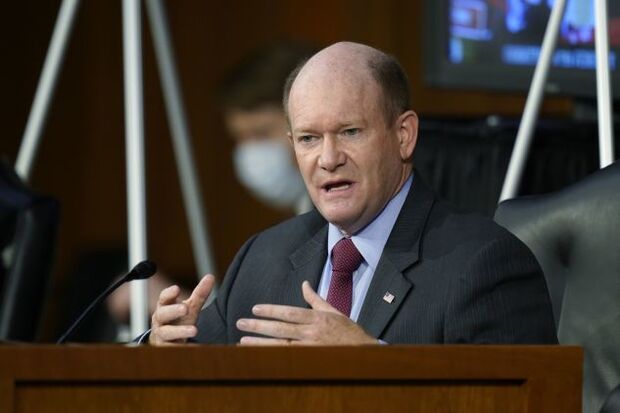 'An Active Role'
Coons, who's also been working with both parties on the details of a liability shield that may get folded into the stimulus, said in an interview he was an early Biden supporter and shares his values and Delaware's bipartisan traditions.
"I'm a senator and not a member of the administration, but I hope to be playing an active role in connecting those who are seeking an opportunity to work together with the direction that the president-elect is going to take our country," Coons said in an interview.
Coons and Sen. Joe Manchin (D-W.Va.) are among a group of Senate Democrats who have strong records working with Republican partners on policy solutions, said Phil Schiliro, who was director of legislative affairs for President Barack Obama. Also in that group, he said, are Sens. Tim Kaine (D-Va.), Michael Bennet (D-Colo.), Jon Tester (D-Mont.), and Jeanne Shaheen (D-N.H.).
"But we'll have to see if on the other side there's reciprocity from Republicans," Schiliro said in an interview. He said "the big question for 2021" is what Republican leadership allows for when big issues arise.
"For Sen. Manchin, Sen. Coons, and others, it's not for lack of trying or sincerity," said Schiliro, who co-founded Co-Equal, a firm that advises lawmakers on advancing progressive policies. "It's are there enough on the Republican side to turn that into real legislation?"
Schiliro said an early test will be how McConnell reacts to Democrats' push to get Biden's Cabinet confirmed soon after the Jan. 20 inauguration. In the past, Cabinet officials have often been confirmed on that day or soon after, he said. But McConnell has yet to publicly commit to early hearings for nominees in January.
Among the picks that have already drawn GOP opposition are Antony Blinken, Biden's choice to lead the State Department, and Linda Thomas-Greenfield to be U.S. ambassador to the United Nations.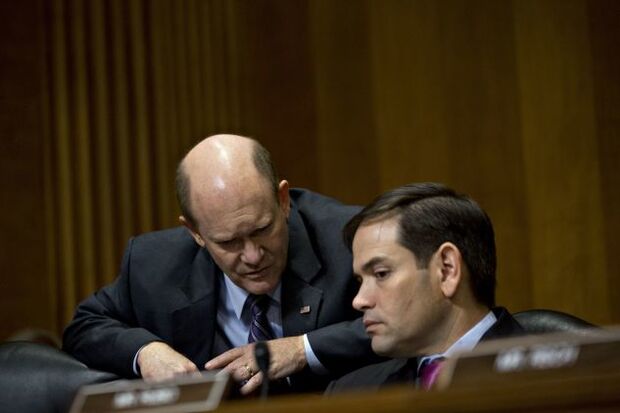 Delaware Connection
Manchin, who also claims the right to walk into either the Democratic or Republican cloakroom, said Coons' bipartisan record and long relationship with Biden will make him an important player as work begins to advance Biden's agenda.
"It's invaluable to us what Chris brings to the caucus," Manchin said in an interview. "His relationship with the president-elect is tremendous for us to be able to have direct connectivity."
Manchin's comments were echoed by Murkowski, who is among the lawmakers now working on the details of the stimulus package and could become an ally on other matters that Biden and Coons both are prioritizing, such as plans to address climate change.
"He's an easy guy to talk with and work with, and that he's from Delaware and has this relationship with Biden I think helps us all," Murkowski said in an interview.
Joseph Pika, a political scientist at the University of Delaware, said that while Democrats now dominate the state government, Delaware's bipartisan traditions in part originated with the incorporation laws adopted in the late 19th century. Those laws helped Delaware gain an outside importance in the business world, attracting nearly half of the nation's publicly traded companies.
"There are foundations in the political realm in Delaware that are genuinely bipartisan that everyone rallies behind," Pika said. "You're interested in defending Delaware's preeminence as a home for corporations."
Coons said both Republicans and Democrats gave him his early start. He said he first worked as an intern in 1981 for former Sen. Bill Roth (R-Del.), who became chairman of the Senate Finance Committee. A decade later he interned for Biden when he chaired the Judiciary Committee.
Coons is now a member of the Judiciary panel as well as the Appropriations Committee, where he is the top Democrat on the Financial Services Subcommittee. He's also a member of the Foreign Relations, Small Business, and Ethics panels.
Pressure on Both Sides
Both Schiliro and Pika said challenges to Biden's legislative plans are coming from both sides. Pika said progressives may balk at Biden's more moderate approach, while Schiliro said Republican leaders could revert to the unrelenting opposition they demonstrated during Obama's tenure. Both said the GOP may rediscover budget discipline that could stymie Biden's efforts to push a much bigger stimulus package or an infrastructure plan next year. They said that's the case whether or not Republicans hold their majority after two January runoffs in Georgia.
Blunt, a member of the Senate Republican leadership team, said Coons has reached out to the GOP on many matters and together they founded the Law Enforcement Caucus and have collaborated to extend the Victims of Child Abuse Act and national service programs. Coons and Sen. Mike Braun (R-Ind.) are co-chairs of the bipartisan Climate Solutions Caucus. Other Republicans include Murkowski, Collins, Romney, and Sen. Rob Portman (R-Ohio).
Members of the panel recently met virtually with European leaders to discuss international climate cooperation. Coons said at a post-election U.S. Global Leadership Coalition meeting with Cindy McCain, a member of the Biden transition, that he expects the United States now will rejoin the Paris Agreement. Coons said his goal is to co-lead a bipartisan congressional delegation to next year's United Nations Climate Change Conference.
McCain praised his approach to international issues.
"I'm very hopeful things will change," McCain said during the meeting. "Leaders like Sen. Coons and others are so bipartisan on issues, and they do work across the aisle."
To contact the reporter on this story: Nancy Ognanovich in Washington at nognanov@bgov.com
To contact the editors responsible for this story: Kyle Trygstad at ktrygstad@bgov.com; Bennett Roth at broth@bgov.com
Stay informed with more news like this – from the largest team of reporters on Capitol Hill – subscribe to Bloomberg Government today. Learn more.