'Biden 14′ Races Important to Democrats' Longshot Grasp of House
Democrats eye Republican-controlled seats Biden carried in 2020
If losses can be contained to seven districts, Democrats have a chance
Democrats' slim hopes of retaining their House majority in the upcoming midterm elections run through what they call the Biden 14 — the redrawn congressional districts that President Joe Biden would have carried in 2020 but are now represented by a Republican or where no incumbent is running.
That would require a strong performance in those 14 districts—10 Biden carried but held by Republicans, and four open seats—and containing losses in the seven districts now represented by Democrats that Donald Trump would have carried two years ago. But according to Whitney Larsen, national political director for recruitment at the Democratic Congressional Campaign Committee, those 14 races offer Democrats a chance to make a case to voters who are sympathetic to their message.
"The Biden 14 present a real opportunity for Democrats in a year where we are heavily on defense," Larsen said. "When we hold the majority, it will be because we won many of these seats."
Republicans already pledged to roll back Biden's biggest legislative achievements; and if they take the House, they could target his administration with investigations and impeachments. On the flip side, if Democrats eke out a win in a year they're projected to lose the House, it could inject momentum and support for more aggressive progressive policies, and pave a way to keep the White House in 2024.
Against the Odds
Biden's popularity ratings are lower than they were two years ago, and historically, midterm elections favor the party opposite the White House.
Add the highest inflation in decades, stubbornly expensive gasoline, and a Republican cash advantage, and Democrats have their work cut out just weeks from Election Day.
The key question is whether Democrats can contain losses, said Kyle Kondik, managing editor of Sabato's Crystal Ball at the University of Virginia Center for Politics.
"Democrats are going to lose some of these seats they are defending, I feel very confident about that, it's just a question of how many," Kondik said. "Can they sort of make the math work by flipping a handful of these Biden-won Republican seats?"
California Dreaming
Four seats in California may offer Democrats the best opportunities to retake newly drawn districts that lean more in their favor. The prime ones lay in the Central Valley, areas Democrats have struggled to hold in the past.
The California 22nd District, represented by Republican Rep. David Valadao, is the "top pick-up opportunity in the country," Larsen said. A confluence of Biden's 2020 votes, the strength of Valadao's challenger, California Assemblyman Rudy Salas, and new areas more favorable to Democrats make the district a prime pickup.
Biden carried the district by 13 percentage points in 2020. Now, as a result of statewide redistricting, the area also includes Democratic strongholds around Bakersfield, an agricultural community Salas has represented since 2012.
There are 17 US House districts that have been changed by redistricting where incumbents are seeking re-election in places that would have been won by the opposite party's presidential candidate in 2020.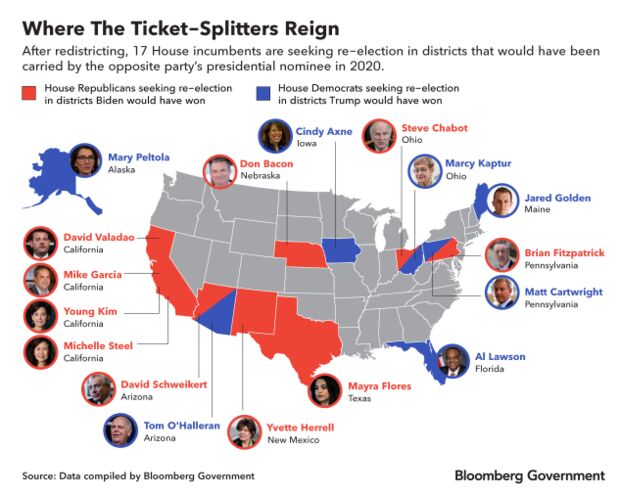 Just down Interstate 5, in a northern Los Angeles County region, Democrats are also looking to unseat Republican incumbent Mike Garcia. The first-term congressman edged former Democratic opponent Assemblywoman Christy Smith by 333 votes in 2020. Yet Biden won the district by more than 12 percentage points. The new map cut out another Republican stronghold, Simi Valley—where Ronald Reagan is buried—that should bolster Smith, who is running again, at the ballot box.
Cook Political Report rates both races as tossups.
This time around, Smith said in an interview, Garcia has a voting record that doesn't represent interests in the district, pointing to Garcia's "no" vote on Biden's infrastructure law.
Almost 50 miles of Interstate 5, California's main artery for shipping and trucking, stretch through the district and connects the Central Valley to Los Angeles.
"The reality for my constituency is that people in this district have the longest commute, definitely in California, and some of the longest commutes in the United States," Smith said. "This is happening in real dollars and cents to them."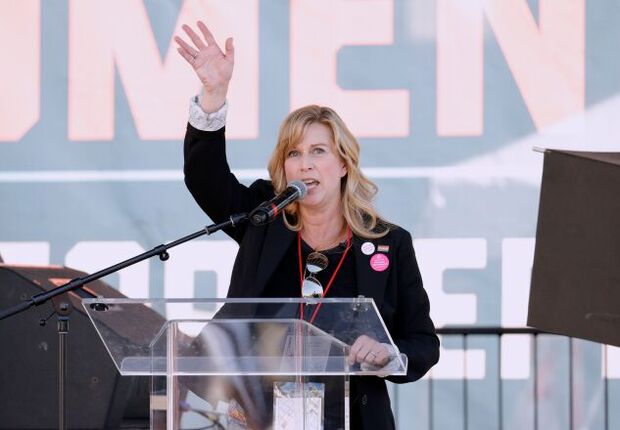 Money—and Turnout—Talks
Where Democrats are spending their money speaks more about their priorities than anything else, the House Republicans' campaign wing says.
Just weeks before Election Day, House Democrats' largest super PAC, House Majority PAC, canceled nearly half a million dollars of advertising purchases in the Los Angeles media market, according to Politico. That spending that didn't happen could have helped Smith and two other split-ticket challengers in Orange County, a sign Republicans say weakens Democrats' pickup opportunities.
"Democrats are abandoning districts President Biden won by large margins because their policies have made life worse for the American people," Torunn Sinclair, spokesperson for the National Republican Congressional Committee, said in a statement to Bloomberg Government.
While it's true Democrats pulled funding from key districts, that doesn't necessarily mean Democrats are giving up on key districts, Kondik said. The environment in Biden-won seats still "very heavily tilts" in Democrats' favor, he said. The most important factor in these races is who—and how many people—show up to vote.
"Maybe it's not as bad for Democrats as it was, but it's not like Democrats are playing a ton of offense," he said. "They're playing a little offense."
To contact the reporter on this story: David Hood in Washington at dhood@bloombergindustry.com
To contact the editors responsible for this story: Bernie Kohn at bkohn@bloomberglaw.com; Angela Greiling Keane at agreilingkeane@bloombergindustry.com