BGOV Q&A: Covid-19 Aid and the Legislative Agenda
Bloomberg Government subscribers get the stories like this first. Act now and gain unlimited access to everything you need to know. Learn more.
Lawmakers are negotiating additional rounds of coronavirus relief legislation as social distancing and shelter-in-place orders keep most of them away from Washington until May 4 at the earliest.
Although some work on other priorities continues remotely, progress has slowed on the fiscal 2021 appropriations process, annual defense authorization bill, the next surface transportation measure, and health-care legislation.
The following Q&A reviews some of the questions posed to Bloomberg Government reporters and analysts on an April 14 spring preview webinar.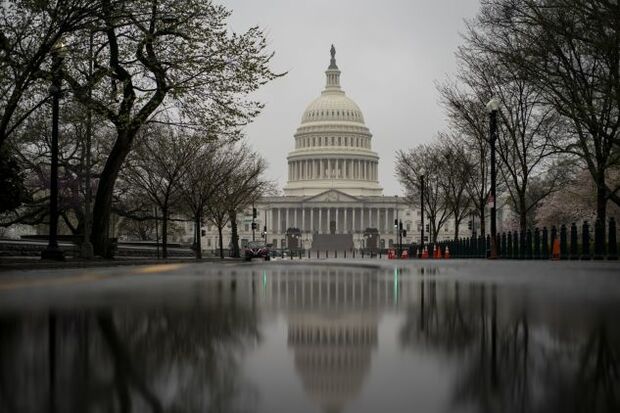 Is there a proposal to let more businesses and nonprofits obtain loans through the Paycheck Protection Program?
Businesses of all shapes and sizes are seeking access to loans guaranteed by the Small Business Administration under the $349 billion Paycheck Protection Program that was created by the CARES Act (Public Law 116-136).
The program is open to businesses and 501(c)(3) nonprofits with 500 or fewer employees, self-employed workers, and some food and hotel chain franchisees, among others.
The SBA has waived or clarified some of its eligibility rules to let additional borrowers qualify, including:
Affiliated churches and religious groups.
Businesses that get up to half of their total revenue from legal gambling, if such gambling revenue didn't exceed $1 million in 2019.
Businesses owned by individuals serving as directors or shareholders of participating lenders, as long as their equity stake in the lender is less than 30%.
Speaker Nancy Pelosi (D-Calif.) and Senate Minority Leader Chuck Schumer (D-N.Y.) want to clarify that farms are also eligible.
Other businesses that are disqualified or lobbying to participate including companies owned by private equity funds, state-approved cannabis businesses, and political consultants, as well as certain tax-exempt groups such as 501(c)(6) trade associations.
What happens if the Paycheck Protection Program runs out of money?
Loans are processed on a first-come, first-served basis. Businesses that don't get their applications approved in time may have to wait for the next installment.
The Trump administration and Senate Republicans proposed giving the program a $251 billion boost with no further changes.
Democrats want to set aside $60 billion to support loans issued by smaller banks, credit unions, and community lenders. They also want to add $150 billion in other funds for state and local governments and $100 billion for hospitals.
What's the status of surprise billing and drug pricing legislation?
Lawmakers were looking to tackle those issues as part of funding for expiring health programs at the end of May, but the CARES Act pushed that deadline to Nov. 30.
Sen. Lamar Alexander (R-Tenn.) and Reps. Frank Pallone (D-N.J.) and Greg Walden (R-Ore.) are leading the push to add surprise billing to a future coronavirus relief measure but it's unclear if they can get consensus on how to resolve payment disputes between doctors and insurers.
It's also unclear if the drug pricing effort from the Senate Finance Committee will garner enough support to advance.
Will Congress address health insurance for those laid off due to Covid-19? What if the Supreme Court overturns the Affordable Care Act?
Democrats are calling for free coronavirus treatment and reopening the ACA's health insurance exchanges during the crisis, which the administration has declined to do. If someone lost their employer-based coverage, they could enroll through the exchanges for a qualifying event, but those who never had insurance would have to wait until open enrollment in the fall.
The Supreme Court separately agreed to hear a Democratic appeal (California v. Texas) to a case challenging the law's constitutionality after Congress in 2017 effectively repealed the penalties for not having insurance. If the court tosses the ACA, millions of Americans who have coverage through the law's exchanges or Medicaid expansion would be uninsured, and protections for those with pre-existing conditions would be eliminated.
House Democrats advanced legislation largely along party lines in 2019 to bolster the law and Republicans haven't put forward a replacement plan after their repeal and replace efforts stalled in 2017.
How is the Defense Production Act being used to produce ventilators?
The Trump administration recently announced contracts with seven manufacturers to produce more than 137,000 ventilators by the end of 2020. Five of those contracts were issued under the Defense Production Act, which requires companies to accept and prioritize federal orders.
The U.S. previously awarded a contract to General Motors Co.and Ventec Life Systems Inc. for 30,000 ventilators by the end of August, and another to Royal Philips NV for 43,000 ventilators by the end of 2020.
The Health and Human Services Department also has the power under the Defense Production Act to facilitate the supply of materials to some of the companies under contract, and to allocate ventilators and other medical resources in the civilian market.
What support for military families can we expect in the next National Defense Authorization Act?
House Armed Services ranking member Mac Thornberry (R-Texas) wants the next NDAA to include changes to the exceptional family program for those with special needs, 24-hour child care requirements in some locations, metrics to track the care of dependents with autism, a policy and tracking mechanism for opioid abuse, and a spousal internship pilot program with the Defense Counterintelligence and Security Agency.
Chairman Adam Smith (D-Wash.) and Thornberry are working to produce a draft by May 1, with Senate Chairman James Inhofe (R-Okla.) aiming for a bill by the end of May.
When can we expect infrastructure to be addressed, and will the funding be offset?
There's bipartisan interest in using infrastructure investment as economic stimulus, which could be addressed in another coronavirus response measure or in legislation to reauthorize surface transportation programs ahead of a Sept. 30 deadline.
The process will probably move separately from the regular fiscal 2021 appropriations process, although there's always some infrastructure funding in the regular appropriations bills, too.
So far, there's been little talk of pay-fors and it isn't clear if lawmakers will want to offset the cost of a big new infrastructure push. Members of both parties have said that low interest rates make this the best time to use debt-financing for a big infrastructure package.
Lawmakers have, however, discussed ways to augment the federal gas tax as part of the surface transportation reauthorization process. That levy feeds into the Highway Trust Fund and hasn't increased since 1993. The fund will be insolvent after fiscal 2021. It's unclear if an alternative mechanism, like a vehicle miles traveled or electric vehicle fee, will be considered.
Are companies going to get a break on tariffs?
The Trump administration looked into a 90-day deferral for most tariff payments but decided it was too complicated. It has granted tariff exclusions for products tied to coronavirus relief, such as dispenser components used by Purell maker GOJO Industries Inc.
Will multiemployer pension legislation be addressed in coronavirus response legislation?
It's a priority for Democrats, but it's not clear there's a bipartisan path forward. House Democrats included their legislation to address multiemployer pension insolvency in a draft bill (H.R. 6379) released during negotiations over the CARES Act.
Senate Republicans have an alternative proposal the chamber hasn't yet considered.
How is the coronavirus affecting the education agenda on the Hill?
Lawmakers were working on several education reauthorizations before the pandemic, and their prospects are now uncertain. Sens. Lamar Alexander (R-Tenn.) and Patty Murray (D-Wash.) were negotiating a Higher Education Act reauthorization, and House Democrats were looking for pay-fors for their "College Affordability Act" to revamp the higher education system.
The Every Student Succeeds Act (ESSA), which covers K-12 education programs, is authorized through fiscal 2020, and will be automatically extended for another year if Congress doesn't act.
Separately, higher education and K-12 groups have requested more than $250 billion in aid in future coronavirus legislation. They received about $30 billion in the CARES Act, less than half what they initially requested.
Is there discussion at the federal level of additional changes to SNAP?
Democrats want a 15% increase in the maximum benefit under the Supplemental Nutrition Assistance Program, formerly known as food stamps. The CARES Act provided additional funding for SNAP without changing the terms of assistance.
Some lawmakers are asking the Agriculture Department to expand a SNAP online purchasing pilot program that allows participants to grocery shop online so that it applies to all states and additional retailers in light of Covid-19.
Amazon.com Inc. and Walmart Inc. are the two major retailers involved.
Senate Democrats have also sought a waiver to allow benefits to be used on hot or prepared foods in grocery stores during the emergency.
What's happening to help the outdoor economy?
Before the coronavirus, the Senate planned to take up a bill (S. 3422) to make more than $2.5 billion available annually for park land acquisition and deferred maintenance on public lands.
President Trump tweeted his support for the bill, which is being spearheaded by two Republicans with potentially difficult re-election bids, Cory Gardner (R-Colo.) and Steve Daines (R-Mont.). It could be a candidate for inclusion in a future Covid-19 response package.
What's the status of the 2020 Water Resources Development Act?
The prospects and timing of a 2020 bill aren't clear at this time. Congress last enacted a Water Resources Development Act (WRDA) in 2018 (Public Law 115-270). It was the second WRDA measure enacted under a process established in 2014 to facilitate a new authorization law every two years.
WRDA laws authorize funding for specific projects and feasibility studies undertaken by the U.S. Army Corps of Engineers. Separate appropriations are required for the Corps to proceed with projects and studies.
Answers are from Sarah Babbage, Megan U. Boyanton, Jack Fitzpatrick, Andrew Kreighbaum, Danielle Parnass, Alex Ruoff, Michael Smallberg, Adam M. Taylor, and Roxana Tiron
To contact the editors responsible: Adam Schank at aschank@bgov.com; Loren Duggan at lduggan@bgov.com
Stay informed with more news like this – from the largest team of reporters on Capitol Hill – subscribe to Bloomberg Government today. Learn more.