BGOV Forecasts at Least $600B in Contract Spending in FY 2021
Bloomberg Government subscribers get the stories like this first. Act now and gain unlimited access to everything you need to grow your opportunities. Learn more.
Contract spending obligations in fiscal 2021 will range from $600 billion to $709 billion, according to estimates from Bloomberg Government's updated Market Forecast Dashboard.
BGOV's forecast — which is based on projections from the White House Office of Management and Budget and contract spending trends from the past five years — provides an early spending benchmark as the annual appropriations process gets underway. The fiscal 2021 forecast represents potential spending growth of 1% to 19% compared to fiscal 2019.
The forecast shows that some of the biggest increases will be in markets for research and development ($5.9 billion), information technology ($4 billion) and medical ($3.9 billion). The forecast predicts a sharp downturn in spending for professional services (-$10.3 billion), and a more modest downturn for transportation and logistics (-$1.2 billion).
The updated forecast also includes predicted growth to at least $624 billion and as much as $644 billion through the end of fiscal 2020, or increases of between 4.8% and 8.2%.
The General Services Administration — which is responsible for tracking all government contract spending — reported a $595 billion contract spending total in fiscal 2019, which is within 0.17% of last year's BGOV high-end forecast of $594 billion.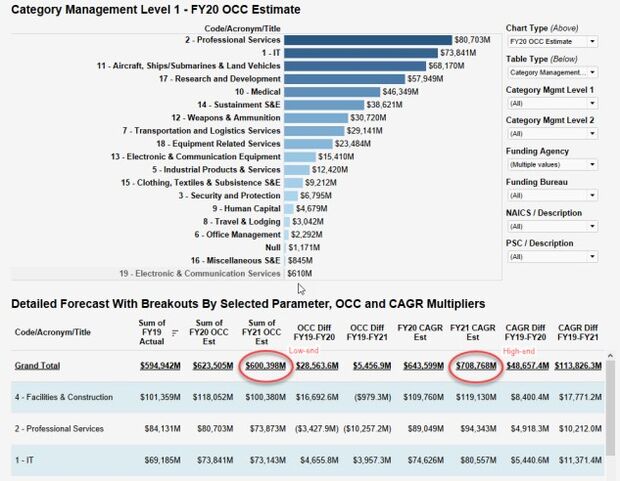 About the Numbers
Contractors can get an indication of which markets will offer opportunities by using the dashboard to analyze overall market size and anticipated growth.
The dashboard uses OMB's spending estimates published in the new year's budget documents, along with historical contract spending trends. This provides a low-end, high-end range of predicted spending.
The low-end estimate is based on obligations forecasted in the president's budget request. The upper-end figure is based on actual agency contract spending reported by GSA and compiled by BGOV.
Using BGOV Tools
BGOV's Market Forecast Dashboard offers a combined chart and table display that visualizes major financial and market parameters.
Users can refine the information displayed by choosing filters on the right-hand rail. The Table Type filter allows you to change the display to show Agency, Category Management Market Levels 1 or 2, Funding Agencies and Bureaus, Product Service Codes and NAICS codes.
BGOV clients can visit the Market Forecast Dashboard by clicking here.
To contact the analyst: Paul Murphy in Washington at pmurphy@bgov.com
To contact the editor responsible: Daniel Snyder at dsnyder@bgov.com
Stay informed with more news like this – the intel you need to win new federal business – subscribe to Bloomberg Government today. Learn more.