Barbecue Restaurants Reeling From Covid-Related Meat Shortages
Bloomberg Government subscribers get the stories like this first. Act now and gain unlimited access to everything you need to know. Learn more.
Barbecue joints short on brisket and pork are feeling the heat from the nationwide meat shortage caused by closures of processing plants handling coronavirus outbreaks.
"After you run out, you run out, and there's nothing you can do," said Francisco Esqueda, part-owner and pitmaster at Salty Joe's BBQ in Hammond, La.
The Covid-19 pandemic dealt barbecue restaurants a double blow—first shutting their doors to slow the spread of the coronavirus, then strangling their meat supply. Although some states are starting to lift their stay-at-home orders, many restaurant owners wonder if their businesses will survive.
At least 30 plants have shuttered over the past two months, the United Food and Commercial Workers International Union, which represents more than 250,000 meat packing and food processing workers, estimates. The closures cut down pork slaughter capacity by 40% and beef slaughter capacity by 25%, the union said on May 8.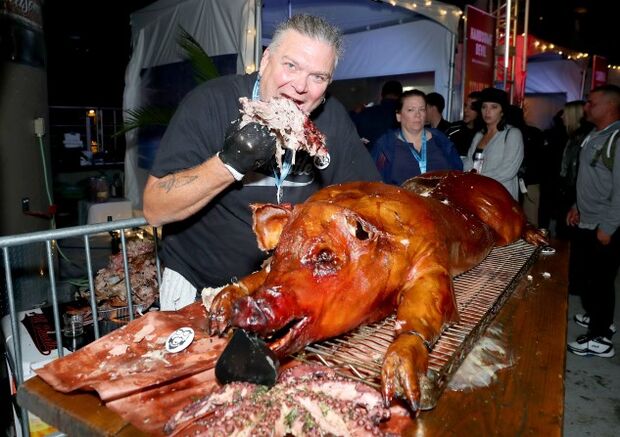 "Meatpacking plants did not close because anyone wants them to close," said Marc Perrone, the union's president, in a statement. "These plants closed because at least 30 workers died and more than 10,000 workers have been infected or exposed to COVID-19."
Fourteen meat processing plants recently reopened, following an executive order by President Donald Trump directing meatpacking operations to resume under the Defense Production Act. Senate Agriculture, Nutrition, and Forestry Committee ranking member Debbie Stabenow (D-Mich.) and 28 other Democratic members called the directive "wrong and shortsighted" in a letter on May 15 to Agriculture Secretary Sonny Perdue.
Smithfield Foods, Inc., the world's largest pork processor owned by China's WH Group, temporarily suspended five of its 45 U.S. facilities. Its plant in Sioux Falls, S.D., reopened at the start of May after a three-week hiatus. The facility is one of the country's biggest pork processors, producing about 18 million food servings daily.
"It is impossible to keep our grocery stores stocked if our plants are not running," Kenneth Sullivan, the company's president and chief executive officer, said in a statement. "These farmers have nowhere to send their animals."
Infections Near U.S. Meat Plants Rise at Twice the National Rate
Hog producers grappling with an oversupply of pigs and fewer markets have been forced to cull their herds. The Justice Department will permit the National Pork Producers Council to collaborate with the Agriculture Department in establishing euthanasia procedures, according to a letter from the agency on May 15.
'Trying To Survive'
Disruptions in the pork supply chain have trickled down to barbecue restaurants used to a constant influx of meat.
Louisiana's business sanctions may be easing, but Salty Joe's BBQ is still caught in an economic lurch, Esqueda said.
"The restaurant's trying to survive," he said in a telephone interview. "But if you don't have the product on the house, like the pork or brisket or ribs, then you have to close earlier."
Since the meat shortage hit last month, Esqueda said he's struggled to sustain his inventory—and, because his pork butt and brisket cook for about 12 hours, a quick run to the grocery store won't cut it.
Increasing menu prices isn't the solution either, he added. "You can't tell that to the customers," Esqueda said. "They don't want to hear that—we're all suffering from this."
Dylan Kough, owner of Smoking Kow BBQ in Alexandria, Va., saw it as his only option.
"Either you sell what you can get at a loss, or you try to raise the prices and offset a little bit," he said in a May 15 telephone interview. "If this goes on for a month, I'm going to be charging $50 a pound for brisket when it used to be $20."
Kough said meat "prices have gone pretty crazy" over the past three weeks, and suspects suppliers of price gouging, which is illegal in most states during an emergency.
Attorney General William Barr established the Covid-19 Hoarding and Price Gouging Task Force under the Justice Department in March, but lawmakers have urged the Federal Trade Commission to also get involved.
Joshua Booth, general manager at Cooper's Old Time Pit Bar-B-Que in Austin, Texas, said his suppliers "basically doubled their price almost overnight."
Although his restaurant received a small business loan through the Paycheck Protection Program, "we're definitely struggling," Booth said. "We may end up going out of business here in the next few weeks."
To contact the reporter on this story: Megan U. Boyanton in Washington at mboyanton@bgov.com
To contact the editors responsible for this story: Paul Hendrie at phendrie@bgov.com; Robin Meszoly at rmeszoly@bgov.com
Stay informed with more news like this – from the largest team of reporters on Capitol Hill – subscribe to Bloomberg Government today. Learn more.