Ballot That Doesn't Mention Abortion Actually About Abortion (1)
Voters asked whether to call a constitutional convention
Alaska's high court has upheld abortion and privacy rights
(Updates campaign finance figures.)
Abortion could be the issue that motivates Alaskans to say yes to a constitutional convention for the first time since statehood.
Once a decade, the state is required to ask its voters, "Shall there be a Constitutional convention?" to consider changing the state's foundational document. There hasn't been a convention since the one held shortly before Alaska became a state in 1959.
But after liking their Constitution just fine for a few generations, the dynamics have changed. The end of the Roe v. Wade abortion precedent cast Alaska's ballot question in a new light, elevating interest and attracting campaign dollars.
Though Alaska isn't one of the states asking voters directly about abortion, the issue is a noteworthy part of the election conversation. The outcome could spur interest in other states for reviving a process that's been dormant for over 30 years, John Dinan, a state constitutional politics expert at Wake Forest University, said in an interview.
(Subscribe to Ballots & Boundaries to follow ballot issues, voting laws, and redistricting repercussions.)
"It's been so long since there has been a full-scale convention, since the mid-1980s, that it has become even more difficult for voters to conceive of saying yes to a convention, because it's something that's seen as done in prior generations," he said.
The last time a ballot question resulted in a constitutional convention being called was in 1984 in Rhode Island. The convention was held two years later.
Fourteen states require voters to periodically be given that chance. This year, the convention question is on the ballot in three states, with far less activity in New Hampshire and Missouri than in Alaska, where a seven-figure campaign is underway.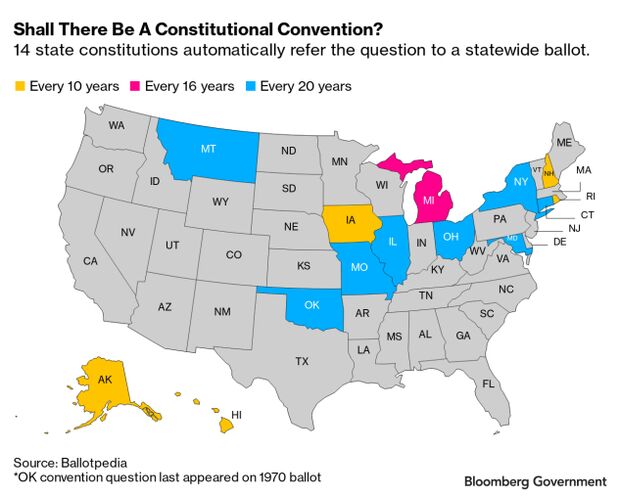 "A Constitutional Convention provides the best opportunity to address much needed judicial reform, school choice and clarifying that our State Constitution does NOT contain a right to abortion in it," the anti-abortion Alaska Family Council says on its website.
"Who do you want to determine personhood?" Bob Bird, chairman of the Alaskan Independence Party and past president of Alaska Right to Life, said in a Sept. 29 debate. "Unelected judges or your friends and neighbors or their elected representatives in the Legislature?"
Opponents frame the question in terms of reproductive choice.
"Right now, our Alaska Constitution is the only guarantor of that fundamental right," Joelle Hall, president of Alaska AFL-CIO and co-chair of the Defend Our Constitution campaign, said in the Sept. 29 debate.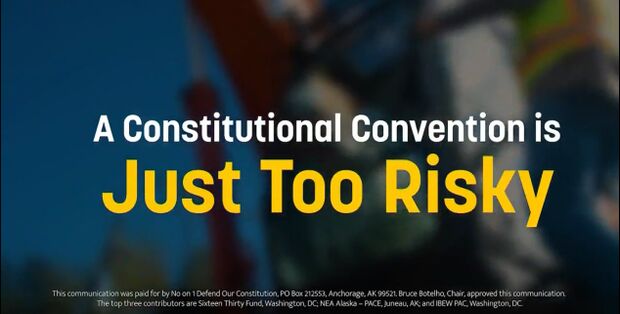 Alaska legislators have never used their power to call a constitutional convention. After voters approved one in 1970, a court ruled the ballot language was misleading. The electorate said no in 1972 and in every decade since.
A 2021 state Senate resolution (SJR 4) sought to overturn an Alaska Supreme Court ruling that said the state Constitution's privacy provisions encompass abortion rights. It proposed a constitutional amendment clearly specifying no right to abortion.
The measure never made it to a floor vote.
If a majority of Alaska voters say "yes" to a constitutional convention on Nov. 8, next would come a vote to choose convention delegates, either in the next statewide election or in a special election. The final step would be a statewide vote on whether to ratify the convention's proposed changes.
The group Defend Our Constitution, a bipartisan coalition of unions, local governments, economic development organizations, and other convention opponents, has reported raising roughly $2.8million and spending about $1.8 million so far on campaign activities and digital and broadcast ads, according to state disclosure data.
That total includes $500,000 from the National Education Association and $1 million from the Washington, D.C.-based Sixteen Thirty Fund.
In television spots the group has paid to air in the state's top three media markets, a worker in a hard hat and safety vest warns that Alaskans' rights to hunting and fishing, privacy, public land access, and guns could face drastic changes if a "risky" constitutional convention is held.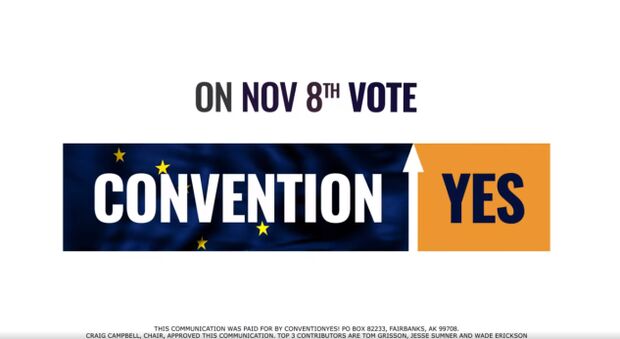 One of the Convention Yes campaign videos says nothing about abortion (though another video on their website does), instead emphasizing that a convention wouldn't have the final say on any changes, and focusing ire on "dark money out of Washington, D.C.," saying, "They're terrified we the people might take the wheel and fix what the legislature will not with a constitutional convention."
The group has raised roughly $21,000 and spent over $24,000, mostly on radio and social media ads, according to a campaign disclosure form filed Monday.
"One of the primary reasons Alaskans want a Constitutional convention," Jim Minnery, the group's deputy-treasurer and president of Alaska Family Council, said in an email, is because of disagreement with some court rulings, including decisions on proposed constitutional amendments and on the right to abortion. In a separate video the group calls that "judicial overreach".
If there's a convention, Hall foresees a rough-and-tumble scramble in two more statewide elections — first over who gets elected to be in the room where it happens and afterward, over ratification of any abortion language.
"Opening our Constitution could result in the forces of both sides of that argument flooding into Alaska to use us as a proxy for this national fight," she said.
Voters should no more fear the outcome of a convention than they do an annual legislative session, countered Loren Leman, a former Republican legislator and lieutenant governor.
"We don't know all the issues a convention might address," he said.
Changing the process for appointing judges and the oil payments that every Alaska citizen gets from the state are among the possibilities, he said: "The time is right for fixing problems with our Constitution and its interpretation by the courts."
To contact the reporter on this story: Jennifer Kay in Miami at jkay@bloomberglaw.com
To contact the editors responsible for this story: Katherine Rizzo at krizzo@bgov.com; Fawn Johnson at fjohnson@bloombergindustry.com