Austin Backs Alabama Space Command as Rival Sites Cry Politics
Secretary Austin supports Air Force choice of Huntsville
Colorado and other states claim political influence
Defense Secretary Lloyd Austin will let stand an eleventh-hour Trump administration decision to locate the U.S. Space Command in Alabama, despite claims of political interference from other states vying for the headquarters.
Austin supports a Jan. 13 announcement by the Air Force that it prefers to put the new command in Huntsville, moving it from its temporary home in Colorado Springs, Colo., by mid-decade, Pentagon spokesman John Kirby said in a statement. The Defense Department's inspector general said Friday it would review the military's basis for choosing the site.
The search for a home for the Space Command—part of a historic overhaul of military space missions—has been politically controversial because the base could bring jobs and federal funding.
Lawmakers from Colorado and New Mexico, two candidate sites, said the decision was politically motivated to benefit a Republican state that supported President Donald Trump. They had pressed President Joe Biden to revisit the move as the military completes a federal environmental survey in Alabama to lock in the choice within the next two years.
"Secretary Austin has communicated to Air Force leaders that he supports their decision-making process about the preferred location of Space Command headquarters," Kirby said in the statement to Bloomberg Government. "He understands they will not make a final decision until 2023, and he looks forward to staying informed as they work through those deliberations."
The Air Force confirmed it has no intention to second-guess its preferred location and hasn't been ordered to review it. The service is moving ahead with the National Environmental Policy Act, or NEPA, analysis of the site.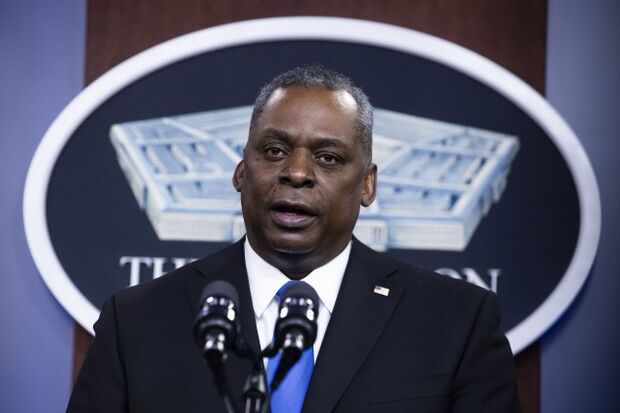 "Initially everyone expected there to be a pretty thorough review under the Biden administration for the decision," said Makena Young, a research associate at the Center for Strategic and International Studies. "That also maybe depends on how much pressure the representatives from Colorado and New Mexico keep applying."
"It's not like they're picking up tomorrow and flying everyone out to Redstone," Young said, referring to the U.S. Army post near Huntsville. "So there's a little bit of time there."
The area is already home to NASA facilities, and Young said it has a growing aerospace sector.
Distance From Guardians
The Pentagon created the Space Command in August 2019 to handle warfighting operations for the U.S. Space Force.
Colorado had been seen as a front-runner in the search because it already hosts the temporary headquarters, and is also home to newly created units with Space Force Guardians and other space operations.
"If true, it is unfortunate that Secretary Austin has determined he will not revisit the Space Command basing decision," Rep. Doug Lamborn (R-Colo.) said.
The state's delegation in Congress wrote to Biden last month, saying there was evidence that "President Trump's political considerations influenced the timing and final decision."
"If you take the command with over 1,000 people and take them 1,000 miles away, and separate the command and the rank-and-file war fighters, the Guardians, how does that improve efficiency, faster results, or collaboration?" Lamborn said. "It doesn't, it makes it a lot harder."
A New Mexico delegation including DemocraticSens. Martin Heinrich and Ben Ray Lujan, and Rep. Teresa Fernandez, also sent a letter to Biden asking him to suspend the process and review the Alabama decision. They said an Air Force evaluation team collected data on Kirtland Air Force Base in Albuquerque less than a week before the Alabama announcement.
Science, Engineering Workforce
The Air Force denied politics was a factor in the decision, saying it was based on public data; community and installation questionnaires; housing market surveys; and virtual and on-site visits.
"Huntsville compared favorably across more of these factors and criteria than any other community, providing a large, qualified workforce, quality schools, superior infrastructure capacity, and low initial and recurring costs," the service said in a statement.
The Air Force initially considered six sites for the location, including Alabama. But former Air Force Secretary Barbara Barrett later decided to scrap the list and start anew, with states that included New Mexico, Nebraska, Florida and Texas.
Redstone already hosts the U.S. Army Space and Missile Defense Command.
Huntsville is "one of the most viable career destinations for individuals in the fields of science and engineering" because of its history of rocket and space development as well as a good quality of life, according to the Pentagon's Missile Defense Agency, which has a location there. ULA, Aerojet Rocketdyne Inc., and Jeff Bezos' Blue Origin produce rockets in Huntsville, according to Mayor Tommy Battle.
The state's Senate seat may be in play next year as longtime incumbent Republican Richard Shelby has announced he won't seek re-election. Shelby, who led the Senate Appropriations Committee and its defense spending panel, has watched out for his state's defense and space industry interests.
Mike Rogers (R-Ala.), the top Republican on the House Armed Services Committee, said he personally spoke with Barrett,who "was very clear" that the Air Force picked Alabama based on objective criteria, and it wasn't a political decision by Trump.
Huntsville is "no slacker when it comes to space; they are top-notch," said Rogers, whose district doesn't include Huntsville. "Other states that didn't win are upset about that. Every time a state loses a major competition, they scream politics and that is what is happening here."
With assistance from Roxana Tiron
To contact the reporter on this story: Travis J. Tritten at ttritten@bgov.com
To contact the editors responsible for this story: Robin Meszoly at rmeszoly@bgov.com; Anna Yukhananov at ayukhananov@bloombergindustry.com