At Fiscal Midpoint, Lawmakers Warn Stopgap Measure a Possibility
Late budget request, no caps deal has lawmakers pessimistic
Halfway through fiscal 2019, Shelby mentions risk of stopgap
Monday marks the midpoint of the fiscal year and federal spending negotiations are off to such a bad start that top appropriators are already warning they may need a stopgap measure to avoid a shutdown.
Lawmakers' goal of an early agreement to raise spending caps under the Budget Control Act (Public Law 112-25) — which would provide a common set of top-line spending figures for appropriators in both chambers — now seems unlikely. That means appropriators in the House and Senate will likely mark up bills that add up to different figures. As the fiscal year funding deadline approaches at the end of September, negotiators will have to reconcile broad differences over defense and domestic spending levels, as well as the myriad smaller differences within all 12 bills.
It's not too early to start worrying about relying on a continuing resolution to keep the government running past the end of the fiscal year on Sept. 30, Senate Appropriations Chairman Richard Shelby (R-Ala.) said.
"Unless something happens, where we are, we could be headed down the road to a CR," Shelby told reporters March 25. "I hope not. It's early. It's going to be a challenging year."
Appropriators became more pessimistic about the outlook after President Donald Trump's fiscal 2020 budget request, which proposed leaving the budget caps in place and using a cap-exempt war fund to exceed the limits for military spending. While presidents' budget proposals are often dismissed by appropriators, this one was a signal that the White House was taking a hard stance on budget cap negotiations. Leaving the cap in place would lead to a 9 percent cut to domestic discretionary spending in fiscal 2020 compared to fiscal 2019. Defense, meanwhile, would see nearly a 5 percent increase.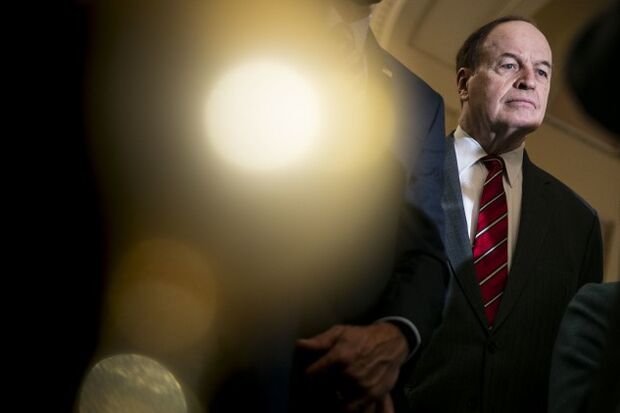 Before Trump's budget proposal was released in mid-March, lawmakers had hoped for an early caps deal, which would pave the way for progress in spending negotiations in both chambers. Now, it appears top negotiators are content to wait for a last-minute deal, said Rep. Tom Cole (R-Okla.), ranking member of the House Appropriations Labor-HHS-Education Subcommittee. Cole said to be prepared for "a very tough year" on spending negotiations.
"I think each side thinks they can extract some negotiation advantage out of this," Cole told reporters March 17. "That's the sort of thing that sets you up for a CR or, God forbid, another shutdown. Now, I would hope everybody's learned lessons on the shutdown, so the worst would be a CR, but again, that's not good governance."
It didn't help that the partial government shutdown over the winter dragged on into late January, and a fiscal 2019 spending deal wasn't completed until February, which delayed the release of the president's budget proposal by about a month and a half, Cole said.
Rep. Rosa DeLauro (D-Conn.) was similarly concerned about caps.
"The biggest issue is the caps," she told reporters March 17. "If we don't do that — and they're talking about not doing anything until September — then we're flying blind. That's crazy."
Expectations that the House and Senate won't agree to a budget resolution adds to lawmakers' anxiety. Senate Budget Chairman Mike Enzi (R-Wyo.) said his budget resolution may not get a floor vote if the House doesn't produce its own resolution. Holding a pointless vote could waste about a week of floor time, Enzi said.
Budget Committee member David Perdue (R-Ga.) said budget resolution discussions may just be a waste of time.
"I'm all for doing whatever we can to get this activity behind us," Perdue said. "I don't want to go to a 'vote-a-rama.' I don't want to do any of that. I'm one of those naysayers that says this is not an activity that I really support."
Different Tracks
House Democrats are expected to boost nondefense discretionary spending significantly more than Senate Republicans. Beyond that, the plan is up in the air.
Most House Democrats support an increase in defense spending, Budget Chairman John Yarmuth (D-Ky.) has said. Democratic leaders have generally called for an equal increase in defense and nondefense discretionary spending. Under that scenario, defense spending would still be greater than nondefense.
The progressive wing of the party, however, wants to see defense spending frozen or reduced, and for domestic spending to be increased so that it's equal to the defense level. In fiscal 2019, defense spending was capped at $647 billion and nondefense discretionary spending was capped at $597 billion.
Republicans support a defense increase, Shelby said. The party's stance on nondefense spending is less clear, although Shelby has said he doesn't support the president's call for a 9 percent cut. Cole said he expects Senate appropriators to keep nondefense spending about even with fiscal 2019.
The House and Senate will also have different priorities when it comes to dividing their top-line spending figures among the 12 subcommittees. DeLauro will push for a greater boost to Labor-HHS-Education funds in fiscal 2020 than in previous years, she said.
Republicans previously have opposed major boosts for the Labor-HHS appropriations bill and allocated more of the nondefense funds for the Departments of Homeland Security and Veterans Affairs.
Minibus Strategy
This wouldn't be the first time lawmakers' failure to reach an early caps deal led to a difficult year of negotiations. But appropriators had voiced optimism this year that they could turn over a new leaf after finding some success in taking bills to the floor for fiscal 2019.
Last year, the president signed into law five bills comprising about three-quarters of all discretionary spending before the Oct. 1 beginning of the new fiscal year. By comparison, no regular appropriations bills were signed into law before the start of fiscal 2018, and one was signed into law before fiscal 2017 began. From fiscal 2011 to 2016, no appropriations bills were signed into law before those fiscal years were under way.
Appropriators still see a way to repeat last year's "minibus" strategy of packaging a few bills together at a time, said Sen. Roy Blunt (R-Mo.), chairman of the Senate Appropriations Labor-HHS-Education Subcommittee.
Despite last winter's 35-day partial shutdown, the fiscal 2019 process could provide a model for future years because of the Senate's success in taking bills to the floor, Blunt said.
"Let's figure out how we funded 75 percent of the government on time" in fiscal 2019, "and fund 100 percent of the government on time this year," Blunt said March 26. "But you've got to have a number, and you've got to have it relatively early to do that."
To contact the reporter on this story: Jack Fitzpatrick in Washington at jfitzpatrick@bgov.com
To contact the editors responsible for this story: Zachary Sherwood at zsherwood@bgov.com; Jonathan Nicholson at jnicholson@bgov.com