Asian American Voters Courted by Both Sides in Nevada Elections
Republicans making some inroads with these voters
Campaigns tailoring messages to multiple communities
LAS VEGAS — Two roasted suckling pigs and about 100 people waited for the kamayan, a communal Filipino feast, to begin in a downtown conference room where top Democratic officeholders lined up to address the crowd.
Rep. Dina Titus opened with an election year warning. "Everything is at stake," she said, adding Republicans "will not recognize the diversity that makes us strong."
At the Democratic event for Asian Americans and Pacific Islanders, Titus was joined by Sen. Catherine Cortez Masto, Gov. Steve Sisolak and Rep. Steven Horsford, who echoed that they want to represent the diverse community that could make or break their electoral prospects this year.
As the fastest growing group in the US, Asian American and Pacific Islander voters are being heavily courted this election season, when control of Congress and statehouses are at stake. In Nevada, the group makes up 10% of voters, a smaller percentage than Hispanics, but big enough to make a difference in the state's multiple competitive races.
Republicans, who see Nevada as one of the swing states crucial to control on Capitol Hill, are also wooing these voters. A few days after the dinner with Democrats, Republican April Becker, who faces Rep. Susie Lee (D) to represent Nevada's 3rd District, met with voters at the Republican National Committee's Asian Pacific American Community Center, a former retail space decked out with GOP campaign signs.
The center, which has hosted candidates, roundtables and events, is strategically placed on Spring Mountain Road, the central hub of Asian-owned businesses in Las Vegas.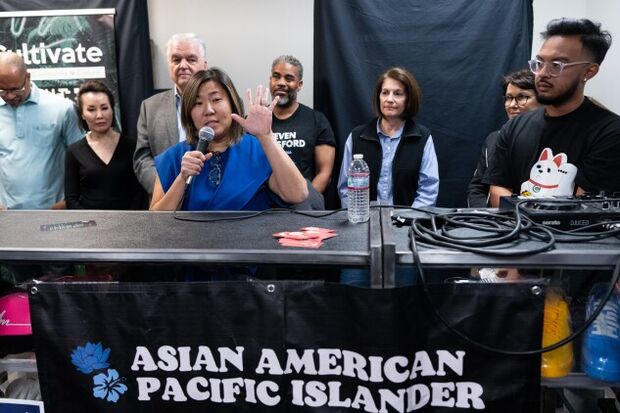 While AAPI voters have typically leaned Democratic, the group is not monolithic and there are signs more of the voters are shifting toward Republicans. An October memo from Democratic and AAPI groups highlighted polling showing support for Democrats among AAPI voters fell to 51% from 56% in 2020. Meanwhile, support for Republicans grew to 36% from 34% in 2020.
Such gains might be small on paper, but Nainoa Johsens, the RNC's director of Asian American Pacific media, said it's "going to be an enormous difference and could really be the difference in a lot of these races."
"Republicans aren't necessarily going to win 51% of the AAPI vote, but we're making inroads," he said. "Those seemingly small movements are going to make a huge difference this November."
President of the Nevada Republican Club Pauline Ng Lee said Republicans have been"much more aggressive about reaching out to the AAPI community" compared with past elections. But she's also seeing people who weren't previously interested in politics become engaged.
"The AAPI community that's coming out is different than 2020 or 2016 or 2018," she said. "People are more concerned with Covid and how their businesses were affected."
Rep. Grace Meng (D-N.Y.), who came to Las Vegas to campaign for her fellow Democrats, hinted at some of the frustration at the party during a rally at Shanghai Plaza, a shopping mall with Asian-owned stores like Taiwan's 85C bakery and CrunCheese Korean HotDog.
"You might not always be happy with the Democratic Party," Meng told dozens of potential AAPI voters. Then she reminded them of Jan. 6 riot at the Capitol and the potential for a future legitimate election to be overturned. "Our democracy is literally at stake."
Wooing Voters
With Asian and Pacific Islanders comprising more than one-fifth of the voters in the 3rd District, both candidates are working hard to woo AAPI voters. Becker has held multiple events, including dinners and house parties with the community, and has sent direct mail in Mandarin, Japanese, Vietnamese and Tagalog, which many in Nevada's large Filipino community speak.
Lee, the Democratic incumbent, said her campaign has been organizing in the community for more than a year, and noted the outreach she had done during the pandemic both to address struggling businesses and a rise in hate crimes against Asian Americans.
"I call it the rising electorate," Lee said in an interview. "They're becoming a force here."
William Wong, a director at the Las Vegas Asian Chamber of Commerce, said many Asian voters, particularly older ones, feel they shouldn't get involved with politics unless it affects them personally.
But with inflation threatening the bottom lines of Asian-owned businesses and concerns about crime, Wong said more of these people are saying "enough is enough. If I don't do something, I'll continue going down that road in a negative way."
The chamber, which has endorsed Democrats and Republicans in the past, avoided endorsing in federal races, but is backing Republican Joe Lombardo for governor, due in part to his tough stance on crime.
Grace Vergara-Mactal, Nevada executive director of the Service Employees International Union, said AAPI voters were spurred to action by the rise in AAPI hate crimes linked to the pandemic and the debate over its origin in China.
"We will organize ourselves to make sure that we're not invisible anymore," she said in an interview.
Tailoring Messages
Campaigns are increasingly tailoring their messages to AAPI voters. Republican Senate nominee Adam Laxalt has a version of his webpage in Tagalog.
RNC Chair Ronna McDaniel wrote an October op-ed in the Las Vegas Asian Journal titled "Filipino Americans Strengthen Our Country. Democrats Don't." A May edition of the publication included Cortez Masto's op-ed touting her support of Asian-owned businesses and her vote for legislation authorizing grants to support the reporting of hate crimes (Public Law 117-13).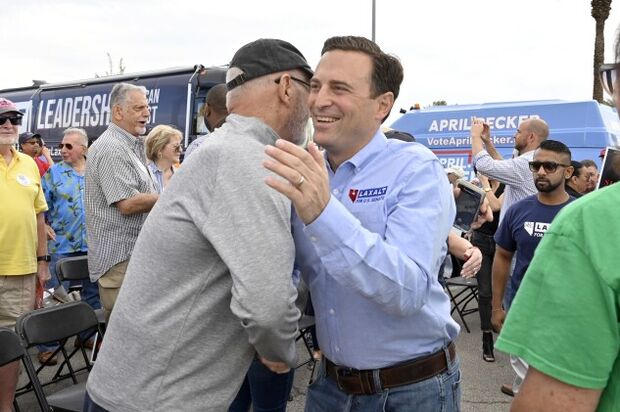 In a bid to appeal to younger voters, Democrats have focused on more liberal issues such as abortion access. The Democratic Congressional Campaign Committee is running a digital ad partially in Tagalog, portraying Becker as too extreme on abortion. Another ad from the DCCC, this one in English, accuses Becker of being "silent" on AAPI hate crimes.
In newspapers such as Las Vegas Chinese Daily News and Las Vegas Chinese Newspaper, ads tend to focus on issues appealing to older, more conservative voters. Ads in Mandarin for Cortez Masto and Becker focus on issues like lowering costs, fighting inflation and addressing crime.
While there are differences between different ethnic groups, one of the main divides are between older and younger Asian Americans, said Wong.
"The younger generation is more educated, more Americanized," he said. "They are more open, more active."
Angelyn Tabalba, the president of AAPI Democratic Caucus of Southern Nevada, said in an interview there's a generation gap. Her mother, Tabalba said, is more likely to accept things and move on, but that's not her style.
"I was a quiet kid growing up," she said at the Shanghai Plaza shopping mall. "And then I realized I should probably say something about things that don't treat me fairly."
To contact the reporter on this story: Emily Wilkins in Las Vegas at ewilkins@bgov.com
To contact the editors responsible for this story: Bennett Roth at broth@bgov.com; Loren Duggan at lduggan@bgov.com