Asian American Lawmakers Rally Support for Hate Crimes Measures
Atlanta shootings seen as turning point in legislative effort
Democrats seeking GOP sponsors for hate crime legislation
Bloomberg Government subscribers get the stories like this first. Act now and gain unlimited access to everything you need to know. Learn more.
House lawmakers are trying to build support for Asian-American hate crime legislation in the wake of a rash of incidents related to the coronavirus and the recent Atlanta spa shootings where six of the eight people killed were Asian women.
After the shootings, President Joe Biden called for Congress to pass hate crimes legislation while Senate Majority Leader Chuck Schumer (D-N.Y.) promised to bring the bill to the floor when Congress returns, along with another bill the House passed last year to prevent domestic terrorism.
The bill to bolster the reporting of hate crimes will be marked up April 14 by the Judiciary Committee, House Speaker Nancy Pelosi (D-Calif.) said during a roundtable event Wednesday with San Franciscan Asian Americans and Pacific Islanders. Pelosi and Rep. Judy Chu (D-Calif.), chair of the Congressional Asian Pacific American Caucus, have both said the measure could potentially get a floor vote in May.
The measure (H.R.1843) by Rep. Grace Meng (D-N.Y.) would designate a Justice Department official to expedite reviews of hate crimes related to coronavirus. Sen. Mazie Hirono (D-Hawaii) has introduced a similar bill ( S. 937) in her chamber.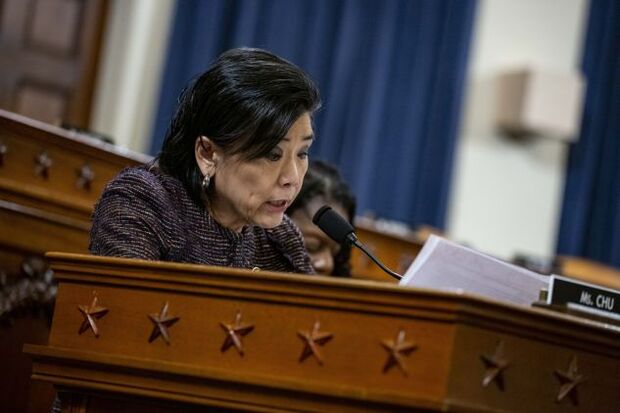 Chu, Meng and other lawmakers say they are using the spring congressional recess to keep the spotlight on Asian American and Pacific Islander hate crimes even as the Atlanta shooting is overtaken by other news events.
"Stereotypically, we're a community that is really taught not to rock the boat and mind our own business," Meng said. "There are many people in our community who literally don't know what to do right now."
Becky Monroe, a lawyer at the Leadership Conference on Civil and Human Rights, said hate crimes are under-reported, which can lead to both an inaccurate perception of the number of people impacted and the level of help needed said
"There are communities across the country that are not getting the resources that they need," she said.
Former President Donald Trump and some of his allies routinely called Covid-19 the "Chinese virus" or the "Wuhan Virus" because of its origins which Asian American leaders say inflamed anger directed at their community.
About three in 10 Asian adults said they had been subject to slurs or jokes about their race since the pandemic began, according to a Pew Research Center survey conducted last June. That compared to 21% of Black, 15% of Hispanics and 8% of White adults who said they had been subject to race- related slurs in that period.
Partisan Clash
The hate crime issue has been entangled in the same kind of partisan enmity that has engulfed Washington in recent years. A resolution calling on public officials to denounce racism against Asian Americans in September 2020 was opposed by 164 Republicans. Several GOP lawmakers said they felt the resolution targeted Trump, although it didn't name him. Rep. Jim Jordan(R-Ohio) said the denunciation of terms such as "Wuhan virus" in the resolution were unfounded. "You used to be able to say … the West Nile virus, the Zika virus, German measles, Spanish flu. Not today. Not today," the lawmaker said at the time. "Somehow it's anti-Asian bias. I think it's more to do with the fact that we're seven weeks from an election."
Meng said she hopes this time could be different given the Atlanta killings and Trump's departure from the White House. Her legislation also makes no mention of the term "Chinese virus" or other descriptions that sparked opposition last year. So far, all of the 150-plus co-sponsors on her bill are Democrats, but Meng said she hopes two new Asian Republican members, Rep. Michelle Steel (Calif.) and Rep. Young Kim (Calif.), would sign on to the legislation.
Neither responded to a request for comment, although Steel's office noted she introduced her own resolution (H. Res. 153) co-sponsored by Rep. Katie Porter (D-Calif.) condemning hate crimes against the Asian Americans and Pacific Islanders.
A Judiciary Committee spokesperson didn't respond to emails asking about the status of the hate crime reporting legislation.
The Asian Pacific caucus is also supporting legation that Rep. Don Beyer (D-Va.) plans to reintroduce soon that would establish grants to help state and local law enforcement better respond to hate crimes, and better report data around those crimes to the national level. Beyer is co-sponsoring the legislation with Chu, was well as Reps. Fred Upton (R-Mich.) and Vern Buchanan (R-Fla.).
"Burn Forever"
Asian Americans lawmakers have worked to highlight the issue. CAPAC sent a letter and toolkit to all members of Congress ahead of an Asian American day of action on March 26 that asked them to participate with events either online or in their districts.
Chu and other lawmakers traveled to Atlanta to visit the sites of the mass shootings and spoke with the Asian community there. FBI Director Christopher Wray and local officials have said race was not a factor in the shootings there. But Chu said the 40 minutes it took to travel from one spa to the other reaffirmed her belief that the shootings were racially motivated.
Chu has requested that Attorney General Merrick Garland open an investigation into the incident. Garland already directed the Justice Department to focus on investigating and prosecuting hate crimes.
"There is no way these were random shootings this was targeting of the Asian community," said Chu, adding that the crime "will burn forever in the minds of Asian Americans."
To contact the reporter on this story: Emily Wilkins in Washington at ewilkins@bgov.com
To contact the editors responsible for this story: Bennett Roth at broth@bgov.com; Heather Rothman at hrothman@bgov.com
Stay informed with more news like this – from the largest team of reporters on Capitol Hill – subscribe to Bloomberg Government today. Learn more.