Army's Quest to Muscle Up Stirs Row Over U.S.-Made Fitness Gear
Congress concerned over how Army buys fitness equipment
New competition raises fear Chinese-sourced gear could be sold
Bloomberg Government subscribers get the stories like this first. Act now and gain unlimited access to everything you need to know. Learn more.
Not all fitness equipment is created equal, especially for soldiers training to go to war.
The U.S. Army is overhauling its physical fitness test for the first time in 40 years to make its soldiers stronger and less injury prone. That's created a need for a huge amount of weight-training equipment that can stand up to heavy use by thousands of soldiers, indoors and out, in extreme conditions.
Yet what should be a major contracting opportunity has some American-owned suppliers worried that a new acquisition process will allow gear sourced from a key adversary, China, to save money. Key lawmakers say they're concerned there's no clear oversight of the ambitious new approach to health and physical prowess that includes the new Army Combat Fitness Test.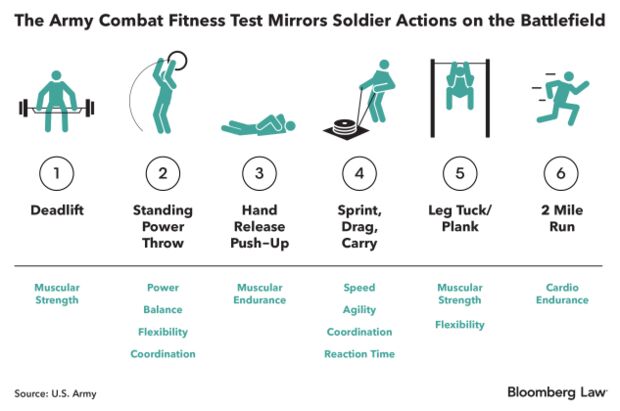 "You can't just go down to Dick's Sporting Goods and buy off the shelf," said retired Major Gen. Malcolm Frost, who helped put together the new fitness requirements. He's now a strategic adviser to BeaverFit USA, which makes container gyms and equipment for all military services.
"There's a massive difference between that, and there is probably somewhat of an education difference. The bureaucracy does not understand the difference between those," he added.
The Army's new Holistic Health and Fitness System (H2F) focuses on nutrition, quality sleep, preventive care, and physical readiness. It represents a cultural shift in how commanders train, develop, and care for their soldiers.
More than 58,400 soldiers—the equivalent of 13 Brigade Combat Teams—couldn't be deployed last year, according to an Army strategy paper. More than half of soldiers (55%) experienced a new injury in 2019, and a majority of injuries (72%) were cumulative musculoskeletal overuse injuries, according to the 2020 Health of the Force report.
Musculoskeletal injuries account for more than $500 million in patient care and opportunity costs because of inability to deploy or lost duty days, according to the Army.
Obesity prevalence remained constant at 17% among soldiers, according to the report.
Emphasis on Extraction
The new fitness test is designed to better match the demands of combat—carrying heavy loads, extracting personnel, pushing and loading equipment—through an approach that requires far more upper-body and core strength than the older version. One of the hardest soldier tasks is casualty extraction, or exfil, said Whitfield East, the research physiologist at the Army's Training and Doctrine Command.
"We were not properly preparing our soldiers for the rigors of combat to do their job, and it was resulting in injuries and medical issues," said Frost, who served as commanding general of the Center for Initial Military Training at Fort Eustis, Va. "And not only that, the Army had neglected over 30 years of what I would call health and science fitness and technology that had been developed."
The 120-minute Army Combat Fitness Test features six events that cover speed, endurance, and strength. It consists of dead lifts, medicine-ball throws, hand-release push-ups, sprint-drag-carry exercises, leg tucks or planks, and a two-mile run. The test will become the test of record in March 2022.
It will require 11 types of fitness equipment in one set per lane that measures muscular strength, muscular endurance, power, flexibility, coordination, speed, agility, cardiovascular endurance, balance, and reaction time for all U.S. Army units. An Army battalion would need 16 lanes of equipment.
Each lane would have a hex-bar, or dead-lift bar, and more than 320 pounds of weights. Additional weights are necessary to train for the sprint-drag-carry event, in which soldiers must drag a 90-pound sled for 50 meters. A weight sled, two kettle bells, a medicine ball and pull straps also outfit each lane. Tape measures, marking cones and stopwatches are also required.
The testing equipment can also be used to train. The fitness equipment designed for military use is "incredibly durable" and "quite frankly, not very expensive," considering that the 3,000 to 4,000 soldiers use one set of equipment two to three times a week, so the cost per soldier is low, East said.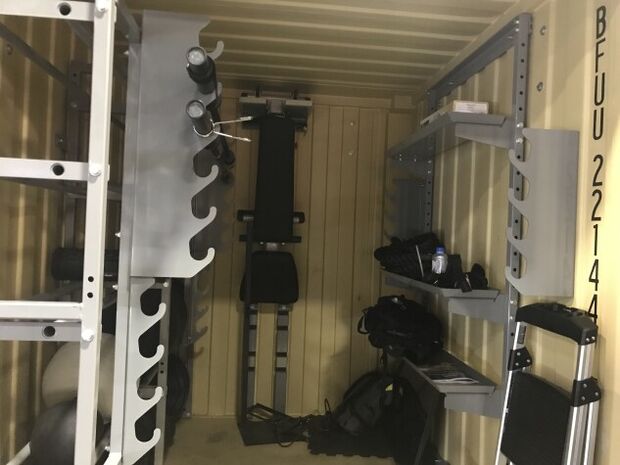 Made in the U.S.A.
The Army has already competed the contracts for 36,608 sets, with contracts going to Sorinex Exercise Equipment Inc., based in Lexington, South Carolina, and Atlantic Diving Supply Inc., which sourced equipment made in the U.S. by Reno, Nevada-based BeaverFit. The Army had a maximum requirement of 50,000 sets.
But BeaverFit and other U.S. suppliers say they're concerned that after several years of buying American-made equipment for the new fitness test from them, the Army shifted responsibility to the Defense Logistics Agency to oversee a new long-term contract.
Before the new fitness test was developed, equipment often came from Chinese sources, said Alex Roodhouse, who founded BeaverFit with Mike Taylor. Roodhouse and Taylor served as officers in the U.S. Navy's Riverine Units, patrolling the Euphrates River during the Iraq war.
The request for proposals specifies that at least 50% of the estimated acquisition cost must be composed of items manufactured, processed, or produced by small businesses in the U.S. In addition to the requirements for the small business set-aside, the Buy American Act also applies, according to a copy of the request reviewed by Bloomberg Government.
Contracts will be awarded to the vendors who provide the lowest price, are technically acceptable, and meet the terms of the solicitation. The maximum value of the contract is $40 million.
The U.S. suppliers say the 50% American-made provision offers openings for bigger companies to use materials sourced elsewhere, including China, to come in at a much lower price than they can offer with all-American-made materials and labor.
"DLA has a long history of awarding and monitoring contracts that are subject to federal procurement regulations for domestic sourcing," spokeswoman Michelle McCaskill said in an emailed statement. "On behalf of the Army, we are applying those same processes for the ACFT procurement."
BeaverFit is 100% veteran-owned and about 80% veteran operated with many former military members manufacturing the equipment and containers, Taylor said. BeaverFit gets its materials from military bases such as old steel from ships and tanks that they recycle and recast to make kettle bells, according to Taylor. The bumper plates are made out of recycled rubber from old tires and the medicine balls are from PVC material used for maritime buoys, he said.
"The point is that the Army validated that there is capacity to produce the equipment in the USA, and they should stick with the vendors that have proven they can do so. Why spend additional taxpayer dollars to validate something that you already know exists?" Taylor said.
Congressional Concern
Two years ago, the Army Contracting Command and the Army Tank Automotive and Armaments Command, which oversaw the initial purchase, required that equipment be made in the United States in accordance with the Buy American Act and the Berry Amendment, which obligates the Department of Defense to give preference in procurement to domestically produced, manufactured, or homegrown products.
The Army conducted site inspections to make sure all the gear was American made, the suppliers say. But they're less confident in the DLA's oversight because the contract is much bigger this time, and the DLA oversees massive contracts for all services. They also say the new contracting request was weak on Buy American requirements when first issued.
The Army's new approach is also raising concern with the U.S. House and Senate Armed Services committees.
"The equipment and facilities required for the H2F system are actively being acquired, yet the acquisition and contracting process, funding, authority, operations, and sustainment responsibility have not been unified under one command," the Senate Armed Services Committee wrote in the report accompanying the fiscal 2022 defense authorization bill (S. 2792). Army leaders are being called on to provide a briefing outlining oversight and governance, and potential creation of a program executive office.
The House-passed defense policy legislation (H.R. 4350) calls equipment and facilities "essential" elements of the H2F system, and requests "recommendations on the designation of a program executive office" to oversee and manage the fitness equipment and facility acquisition.
"We would never buy an F-18 from China and wouldn't source the key components of an F-18 from China," Roodhouse said, referring to the Boeing Co. Super Hornet fighter aircraft.
"Yet when it comes to the individual weapon system, the human weapon system, the soldier, the key components that help that soldier be ready for combat" used to come from China, he said.
He added, "It's tough to think of a kettle bell as a national security issue."
To contact the reporter on this story: Roxana Tiron in Washington at rtiron@bgov.com
Stay informed with more news like this – from the largest team of reporters on Capitol Hill – subscribe to Bloomberg Government today. Learn more.