Army to Expand Cloud Footprint Via Microsoft Azure Spending
Bloomberg Government subscribers get the stories like this first. Act now and gain unlimited access to everything you need to grow your opportunities. Learn more.
The U.S. Army plans to increase its investments in cloud computing and is looking for an industry partner to manage its expanding multi-cloud environment, according to a request for information released on Nov. 4.
The effort is being led by the Army's Enterprise Cloud Management Office (ECMO), which the service established in November 2019 to centralize management of dozens of cloud programs. The ECMO is looking for a managed services provider to run its enterprise cloud environment, dubbed "cArmy."
The Army's ability to master cloud computing will be a "critical enabler" in its pursuit of an information advantage on the twenty-first century battlefield, according to an attached statement of objectives. ECMO's top priority for cArmy is to provide its internal customers throughout the department with access to automated, self-service tools and artificial intelligence.
Another priority will be to expand and diversify cArmy's cloud offerings, especially from Microsoft Corp. At the moment, Army personnel can use services from Amazon Web Services Inc. to access information at every data classification level, or "impact level," covering everything from public information to classified national security information. Microsoft Azure services are available only up through impact level 5, the second highest data security level. The winning contractor will be tasked with deploying Microsoft cloud services at impact level 6 – achieving parity cArmy's Amazon offerings – and ensuring seamless integration between the two.
The Army's chosen vendor will operate, maintain, and enhance the cArmy environment over the contract's five-year period of performance, according to the RFI. The vendor will also provide program management, customer onboarding, training, oversight of service-level agreements, customer support, and help desk services.
Potential bidders have until Nov. 20 to respond with a six-page capabilities statement describing their skills and experience with Microsoft and Amazon cloud services in highly regulated environments.
ECMO did not provide an estimated ceiling value for the contract, but based on the proposed scope of work it could generate hundreds of millions of dollars over five years. The Army has obligated about $1.3 billion on cloud computing and cloud support services through programs like Army Cloud Computing Enterprise Transformation (ACCENT) and Army Private Cloud since the start of fiscal 2016, according to Bloomberg Government data.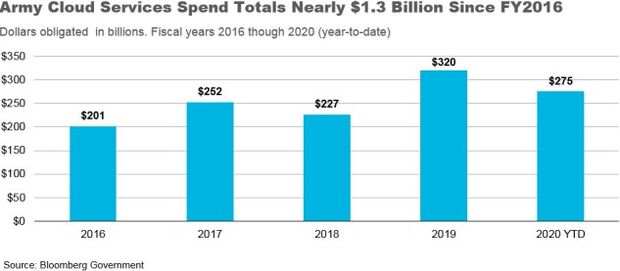 The Army's enterprise cloud contract joins a growing list of massive multi-cloud management contracts destined for a single vendor. Other prominent examples in the last year include the Defense Information Systems Agency's Defense Enclave Services, the Treasury Department's T-Cloud, U.S. Customs and Border Protection's Enterprise Cloud and Integration Services, and the Joint Artificial Intelligence Center's Joint Common Foundation.
To contact the analyst on this story: Chris Cornillie in Washington at ccornillie@bgov.com
To contact the editors responsible for this story: Daniel Snyder at dsnyder@bgov.com
Stay informed with more news like this – the intel you need to win new federal business – subscribe to Bloomberg Government today. Learn more.