Army Hosting Industry Days for $10B IT Hardware Contract: Top 20
Bloomberg Government subscribers get the stories like this first. Act now and gain unlimited access to everything you need to grow your opportunities. Learn more.
The Army plans to host four virtual industry day sessions in June for its 10-year, $10 billion, Information Technology Enterprise Solutions 4 Hardware (ITES-4H) contract, according to a May 21 announcement.
ITES-4H is the focus of this week's Bloomberg Government Top 20 Opportunities. It will deliver IT equipment such as purchase and lease of commercial servers, desktops, notebooks, workstations, storage systems, and networking equipment. Some related services and software for maintenance and warranties of legacy IT equipment will also be included.
The contract will be structured with seven product catalogs for IT equipment, according to the May 21 draft statement of work. The categories are servers; workstations, desktops and notebooks; storage systems; networking equipment; imaging equipment; cables, connectors, and accessories; and video equipment products.
The Army released a draft statement of work in December 2019. The agency is planning to award the ITES-4H contracts by March 2021, according to details listed in a March 2019 procurement forecast industry day. The Army hasn't provided an estimated number of contract awards on ITES-3H. The predecessor contract hosted 17 companies.
ITES-3H Contract Spending
The predecessor contract, ITES-3H, has disbursed $2.2 billion in spending obligations of a $5 billion total value since it began in fiscal 2016. The top three companies, World Wide Technology Holding Co. ($552 million in obligations), Iron Bow Technologies LLC ($423 million), and CDW Corp. ($277 million) account for more than half of all spending.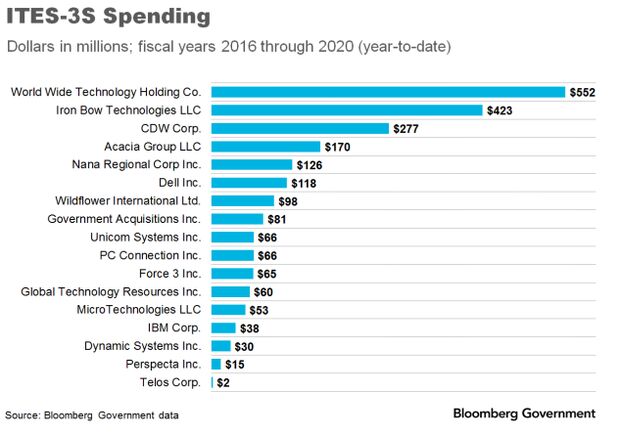 What's Ahead
The Army is looking to keep pace with commercial technology advancements, and future contract holders on ITES-4H will be required to maintain innovative offerings. According to the Army, the contractor will be required to provide technologies and refresh their catalog product offerings in parity with commercial business practices. These new technologies may include areas such as biometrics, embedded encryption, body-wearable computers and displays, wireless products, and mobile personal data terminals.
ITES-4H will coexist with an existing hardware contract, Army Desktop and Mobile Computing-3, awarded by the Army in July 2019. ADMC-3 is a five-year, $5 billion, multiple-award contract designed to deliver information technology equipment to integrate, support, modernize and refresh the Army's net-centric architecture. ADMC-3 currently shows limited spending obligations. Its predecessor, ADMC-2, has generated more than $5.2 billion since fiscal 2006. The ITES-4H contract is intended to be a total-solutions-based contract vehicle and will include items needed for the fielding of a complete system, according to the May announcement. Commodity products not available on the ADMC contract vehicle can be procured through ITES-4H. Additional details on the Army portfolio of IT hardware contracts is available in a August 2019 briefing here.
Industry Day Registration
Companies interested in participating in the industry days must register by June 5 via the links below:
To contact the analyst: Daniel Snyder at dsnyder@bgov.com
To contact the editor responsible for this story: Jodie Morris at jmorris@bgov.com
Stay informed with more news like this – the intel you need to win new federal business – subscribe to Bloomberg Government today. Learn more.