Arizona Republicans Face Pricey Primary With Governor Opting Out
Doug Ducey said he won't challenge Sen. Mark Kelly (D)
Millions already being spent on TV in top GOP target
Arizona Gov. Doug Ducey's announcement that he won't run for the Senate leaves a crowd of lesser-known Republicans in a bitter battle for the nomination in one of the party's top pick-up opportunities.
State Attorney General Mark Brnovich, venture capitalist Blake Masters, and former solar power company executive Jim Lamon are leading contenders in the Aug. 2 primary to face Democratic Sen. Mark Kelly. GOP candidates and their allies have already started spending millions of dollars on TV ads attacking each over issues such as border protection and their affinity for former President Donald Trump.
The presence of Ducey, who's been elected statewide three times, could've allowed the party to begin focusing on Kelly sooner and provided a boost in a race critical to Republicans' hopes of winning the Senate majority.
Ducey "would have been a great candidate in Arizona, everybody knows that," Senate Minority Whip John Thune (R-S.D.) told reporters Thursday. "He was kind of the favorite."
Kelly has been stockpiling campaign cash for the general election. He raised $27.5 million in 2021 and began this year with $18.6 million in cash on hand. Lamon, who's largely self-funding his campaign, had $5.9 million in cash to begin the election year, while Masters had $1.8 million and Brnovich $768,000.
Kelly was the biggest beneficiary of Ducey's decision, said Bill Scheel, a Democratic consultant in Phoenix. The Republican Party "will be sitting on the sidelines for at least a few more months, allowing Kelly to solidify his base," he said, while Republican candidates "move further and further to the right."
Still, the move isn't swaying independent analysts just yet.
"We continue to see this race as a toss-up," said analyst Kyle Kondik of Sabato's Crystal Ball at the University of Virginia. Kondik said it was fair to question whether the Republicans will have a strong challenger to Kelly, but Arizona "is a very competitive state and this is shaping up to be a Republican-leaning year."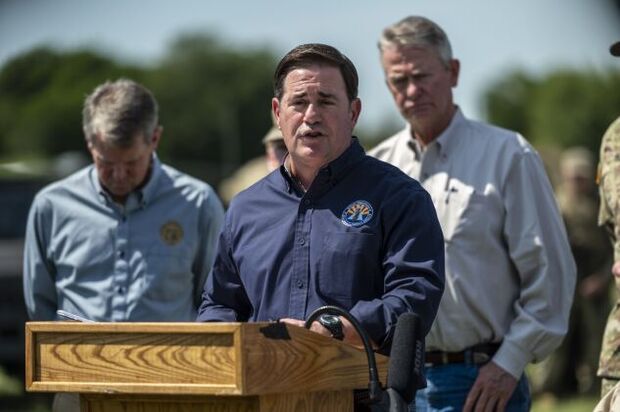 'Blizzard of Garbage'
Ducey's absence was good news for Brnovich, a statewide elected official who's running the most conventional campaign, said Stan Barnes, a Republican consultant in Phoenix. But there is five months of primary campaigning still to go.
The biggest spender in the race, so far, is Saving Arizona, a super PAC supporting Masters, according to independent expenditure reports filed with the Federal Election Commission. It's funded by Silicon Valley billionaire Peter Thiel; Masters runs Thiel Capital. The PAC has spent more than $4 million on TV ads and other communications, including messages faulting Brnovich on border security and for failing to support Trump's claims that the 2020 presidential election was stolen.
Regardless of their nominee, Republicans in the state and in Washington said they remain optimistic about their chances in Arizona, which after electing Kelly in a 2020 special election now has two Democratic senators, along with Kyrsten Sinema. While President Joe Biden carried the state as well, Republicans see the president's low approval rating as a boon to their chances across the country, and in unseating Kelly, who's running for a full term.
"For all his apparent decentness, he has to carry Joe Biden like a dead weight in a sack slung over his shoulder," Barnes said of Kelly.
GOP strategists see other advantages as well. Chuck Coughlin, a consultant in Phoenix who works with Republicans, said he expects voter turnout to favor Republicans in November. Kelly's fundraising lead may not be decisive because both parties are likely to pour money into the state in the fall, the analysts said.
"It's just going to be a blizzard of garbage," Coughlin said in describing the airwaves later this year.
Trump Looms Large
Trump, who feuded with Ducey after the 2020 election, took credit for forcing him out of the race. "I guess that means we can call this week 34 and 0," Trump said in a statement that also boasted of winning 33 races for his endorsed candidates in Texas Republican primaries held Tuesday.
Democrats, who control the 50-50 Senate and can't afford a net loss of a single seat, said Trump's continuing involvement in the midterms will help them hold the Senate majority.
"Ducey's decision not to run for Senate is proof that no one looms larger in this GOP Senate primary than Donald Trump, whose lies around the 2020 election have become this race's litmus test even as Arizonans are ready to move on," said Arizona Democratic Party spokesperson Hannah Goss.
After Senate Minority Leader Mitch McConnell (R-Ky.) and Sen. Rick Scott (R-Fla.), chairman of the National Republican Senatorial Committee, tried to recruit the Arizona governor to enter the race, Republicans said they would field a strong candidate without him.
"Arizona voters have excellent candidates to choose from in the Republican primary, and the NRSC is confident any of these outstanding candidates can beat Mark Kelly in November," NRSC spokeswoman Katharine Cooksey said.
Ducey was the latest GOP governor to opt against a Senate bid, joining Chris Sununu in New Hampshire and Larry Hogan in Maryland. Ducey told supporters in a letter that he was more interested in being an executive than a legislator, which was first reported by the Arizona Republic.
Thune said the party's hopes to win back the majority "starts with quality candidates."
"As we go through these nominations, these primaries, and nomination processes in various states, you hope that those types of candidates sort of rise to the top," he said.
Zach C. Cohen in Washington also contributed to this story.
To contact the reporters on this story: Kenneth P. Doyle in Washington at kdoyle@bgov.com; Brenna Goth in Phoenix at bgoth@bloomberglaw.com
To contact the editors responsible for this story: Kyle Trygstad at ktrygstad@bloombergindustry.com; Bennett Roth at broth@bgov.com