AOC Finds Unlikely Ally to Back Pentagon Psychedelic Studies
Psychedelic research for service members passed in House NDAA
Research aims to help with veteran suicide, substance abuse
Bloomberg Government subscribers get the stories like this first. Act now and gain unlimited access to everything you need to know. Learn more.
The firebrand New York Democrat and the conservative Texas congressman rarely find themselves on the same side of the table.
But Reps. Alexandria Ocasio-Cortez (D-N.Y.) and Dan Crenshaw (R-Texas) share support for expanding psychedelic research studies to active-duty military. The duo filed separate amendments on expanding psychedelics research to service members that earlier this month got attached to the fiscal 2023 National Defense Authorization Act (H.R. 7900). The amendments' fate as the legislation moves to the Senate remains unclear, though some key senators have expressed interest.
"They are, I would argue, kind of collaborative amendments in a way," Ocasio-Cortez said in a brief hallway interview, adding that staff from both their offices have spoken about such research.
Ocasio-Cortez's amendment would fund a study looking at MDMA — the drug known commonly as ecstasy or molly — and psilocybin, or magic mushrooms, as alternatives to opioid treatments for military members. Veterans are twice as likely to die from an opioid-related overdose than civilian Americans, according to the American Addiction Centers.
Crenshaw's amendment would focus on a Secretary of Defense grant program for psychedelic clinical trials for service members with post-traumatic stress disorder. The trials would study treatments with psilocybin, MDMA, and ibogaine — a naturally occurring psychoactive substance — Crenshaw said.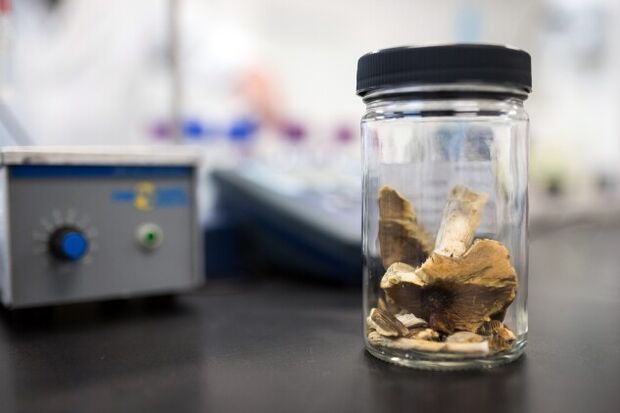 The studies would build on existing research on the substances that is already happening across the scientific community as an alternative mental health treatment, including for veterans. An average of 20 veterans commit suicide a day, according to the Department of Veterans Affairs.
"Having the Department of Defense come out and say, 'We did research, and this is what we found,' is a giant seal of approval that cannot even be measured," said Jonathan Lubecky, the veterans and governmental affairs liaison from the Multidisciplinary Association for Psychedelic Studies.
"We have to push forward and encourage medical innovation and exploration," Crenshaw said during a House Rules Committee meeting earlier this month. "Even if it means getting outside our comfort zone."
Rep. Earl Blumenauer (D-Ore.) — an avid supporter of psychedelic research and drug reform — called the NDAA amendments "encouraging."
"They shouldn't all be Blumenauer bills," he said in an interview. "That's too predictable."
Read More: Hunt for Psychedelic Mushrooms Faces DEA Hurdle to Right to Try
Answers 'Really Needed'
After being in vogue in the 1960s, research into psychedelics was on hiatus until the 1990s, which has driven states such as Oregon and California to legalize the substances for medical purposes, or decriminalize them entirely.
Dr. Rachel Yehuda researches psychedelic therapies for veterans with PTSD at the Bronx VA. Psychedelics may not be the right answer, but it is important to do research to determine their possibilities, she said.
"Government funding, and making it a little easier to do this kind of work, would help get answers," Yehuda said. "And answers are really needed right now."
Veterans Exploring Treatment Solutions helps US veterans access psychedelic treatment in countries where it is legal. Expanding psychedelic research for veterans and service members would help these nonprofits, VETS co-founder Amber Capone said.
"It would really take the onus off of organizations like us having to say no to veterans that are in need—and some of them might be truly on the brink," Capone said. "We're dealing with people that are in crisis."
Read More: Psychedelics Industry Ponders How to Go Mainstream: The Dose
Senate Support
The NDAA heads to the Senate next, where Crenshaw said he thinks his amendment will face more opposition. Lawmakers think the research is "AOC stuff," or a liberal priority, so Crenshaw wants to help others understand the benefits, he said.
"We gotta figure out who can champion it up there and make sure it stays in the bill," Crenshaw said. The Senate's version of the National Defense Authorization Act (S. 4543), which doesn't include amendments yet, doesn't have any language regarding psychedelic research for armed services members.
Sen. Cory Booker (D-N.J.) said he has been "working on something similar" to psychedelic research for military members for the Senate legislation.
"We are already seeing stunning success when it comes to treating PTSD," Booker said in a hallway interview. "Of course I want to see expanded work on on post-traumatic stress, especially as it relates to our military officials."
Other key senators are less enthusiastic on the issue. Sen. Jon Tester (D-Mont.), chairman of the Veterans Affairs Committee, said he hadn't seen the bill but that he "wouldn't rule that stuff out of hand." The top Republican on the Senate Armed Services Committee, Sen. Jim Inhofe (Okla.), also hadn't read the amendments, but said he was interested in learning more about the topic.
Sen. Lindsey Graham (R-S.C.), himself a veteran, said he would support psychedelic research for veterans "if you can show me it works."
"I'm open-minded," Graham said. "I want to help people who are struggling."
But Sen. Jack Reed (D-R.I.)— a veteran and chairman of the Armed Services Committee — hadn't heard about the amendments, but questioned whether performing this research was necessary in the military.
"There's a lot of research in the scientific community," Reed said. "I don't know necessarily if DoD has to participate."
To contact the reporter on this story: Mia McCarthy at mmccarthy@bloombergindustry.com
To contact the editors responsible for this story: Anna Yukhananov at ayukhananov@bloombergindustry.com; Angela Greiling Keane at agreilingkeane@bloombergindustry.com
Stay informed with more news like this – from the largest team of reporters on Capitol Hill – subscribe to Bloomberg Government today. Learn more.