Another State Mulls Second-Choice Voting: Ballots & Boundaries

Nevada could be the next state to rankle politicians by adopting ranked-choice voting, a system that lets voters mark multiple choices in descending order — and sometimes a runner-up can win.
A November ballot question proposes letting all voters participate in open primaries to narrow the general election field to five candidates. Then in the fall, they'd rank those candidates, from first choice down to fifth choice.
When there's no majority winner, there would be a second-round tabulation, with the last-place candidate out of the running and the second-choice picks of that person's supporters added to the tally. Still nobody topping 50%? They'd do another round with only three candidates in consideration and the preferences of the fourth-place finisher's voters would be counted, until someone secures a majority.
Supporters argue the changes would shift more power to voters. Gov. Steve Sisolak (D) is among elected officials who've said they're worried the measure could create confusion.
The system is already in place in Alaska and Maine. Alaska first used it in a special congressional election this year when Mary Peltola (D) defeated Sarah Palin (R).
If Nevada voters approve Question 3, ranked-choice backers will be halfway done; it would go back on the ballot in 2024 to be ratified. — Brenna Goth
(Was this newsletter forwarded? Get your own! It's free. SUBSCRIBE HERE )
ARKANSAS & COLORADO: SMOKING & DRINKING
The Arkansas Times reports that prominent conservative donors have chipped in a total of $2 million to fund a committee opposing recreational marijuana in that state.
And in Colorado, the Grand Junction Daily Sentinel reports that about $8 million poured into the committees backing ballot initiatives that would let grocery stores sell wine and allow third-party delivery services to transport alcohol, as well as an initiative that would open the door for liquor retailers to open as many locations as they'd like in the state.
Seven-figure donors last month included Instacart, Whole Foods, Target, Albertsons Safeway, and Kroger, according to the Sentinel.
See also:
Liquor stores argue that wine in grocery stores will put them out of business — Colorado Politics
US Rep.

David Trone

(D-Md.) has spent $1 million on out-of-state ballot initiative — Colorado Sun
Razor's Edge Races
The latest in our series spotlighting close congressional contests after redistricting changes.
Today: New Jersey's 7th District
Where Is It? The district includes all or part of six counties in northern and northwestern New Jersey: Hunterdon, Morris, Somerset, Sussex, Union and Warren.
Who Drew It? A redistricting commission of six Republicans, six Democrats and a former state Supreme Court justice who served as the tiebreaking chair and cast a decisive vote in favor of the Democrats' map.
2020 Presidential Vote: Joe Biden 51%, Donald Trump 47%
Demographics: 71% White, 12% Hispanic, 8% Asian, 5% Black
Cook Political Report Rating: Leans Republican
Nominees: Two-term Rep. Tom Malinowski (D), Tom Kean Jr. (R)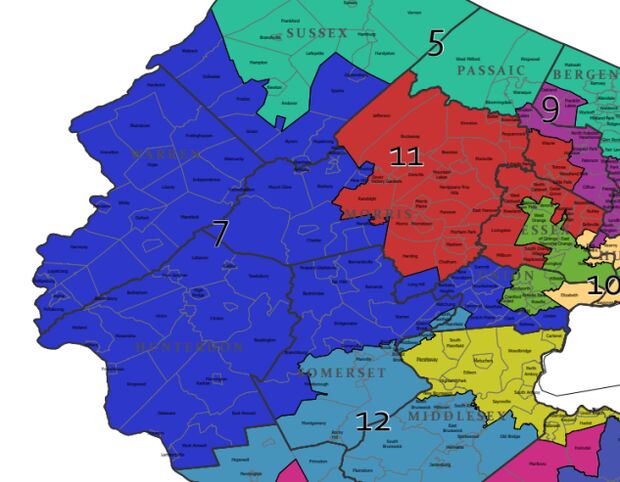 What to Watch: Malinowski was the odd person out under the Democrats' map, which shored up the party's other incumbents from competitive districts — Andy Kim, Josh Gottheimer and Mikie Sherrill. Malinowski is facing Kean, a former state Senate minority leader, in a rematch of a 2020 election that Malinowski won by 1.2 points. That election was held in a district that Biden carried by 10 percentage points, compared to the president's 3.7-point victory margin in the reconfigured 7th. Malinowski has held "Tom's in Town" events to introduce himself to new voters, and he's linked Kean to Trump. Kean and Republican groups have bound Malinowski to Biden and inflation and criticized the incumbent's failure to properly disclose stock transactions he made.
Next edition: California's 22nd
Voting Law
POTENTIAL LITIGATION
More than 65,000 voter registrations have been challenged in several Georgia counties. That, as well as challenges in Iowa, Michigan, Florida and Texas, has prompted the Brennan Center for Justice at New York University and the Campaign Legal Center to warn Georgia officials that canceling any voter registrations this close to the November midterms would be illegal.
Voting rights groups are considering a legal challenge. READ MORE from Margaret Newkirk and Ryan Teague Beckwith
See also: Video Shows 'Unauthorized Access' to Georgia Election Equipment — AP
ARIZONA: RAGE AGAINST THE MACHINES
Two Arizona candidates are escalating their fight against voting machines. They're appealing a federal judge's dismissal of their lawsuit arguing that electronic tabulators should be outlawed in favor of hand counting ballots.
A judge previously said the complaint by Republican gubernatorial nominee Kari Lake and Secretary of State nominee Mark Finchem showed no proof of actual harm from the tabulators. — Brenna Goth
NEW YORK: ABSENTEE APPEAL
An upstate New York county Republican committee, assemblyman, and two voters are appealing a decision to throw out their ballot access lawsuit.
State lawmakers in January extended a Covid-era law that allowed voters to temporarily vote via absentee ballot because of the risk of contracting or spreading a disease-causing illness. A Supreme Court Justice on Monday sided with the state, dismissing the case, and allowing no-excuse absentee ballots for the November elections. — Keshia Clukey
WISCONSIN: VOTER REGISTRATION SUIT
A conservative legal foundation has sued to block use of a nationwide voter registration form in Wisconsin because the form allegedly doesn't meet the state's voter-demographic requirements.
States are generally required to accept registrations through the National Mail Voter Registration Form, created by the US Election Assistance Commission. In this case, Wisconsin Institute for Law & Liberty attorneys argue that the form should have been rejected because it lacks a question about whether the registrant is a felon, among other differences from state requirements.
Wisconsin is exempt from a national mandate to use the form because it offers same-day registration. Institute attorney Anthony LoCoco called it "a shame" that a suit had to be brought to "ensure WEC follows the Legislature's lawful commands." — Alex Ebert
DELAWARE: NO MAIL
A Delaware judge ruled that a vote-by-mail law enacted earlier this year is unconstitutional and that voting by mail can't be used in upcoming November election.
The reason: it violates a provision in the state Constitution that spells out the circumstances under which a person is allowed to cast an absentee ballot. — Associated Press
OHIO: 'SENSIBLE PEOPLE'
Since she's retiring this year, Ohio Supreme Court Justice Maureen O'Connor won't get the last word on gerrymandering, but she is having her say.
"To achieve the goal of ending gerrymandering Ohio voters will need to return to the ballot box to amend the Constitution once again," she said during a speech in Columbus. "Let's try having ordinary, sensible people who are not driven by politics but rather by what's fair, fair representation and justice."
O'Connor is a Republican who sided with Democratic justices against GOP maps five times. In her address she pledged to support an effort to amend the Constitution through another ballot measure that would create an independent redistricting commission, unlike two ballot measures last decade that created a politician-run process that resulted in maps that set up Republicans to have a strong shot at as many as 13 out of 15 seats in the state's congressional races. — Alex Ebert
Caught Our Eye
Resources
Add Us to Your Inbox
SIGN UP for Ballots & Boundaries, your check-in on ballot initiatives, state voting laws, and redistricting.
To contact the reporters on this story: Brenna Goth in Phoenix at bgoth@bloomberglaw.com; Greg Giroux in Washington at ggiroux@bgov.com; Alex Ebert in Madison, Wisconsin at aebert@bloomberglaw.com; Keshia Clukey in Albany, N.Y. at kclukey@bloomberglaw.com
To contact the editor responsible for this story: Katherine Rizzo at krizzo@bgov.com