Alabama Governor Signs New Congressional Map Favoring GOP (1)
New lines preserves party's advantage in House delegation
Democrats sought to shift some Black voters to new district
(Updates that governor has signed the bill and with Democratic attorney's quote in fourth paragraph)
Alabama Gov. Kay Ivey signed into law Thursday new congressional district lines designed to preserve Republicans' 6-1 advantage in the House delegation.
The action came after the state House passed the map 65-38 on Monday and the state Senate cleared it 22-7 on Wednesday.
In creating districts for the next decade, Alabama's GOP-led legislature rebuffed Democratic demands to create a second district where Black voters have significant influence to sway the outcome of elections.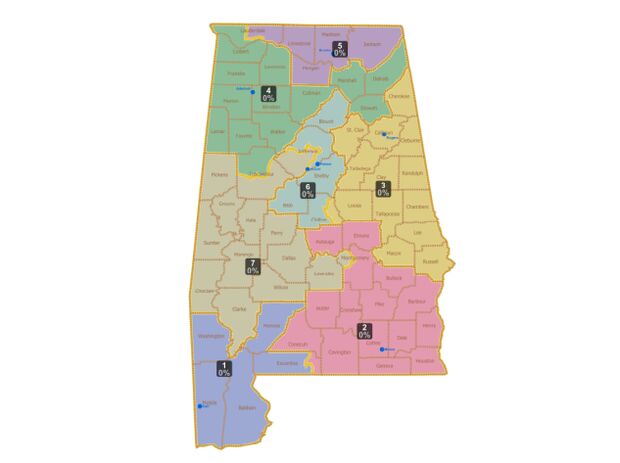 "I expect litigation soon," Democratic attorney Marc Elias said on Twitter.
Should the map survive court challenges, Republicans would be strongly favored to retain control of their current six districts, including the Huntsville-based 5th District that Rep. Mo Brooks (R) is leaving open to run for the Senate.
Rep. Terri Sewell, the only Democratic member in overwhelmingly Republican Alabama, would continue to have a Black-majority Democratic stronghold that includes Selma and parts of Birmingham and Montgomery.
( Sign up for Ballots & Boundaries, a weekly check-in as states change voting laws and revise political districts.)
Republicans rejected Democratic proposed maps that shifted some Black voters out of Sewell's district to craft a second district where they'd have meaningful influence. Alabama is about 26% Black.
The new maps "do not do enough to accurately and fairly represent Alabama's black population, who continue to be marginalized and are denied the opportunity to elect their preferred candidates," Eric Holder, a former U.S. attorney general and the chairman of the National Democratic Redistricting Committee, said in a statement.
"Reapportionment's always taken to court, and everything we did will be scrutinized," said state Rep. Chris Pringle (R), the sponsor of the map, according to the Montgomery Advertiser. "I think we did a good job of applying the law and the guidelines equitably."
To contact the reporter on this story: Greg Giroux in Washington at ggiroux@bgov.com
To contact the editors responsible for this story: Kyle Trygstad at ktrygstad@bloombergindustry.com; Bennett Roth at broth@bgov.com