Airport Face Scans Embraced by Agencies Despite Nagging Mistrust
Homeland Security aims to make biometrics future of travel
Critics complain of algorithm bias, federal surveillance risk
Bloomberg Government subscribers get the stories like this first. Act now and gain unlimited access to everything you need to know. Learn more.
The Department of Homeland Security wants to make facial recognition technology the future of travel, but it will have to win over skeptical travelers to make a smooth transition.
While millions of Americans embrace facial recognition applications in their everyday life—to unlock their phones, for example—critics say the government's use of the technology contributes to a growing surveillance state and disproportionately harms people of color.
Recent controversy erupted over a scuttled IRS proposal to use facial recognition via taxpayer selfies, and the government's use of Clearview AI technology, which relies on mass collection of people's images from social media and other sources.
U.S. Customs and Border Protection and the Transportation Security Administration are on a mission to assure the public their use of face scans to verify travelers' identities is tamer by comparison. They're eager to expand from their current use of the technology at select checkpoints to a system-wide approach that, according to the agencies, would make travel safer and more efficient.
Officials acknowledge it's been tough to persuade everyone it's a good idea.
"Unfortunately the use of facial biometrics has become entwined with the concept of surveillance, but there's a lot of misinformation out there," said Diane Sabatino, the No. 2 official in CBP's Office of Field Operations.
Grandma's Selfie Chaos Shows Government Fraud Fix Still Elusive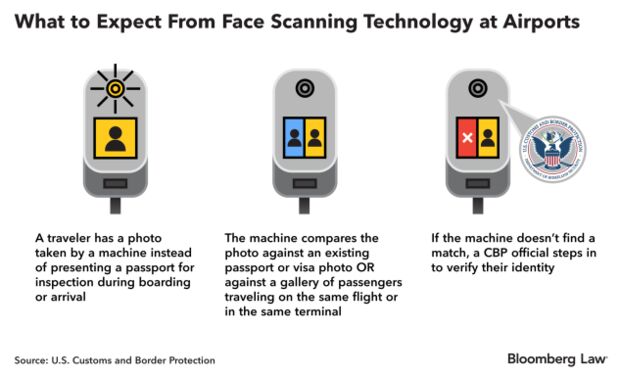 Collecting 'Faceprints'
CBP's use of face-scanning technology stems from a 9/11 Commission Report recommendation and subsequent congressional mandates to use biometric identifiers—such as fingerprints, iris scans, and "faceprints"—to root out terrorists and other threats.
Instead of presenting their passports to a CBP official, international travelers have their pictures taken by a computer. The system compares the image to the traveler's passport picture or other government photos, or it compares the image to a small gallery of fellow travelers, such as those on the same flight.
Jody Hardin, CBP's acting executive director for Planning, Program Analysis and Evaluation, said the process has proven itself to be secure. "This is something that we've done since the beginning of the immigration service to verify those documents against the people presenting it," she said at a recent roundtable.
CBP uses the technology at more than 200 airports, plus 13 seaports and nearly 100 land ports of entry. U.S. citizens can opt out and undergo a traditional inspection by a customs official. Citizen photos are deleted after 12 hours; foreign nationals' photos are stored in a DHS system for decades.
TSA is in earlier stages with facial recognition, with opt-in pilot programs in some PreCheck lanes, but is following CBP's lead. Administrator David Pekoske recently said he envisions a "fully biometric" future for the agency.
Facial Scans Catch 'Impostors' at Border as Agencies Embrace Use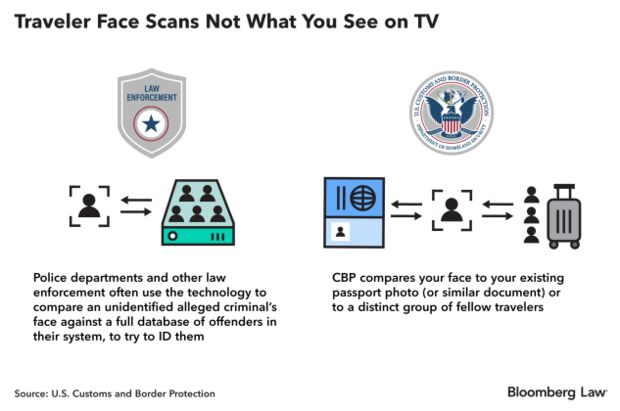 Accuracy Analysis
The biometrics revolution is cause for concern for some travelers. Critics of face scans worry about bias in the technology, and broader risks associated with the government's collection of personal data.
Some algorithms to recognize faces have been less accurate for certain demographics, a shortcoming that has improved but not disappeared over time. Lighting, camera quality, and the diversity of faces a particular algorithm is trained on can all make a difference in match rates.
One often-cited study from 2012 analyzed several algorithms and documented lower accuracy for women, Black people, and young people. The National Institute of Standards and Technology found similar error rates across demographics in a 2019 study but also noted "massive gains in accuracy."
The algorithm CBP uses, known as NEC-3, "shows virtually no measurable differential performance in results based on demographic factors," a spokesperson said, citing a related NIST analysis.
New IRS Online ID Verification Process, With ID.me, Has 17 Steps
Lawmakers still urge caution. Sen. Ed Markey (D-Mass.) has pushed to limit the government's use of the technology, saying there's a gap in the "concept versus execution" of facial recognition in transportation security.
"It becomes a very important moment in someone's life when they get stopped with that kind of technology," Markey said in a recent interview.
Sens. Jeff Merkley (D-Ore.) and Roy Blunt (R-Mo.) have urged CBP to more clearly promote U.S. citizens' ability to opt out.
Easy Fixes?
Speaking during a recent roundtable, CBP's Sabatino touted the technology's improvement over time, and emphasized that travelers have an easy fix when face matching falls short. If a computer fails to match a traveler's face and passport photo, for example, a CBP official simply does the check manually.
Stewart Baker, a high-level DHS official during the George W. Bush administration, compared that traveler's experience to the inconvenience of having an unsuccessful iPhone face scan that prompts a user to enter a PIN number to unlock a device.
"It seems odd to condemn the technology when the technology is so easily corrected," he said.
But the inconvenience alone is a valid concern, compounded by the added risk some travelers may face from increased adverse interaction with law enforcement, said Caitlin Seeley George, director of campaigns and operations at the digital rights group Fight for the Future.
Even more troubling to George and other advocates is the concern that facial recognition for travel is a slippery slope toward unfettered government surveillance.
"Whenever the government acquires a person's faceprint, it creates a risk of persistent surveillance, where the government could identify and track people's movements without their knowledge," said Ashley Gorski, senior attorney for the American Civil Liberties Union's National Security Project.
DHS's use of the technology would enable "high-tech profiling of Black, Hispanic, Indigenous, and Asian people," said Bertram Lee Jr., policy counsel from the Leadership Conference on Civil and Human Rights.
'Big Brother'
A "tapestry" of varying state-level regulations in the U.S. makes it tough to win public trust, said Simon Randall, CEO of the video privacy and security company Pimloc Ltd. "The general public have a feeling of toxicity around the subject," he said.
While a decades-old U.S. statute governs federal agencies' collection and use of personal information, and another law mandates privacy impact assessments, specific standards for facial recognition vary by agency and are a step behind the technology.
Former DHS official Patricia Cogswell credited DHS for its efforts to promote transparency. She urged further government and industry efforts with graphics and other information that could help passengers understand what happens at the airport—from the time they check in through boarding.
"We take pride in the ideal that we can ask questions of those in government," said Cogswell, now a partner at Guidehouse, a consulting firm.
Former TSA official Steve Karoly, now executive vice president at K2 Security Screening Group, said the key to a smooth expansion of facial recognition is showing what the public can gain.
"There will always be people that believe Big Brother is watching," he said. "But if someone thinks or believes they're getting something out of it—a faster process—I think they're going to be willing to take it on."
To contact the reporter on this story: Ellen M. Gilmer in Washington at egilmer@bloombergindustry.com
To contact the editors responsible for this story: Cheryl Saenz at csaenz@bloombergindustry.com; Anna Yukhananov at ayukhananov@bloombergindustry.com
Stay informed with more news like this – from the largest team of reporters on Capitol Hill – subscribe to Bloomberg Government today. Learn more.