Airplane Virus Transmission Risk Is Low, Military Tests Suggest
Airborne particles were filtered away within 6 minutes
Jet air filtration more effective than hospitals', study says
Commercial jets' air filtration systems sweep up airborne coronavirus within minutes, a Pentagon test found, suggesting that flying poses a low risk of exposure.
Aerosol tracer particles were no longer detectable after six minutes in the cabin of commercial United Airlines Holdings Inc. Boeing 767 and 777 aircraft, the U.S. Transportation Command announced Thursday. The air exchange and filtration systems provided more protection than hospital isolation and operating rooms.
The average American home takes about 90 minutes to clear such particles from the air, the command said.
The Defense Department conducted the tests to assess risks to troops and their families who travel on contracted flights called the Patriot Express. The results could, however, have wider implications for public travel as Americans weigh whether to board commercial flights as the pandemic continues.
"No one has generated this level of understanding of aerosol movement in aircraft," said Eric Van Gieson, program manager of the biological technologies office at the Pentagon's Defense Advanced Research Projects Agency, or DARPA.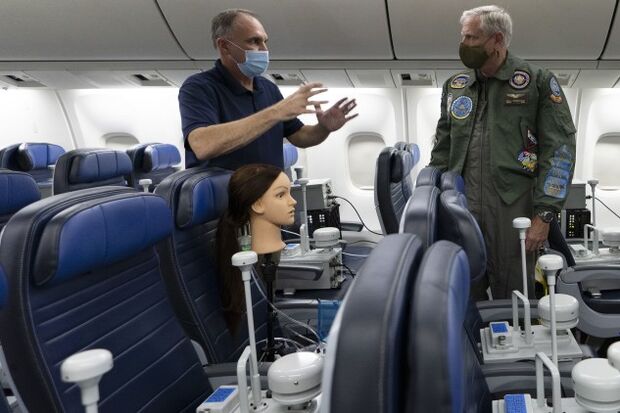 The tests, conducted in late August, involved more than 300 aerosol releases over eight days.
The results have limitations because the testing considered only one infected passenger on the flights, according to Cmdr. Joe Pope, Transportation Command's operations directorate liaison for the testing.
The study found masks highly effective, reducing the presence of particles in the cabin by about 95%, reporters were told at a briefing.
"What this study provides you is a foundational set of data that the commercial aircraft industry can utilize for modeling applications," Van Gieson said.
The testing used mannequins and was conducted by biodefense company Zeteo Tech LLC, DARPA, and the University of Nebraska's National Strategic Research Institute. The findings will be submitted to a peer-reviewed medical journal.
To contact the reporter on this story: Travis J. Tritten at ttritten@bgov.com
To contact the editors responsible for this story: Sarah Babbage at sbabbage@bgov.com; Robin Meszoly at rmeszoly@bgov.com