Airline Refund, Voucher Rules Pit Passengers Against Industry
Senators want food, hotel during delays included in rule
Airlines, ticketing agents object to tougher requirements
Bloomberg Government subscribers get the stories like this first. Act now and gain unlimited access to everything you need to know. Learn more.
Airline travelers seeking refunds for canceled flights are in line for some help from the Transportation Department — but some say the new consumer protections don't go far enough.
The Biden administration proposed strengthening refund regulations by codifying the responsibility of air carriers and ticket agents to give money back if flights are canceled or significantly changed. It also aims to ensure non-expiring vouchers are given to passengers unable to travel because of a spreadable illness. Thousands answered the department's call for feedback.
"For too long, airlines have skirted federal rules requiring them to provide refunds to passengers," Democratic Sens. Maria Cantwell (Wash.), Edward Markey (Mass.), and Richard Blumenthal (Conn.) wrote to DOT. "As a busy holiday travel season approaches, we urge the Department to move expeditiously to bolster and finalize this rule."
Lawmakers, passengers, and state attorneys general told the agency to take a tougher stance against airlines in its refund rule, asking for automatic refunds, guaranteed meals and hotels during delays, and better support for disabled travelers. Meanwhile, ticket agents and airlines are seeking to scale it back, warning the rule would hurt their businesses.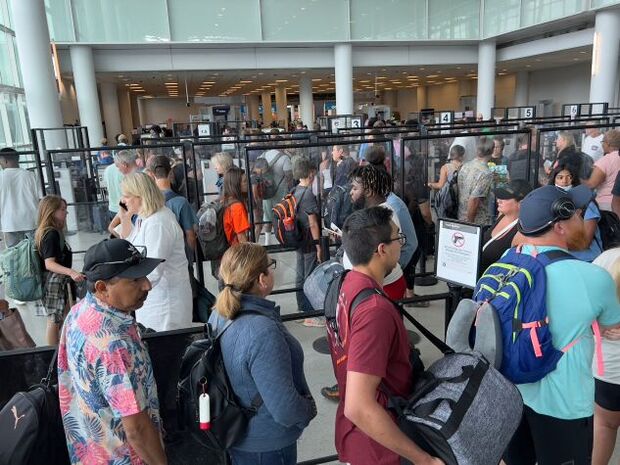 Air travel picked up this year after pandemic restrictions were rolled back, and some airlines have struggled with the increased demand. About 2.8% of flights were canceled and almost 21% delayed so far this year, and air travel complaints increased more than 380% from pre-pandemic levels.
The new rule is the department's latest effort to crack down on airlines amid the disruption. The Office of Aviation Consumer Protection assessed the most civil penalties this year in its history, and the department created a dashboard where passengers can check if airlines will provide meals, rebooking, or hotel rooms for delayed flights.
Earlier: Frontier, Foreign Airlines Ordered to Refund $600 Million
Hotel, Food Compensation
Cantwell, Markey, and Blumenthal want the agency to strengthen its proposal, asking it to require airlines to cover secondary costs, including hotels and food, when an airline cancels or delays a flight due to a problem in its control. The senators — who all sit on the Commerce, Science and Transportation Committee, which Cantwell chairs — also want to ensure passengers aren't forced to cover ticket agents' service fees when an airline cancels a flight.
Many passengers commenting in the public docket agreed, detailing experiences where airlines didn't reimburse food and hotel costs after an overnight delay.
"The government should go deeper. Airlines should be legally required to pay for meals and hotels for passengers left stranded by their delays and cancellations," one commenter from West Orange, N.J., Valentina Paiva Acosta, wrote.
A group of more than 30 state attorneys general told the department it should implement further measures to reduce the rate of cancellations and delays, including requiring airlines to sell only flights they have staff to support, and making clear that there will be fines for avoidable cancellations and delays. They also suggested additional compensation on meals, hotels, and rental cars needed during a delay or cancellation.
Wheelchair User Refunds
All Wheels Up, a nonprofit funding research on accessible air travel, supports the rule, but wants it to bolster aid to passengers with disabilities when their needs aren't met — including providing a refund for a flight missed because wheelchairs weren't brought to the passenger in a timely fashion.
When alternative transportation doesn't provide the same or similar accessibility features or seating, an automatic refund should be given, said Heather Ansley, associate executive director of government relations at Paralyzed Veterans of America.
The proposal "fails to define the air carrier or ticketing agent's obligations to provide alternative transportation if a flight is canceled or the flight itinerary is significantly changed," Ansley told the department. "Individuals with disabilities have unique circumstances that impact their ability to accept alternative transportation because it may not meet their accessibility needs."
Airline Pushback
Airlines raised several concerns with the parameters in the Transportation Department proposal, saying it wouldn't make sense for their business. Qatar Airways said it didn't support vouchers with no expiration date because it would "make it difficult for airlines to calculate revenue," while Spirit Airlines said the proposed rules weren't necessary.
International Air Transport Association, a trade group representing airlines around the world, said pursuing regulation because of a "once-in-a lifetime travel disruption caused by government-imposed restrictions is not sound policy."
"We are also concerned that airlines are being effectively turned into insurance companies, as they are made responsible to cover costs associated with events that are completely outside of their control. Why is the onus being put on the airline in situations regarding a serious communicable disease? No other mode of travel or industry is subject to similar regulations," IATA officials wrote, adding the proposal didn't consider that passengers have the option of buying travel insurance.
Cathay Pacific Airways Ltd, based in Hong Kong, said regulating airlines' ticketing arrangements for public health or unforeseen situations would discourage airlines' holistic review of passenger needs and hurt competition among airlines on ticket flexibility. Strict Covid curbs have hobbled Hong Kong's economy and hurt its outlook as a financial hub.
Hong Kong Scraps Arrival Curbs, Tracing App in Covid Shift
Agents Warn: 'It's Madness'
The department also proposed that ticket agents, which sell to passengers online or in person, be required to provide refunds of airline ticket purchase prices during cancellation or significant changes to a scheduled flight, regardless of whether the agent has gotten the money back. Travel agents are warning the department the proposed rule would put them out of business.
"The prospect of ticket agents being 'on the hook' for issuing refunds regardless of whether they possess the consumer funds in question also threatens major disruption to an air ticket distribution system that is heavily reliant on intermediaries," said Peter Lobasso, senior vice president and general counsel at American Society of Travel Advisors, which represents travel agencies small and large, such as Expedia Inc.
Kimberly Ellis, executive director of the Travel Management Coalition, agreed that airlines, not ticket agents, must be responsible for whether a customer is eligible for a refund — otherwise it creates "misplaced liability." The Travel Management Coalition represents six of the largest US travel management companies, including American Express Global Business Travel.
Travel agents don't have the cash flow to give refunds until the airline gives them the money because most travel agents make $20 on a $1,200 ticket, the company Fly For Good Inc. wrote in its comments.
"If you make the agent liable to pay while the major airline drags their feet on paying refunds, you will bankrupt almost every travel agent in America, destroying 100,000s of jobs," they wrote. "DON'T DO THIS!! IT'S MADNESS."
To contact the reporter on this story: Lillianna Byington in Washington at lbyington@bloombergindustry.com
To contact the editors responsible for this story: Robin Meszoly at rmeszoly@bgov.com; Anna Yukhananov at ayukhananov@bloombergindustry.com
Stay informed with more news like this – from the largest team of reporters on Capitol Hill – subscribe to Bloomberg Government today. Learn more.