Air Force Yanks Bomb Contract From Firm Tied to Russian Oligarch
Air Force is terminating contract to A. Finkl & Sons Co.
Bunker buster contract prompted lawmakers' questions
The Air Force plans to scrap a contract worth hundreds of millions of dollars to make bunker-busting bombs amid lawmaker complaints it had been given to a foreign-owned company with ties to a U.S-sanctioned Russian oligarch.
In an Aug. 30 letter obtained by Bloomberg Government, the Air Force appeared to agree with the lawmakers, who had said the company, Chicago-based A. Finkl & Sons Co., should have been ineligible because of its foreign ownership. Finkl's Swiss parent company, Schmolz + Bickenbach, has links to Russian billionaire and aluminum magnate Viktor Vekselberg, according to company records.
While not mentioning Vekselberg, the Air Force wrote the Government Accountability Office that it had concluded Finkl fits the criteria of a U.S. company under foreign ownership, control or influence. That made Finkl "ineligible for award."
"For this reason, on Aug. 30, 2018, the Air Force sent a notice of termination to Finkl," the Air Force said. The Air Force's next step, including whether to re-assign the contract or re-bid it, is unclear.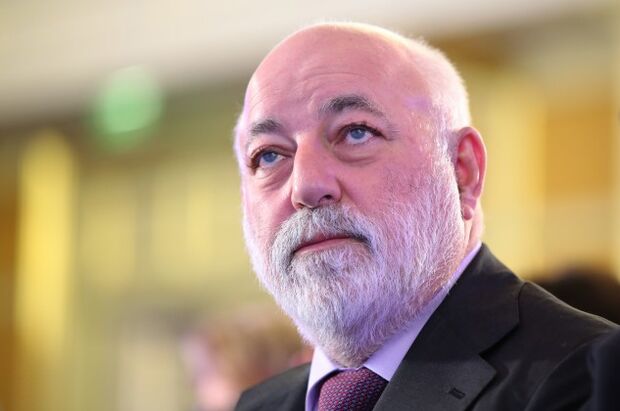 Still, the decision marks a possible turning point in a fight by a long-time U.S military bomb supplier Ellwood National Forge and a group of Pennsylvania Republican House members upset that the 2,000-employee, Irvine., Pa.-based company was passed over. Ellwood lodged a bid protest, which has yet to be ruled on by the GAO, that spurred the Air Force's review of Finkl's eligibility.
"Only the government would have come up with this kind of a pick," Rep. Mike Kelly (R-Pa.) one of the lawmakers backing Ellwood, said in a telephone interview with Bloomberg Government prior to the Air Force's decision to pull Finkl's contract . "It just makes no sense at all."
Hometown Jobs
The Air Force "turned their back" on an American company that has been working with the Pentagon since World War I and had the lowest bid, according to Kelly.
Ellwood has worked on every generation of so-called penetrator warheads to date and the contract for the 2,000-pound BLU-137 is meant to produce a more reliable replacement for an existing bomb designed to penetrate hardened shelters. But Ellwood was not among the winners when the Air Force said June 27 it would initially split almost $900 million between two other companies.
The Air Force said Superior Forge and Steel Corp., in Lima, Ohio, had won a $476.9 million contract to build 300 bomb bodies in the first year, with the possibility of making as many as 3,500 in the next four years. A similar but smaller contract worth $419.6 million went to Finkl.
Faberge Eggs
Finkl's parent company is a Swiss steel manufacturer named Schmolz + Bickenbach AG, which is partially owned by the Ukrainian-born Vekselberg. Vekselberg's wealth is estimated at more than $15 billion and he is known as an art connoisseur, with a collection of Faberge eggs said to be the largest in the world.
According to the Schmolz + Bickenbach's website, Vekselberg held an 11.34 percent stake through Liwet Holding AG and an additional 1.25 percent through Renova Innovation Technologies Ltd. as of July 31. In May, the share of the company owned by Liwet and Renova had been a larger 26.9 percent, according to a company press release.
Vekselberg and Renova Group are targets of U.S. sanctions against Russian economic interests as a retaliation to the country's actions in Ukraine and Crimea.
Sanction targets face limits on their travel and freezes on U.S.-based assets, while some top Russian state banks and companies, including oil and gas giants, are effectively barred from getting financing through American banks and markets. Vekselberg also has been linked to a $500,000 payment to an entity set up by Trump's personal lawyer, Michael Cohen, but denies any involvement in the transaction.
Schmolz + Bickenbach
Schmolz + Bickenbach itself was never subject to sanctions because Vekselberg's stakes were below the majority control level needed to trigger them. The company is aware of the Air Force's recent contract termination and is evaluating all options to respond to the decision, said a company spokesperson, who asked not to be named.
The cancellation would have very little financial impact because the award was not built into any business forecast, according to the spokesperson.
The Air Force declined to comment because of the pending GAO protest. Superior Forge did not respond to a request for comment. Ellwood company officials also declined to comment.
'Troubling,' Lawmakers Say
Nine of Kelly's Republican colleagues in the Pennsylvania congressional delegation joined him in a fiery July 27 letter sent to Air Force Secretary Heather Wilson.
"We were so surprised to learn that Ellwood was disqualified from the bidding process to produce the next generation BLU-137 penetrator bombs, despite submitting the lowest cost bid and possessing far more experience than either of the companies that won a contract," the lawmakers wrote to Wilson, who herself is a former lawmaker.
Other signatories include Pennsylvania Republican Reps. Keith Rothfus, Bill ShusterTom Marino, Brian Fitzpatrick, Glenn Thompson, Lloyd Smucker, Scott Perry, Lou Barletta, and Ryan Costello.
"Perhaps more troubling is that one of the companies that was awarded a contract is the subsidiary of a foreign-owned conglomerate, even though the request for proposal explicitly barred foreign owned, controlled or influenced companies from applying to this contract," the members wrote.
The lawmakers argued Ellwood was disqualified after offering to adjust the formula for the alloys in the bomb casings in order to save money. Casings are a key component of bunker busters, allowing the main bomb to survive intact on its way to the target.
"The company also made clear the they could meet the specifications laid out by the Air Force, so we are troubled its bid would be rejected just because Ellwood offered an alternative that would save money for American taxpayers," they wrote. "If it turns out as we suspect that Ellwood National Forge was unfairly disqualified or that one of the companies is foreign-owned, the Air Force must revisit this bidding process."
To contact the reporter on this story: Roxana Tiron in Washington at rtiron@bgov.com
To contact the editors responsible for this story: Paul Hendrie at phendrie@bgov.com; Jonathan Nicholson at jnicholson@bgov.com; Brandon Lee at blee@bgov.com