Agriculture Chair's Likely GOP Opponent Faces Primary Headache
The Republican favorite to take on House Agriculture Chairman Collin Peterson (D) in Minnesota is taking hits from fellow contenders who've refused to drop out in deference to her.
Former Lt. Gov. Michelle Fischbach has the state GOP's endorsement, which often prompts other candidates to exit the race. President Donald Trump also endorsed her, and national Republicans tout her as a top recruit.
But Fischbach still faces three opponents in the Aug. 11 primary, one who is airing TV ads against her that could complicate the party's ability to pick up one of its best opportunities. Trump carried each of the rural 7th District's 38 counties in the western part of the state and won the district by 30 percentage points, making Peterson among the most vulnerable Democrats.
Trump endorsed Fischbach in March, and she won the party endorsement in May after eight ballots at a six-hour virtual convention. She beat retired Air Force officer David Hughes, who lost to Peterson in 2016 and 2018. Fischbach has risen to the highest level of the National Republican Congressional Committee's Young Guns program for competitive candidates.
Hughes, Noel Collis, a gastroenterologist with a largely self-funded campaign, and Jayesun Sherman all continued to run in the primary after losing the endorsement. David Sturrock, a political scientist and Minnesota Republican activist, said it's unusual in the district for three candidates to choose to contest the party favorite.
Collis's self-funding has allowed him to keep up with Fischbach's fundraising, and he's aired two TV ads targeting her 20 years as a "career politician" and a Federal Election Commission complaint against her. Fischbach was first elected to the state Senate in 1996; Peterson was first elected to Congress in 1990.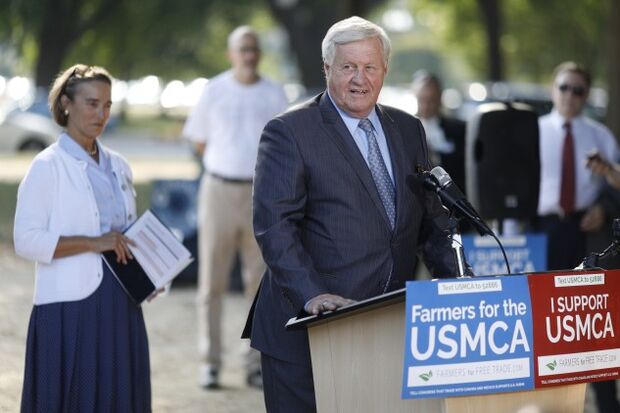 Democrats in the state see the contested primary as a sign Fischbach could lose in November. Brian Evans, the communications director of the Minnesota Democratic-Farmer-Labor Party, said Fischbach will now need to spend significant funds to get through the primary. He doesn't expect Peterson will be in trouble in the general, saying Peterson still "fits the district perfectly."
"Michelle Fischbach might have seemed like a good candidate on paper," Evans said. "A lot of her supposed strengths have not panned out."
Contentious Process
State Rep. Tim Miller (R), who ran for the seat in 2016, said the money Collis has put into the race sets this primary apart from previous races. Still, he said voters will be loyal to the party endorsement.
While Collis has funds to spend and Hughes has name recognition from his previous bids, Sturrock said Fischbach is running the most effective campaign.
"The other folks are all underdogs," Sturrock said. "I really don't see much of an opening for an opponent."
Sturrock said the endorsement process was contentious, and the Hughes campaign accused a Fischbach aide of harassing them by frequently calling during Hughes' county convention speeches. Hughes was granted a restraining order.
Hughes asked the Minnesota GOP, the 7th District GOP, and Trump to rescind their endorsements of Fischbach. He also filed an FEC complaint against Fischbach for allegedly coordinating with political action committees affiliated with groups run by her husband and her mother.
Miller said Hughes has run vigorous campaigns against his challengers in the past.
"It's contentious, but there's also a little desperation," Miller said. "He's just trying to pull out all the stops to do whatever he can to win the primary."
A Changing District
Republicans are optimistic that this year will be different against Peterson, who's won with 54% of the vote or less in each of the past three elections. The Cook Political Report rates the race as a Toss-up.
In the past, Peterson's position as the top Democrat on the Agriculture Committee was enough for him to retain substantial support in the district. But it's been more difficult recently for Peterson to separate himself from the rest of the Democratic Party, Miller said.
Miller said "there's no question" that Fischbach will topple the 30-year incumbent. "There's been other times where we say we hope, or we think," Miller said, "but this is the time."
Peterson's close calls in his past two elections against an underfunded opponent indicate that his traditional appeal as a conservative Democrat is eroding in the district, said Sturrock, who cited Trump as a helpful influence.
"Even in years when he's not been seriously tested by the usual methods of money and staff, he still had two close races," Sturrock said.
But Democrats insist Peterson is well-positioned once again for re-election, and the GOP primary is only helping.
"I'd never bet against Collin Peterson," former Minnesota DFL Chairman Mike Erlandson said. "He's done a good job representing the district, and the Republicans are stuck in a big primary fight beating each other up."
To contact the reporter on this story: Samantha Handler in Washington at shandler@bloombergindustry.com
To contact the editors responsible for this story: Kyle Trygstad at ktrygstad@bgov.com; Bennett Roth at broth@bgov.com