Addiction, Mental Health Deal Gets Push as Time Ebbs in Congress
'We have a mental health crisis,' congresswoman says
Focus is on year-end spending package, supporters say
Bloomberg Government subscribers get the stories like this first. Act now and gain unlimited access to everything you need to know. Learn more.
Lawmakers are pushing to attach bills to address addiction and mental health to a must-pass federal spending bill, hoping to reach a year-end deal before Congress adjourns.
With the November midterm elections in the rear-view mirror, the bipartisan push in both chambers seeks agreement on a measure to make it easier for doctors to prescribe addiction medication and expand federal mental health programs. In January, the new Congress, with Republicans taking control of the House, would have to start from scratch.
US drug overdose deaths have risen steadily in recent years, and suicides increased in 2021, according to the Centers for Disease Control and Prevention. The House passed a package of mental health and addiction bills (H.R. 7666) earlier this year by a vote of 402-20. The Senate never considered the measure.
"These should be bipartisan wins—we all win here," Rep. David Trone (D-Md.) said. "The message we got back from the Republican side when we passed this was: you're going to have to wait until after the election." Now that voting for the Georgia Senate seat is complete, there's no fear of either party benefiting politically from passing the legislation, he said.
Trone said Democratic leaders told him they support adding the package to the next spending bill, but Republican leaders in the Senate have yet to agree.
A spokesman for Senate Minority Leader Mitch McConnell (R-Ky.) didn't respond to a request for comment.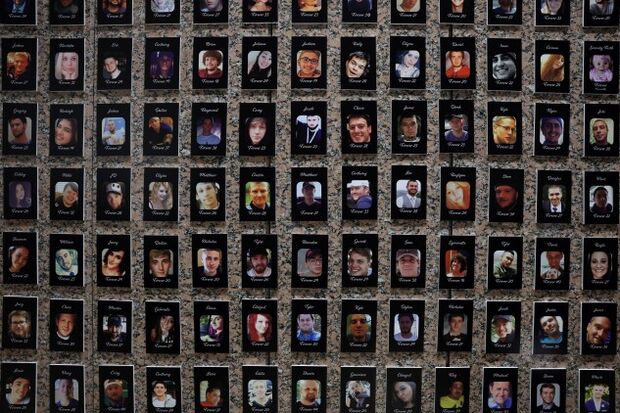 Mental Health Crisis Spurs Key Senators' Push for Year-End Bills
Congressional leaders are still negotiating the broad outline of how they'll fund the government beyond Dec. 16, Richard Shelby (Ala.), the top Republican on the Senate Appropriations Committee, told reporters Tuesday. The two sides remain tens of billions of dollars apart, he said, on how much money should be directed to federal agencies.
Congressional leaders can't agree on which riders could be attached to such a bill until they get this broad outline, Shelby said.
Appropriators Seek $45 Billion Over Biden Request for Defense
In the meantime, key lawmakers are making the case for including legislation to combat addiction.
Reps. Frank Pallone (N.J.) and Cathy McMorris Rodgers (Wash.), the Democratic and Republican heads of the Energy and Commerce Committee, are both lobbying their party leaders to get the legislation into a year-end spending package, according to committee aides familiar with the discussions.
Eyes on Senate
McMorris Rodgers faulted the Senate for the legislation languishing.
"This is very important legislation to help address the mental health crisis in our country," McMorris Rodgers said. "It passed the House with a strong vote, so it's more about the Senate right now. They need to look at this work more seriously."
The legislation would reauthorize and expand several federal mental health programs, increase access to medications for addiction treatment, and increase mental health parity enforcement.
Lawmakers on both sides of the aisle say not enough has been done in response to the record number of overdose deaths in 2021.
"We have a mental health crisis," McMorris Rodgers said. "This is the number one I'm asked about when I talk to people."
In the Senate, key committee leaders say they've been working on their own legislation to address matters such as insurance parity for mental health services and expanding the number of mental health professionals.
Ron Wyden (D-Ore.), chairman of the Senate Finance Committee, said his staff have been drafting mental health legislation in hopes of getting it into some kind of year-end package. He declined to say if Senate leaders had agreed to add it in.
Personal Connection
Lawmakers who've been pushing to get addiction-related legislation passed this year have been frustrated by a lack of action, Trone said. The issue has become more salient for lawmakers as overdose deaths rise across the country, but it hasn't been enough to prompt a significant response, he said.
"Clearly Congress hasn't addressed the issue enough," he said. "But it's changing. Everyone in Congress now has a close family member, a neighbor, a friend, an employee that's died from an overdose."
Trone's nephew died of an overdose in 2016.
To contact the reporter on this story: Alex Ruoff in Washington at aruoff@bgov.com
To contact the editors responsible for this story: Robin Meszoly at rmeszoly@bgov.com; Michaela Ross at mross@bgov.com
Stay informed with more news like this – from the largest team of reporters on Capitol Hill – subscribe to Bloomberg Government today. Learn more.