Ad Blitz Promoting Budget Package to Target Returning Democrats
Groups plan to spend tens of millions on spots in D.C. market
Some ads seek to ease concerns of moderates over package
Bloomberg Government subscribers get the stories like this first. Act now and gain unlimited access to everything you need to know. Learn more.
Lawmakers returning to the Capitol this week will be greeted with tens of millions of dollars in ads from Democratic groups pressing them to pass a budget reconciliation bill as negotiations enter the final stretch.
The ad blitz is a continuation of spending in potential battleground districts over the August recess—$110 million, according to Building Back Together, a loose coalition of progressive organizations. But while those spots were crafted to sell the massive spending package to the public, the next wave of ads is aimed at the lawmakers themselves, said Eddie Vale, a Democratic strategist serving as a spokesman for several groups sponsoring ads on the reconciliation bill.
"Now is crunch time,"Vale said. "Now that everybody is back in D.C., we're doing the big push to make sure that members are seeing paid communications that these are things their constituents want."
The $3.5 trillion spending plan supported by President Joe Biden and intended to bolster the nation's social safety net has drawn criticism from party moderates who want to reduce its price tag. There have also been intraparty disputes on what should go in the bill and how to pay for it. With narrow margins in both chambers and Republicans unified in their opposition, Democrats can afford few dissenters.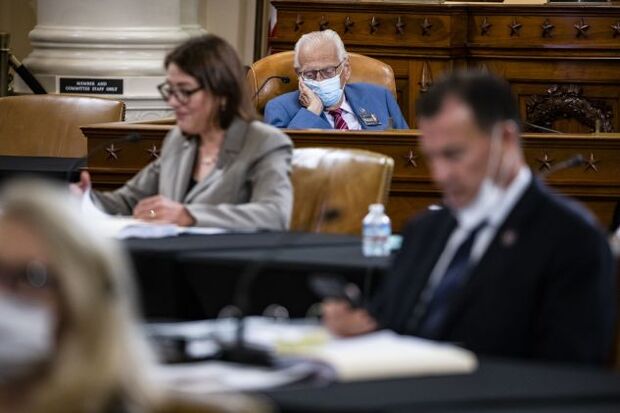 One ad from Invest in America Action, an advocacy group pushing for the reconciliation bill's passage, opens with "Hey politicians," and then warns them opposing Biden's signature bill would mean "killing millions of good paying jobs" and "raising taxes on middle class families." The ad ends with an ominous "Tell us where you really stand. We're listening."
A similar tone is struck in an ad from the League of Conservation Voters and Climate Power as part of $6 million buy in D.C. The ad urges members to pass climate change provisions, warning that "our window to act is closing, and once it does, it may never open again."
Other ads focus more on bipartisanship, seeking to ease the concerns of more moderate Democrats. An ad running nationally and in D.C. from the Service Employees International Union and immigration advocacy groups notes that a pathway to citizenship for essential workers, undocumented immigrants who came to the country as children, and those with temporary protected status has support from a majority of Republicans, based on polling from Center Forward, a group founded by moderate members of Congress.
Another ad from environmental group Evergreen Action mentions "Democrats, Independents and Republicans in small towns and big cities" are united behind a a clean electricity program.
Other ads tie the bill to delivering jobs, lowering utility bills and providing savings for families.
More to Come
The ads will be accompanied by protests and rallies around the Capitol, with dozens of immigration groups planning a march on Wednesday.
During the August break, BuildingBack Together estimated more than 1,000 events took place in-person and virtually to raise awareness of the reconciliation package and the provision it contains.
Conservative groups also aired ads opposing the spending measure during the break. The American Action Network announced in August it was running a $5 million ad campaign against the reconciliation package in 39 congressional district, according to the Washington Post.
Despite GOP attack ads, Democratic advocates said their own ads had helped continue public support for various parts of the legislation throughout the August recess. Former MoveOn executive director Ilya Sheyman said in a phone interview it was a "sea change from 2009" when Democrats faced strong opposition to the Affordable Care Act at town halls during the August break. The health care law's unpopularity was partly blamed for the subsequent losses Democrats faced during the 2010 midterms.
"The hope from advocates was to create the exact type of situation they're in, with the wind in their sails to deliver," he said.
Jamal Raad, executive director for Evergreen Action, said he expects the buys to ramp up the closer lawmakers get to voting on legislation. Even if the package is succeeds, Raad said groups will continue to run ads promoting the future impact to voters.
"There are going to be a lot of groups that are going to pivot if this passes to explain what happens to voters across the country," he said. The message will be to "tell the story of what's coming—the jobs and the clean energy economy—that will be created and will benefit your community."
To contact the reporter on this story: Emily Wilkins in Washington at ewilkins@bgov.com
To contact the editors responsible for this story: Bennett Roth at broth@bgov.com; Michaela Ross at mross@bgov.com
Stay informed with more news like this – from the largest team of reporters on Capitol Hill – subscribe to Bloomberg Government today. Learn more.