Abortion Rights Divides GOP Incumbent, Challenger in Alaska Race
Sen. Lisa Murkowski faces Trump-backed Kelly Tshibaka
Facing off in general election after top-four primary
Alaska Sen. Lisa Murkowski, who advanced to the general election Tuesday along with a Donald Trump-backed fellow Republican, is making abortion rights a key element of her re-election race in a year when many other Republicans are avoiding it.
Murkowski and her allies say they can beat Kelly Tshibaka, the former head of Alaska's Department of Administration, by painting her as extreme on abortion and other women's health issues, such as birth control.
The state's unique top-four primary system sets up a general election dynamic of two Republicans vying for the same party base. Murkowski's efforts to make abortion rights a wedge issue could help her also appeal to voters to the left on the political spectrum and provide a coalition large enough to overcome Trump's influence.
"Women are energized, and some who would not otherwise have done so will vote for Murkowski because of her support for women's choice," said Stephen Haycox, an emeritus history professor at the University of Alaska Anchorage and longtime observer of the state's politics.
Murkowski, a moderate Republican who's long supported abortion rights in the Senate, is getting a boost from heightened focus on the issue this year, according to strategists and observers in Alaska. Attention has increased since the Supreme Court in June reversed the constitutional guarantee created by the 1973 Roe v. Wade decision.
Tshibaka is an anti-abortion conservative whose support from Trump gives her a strong shot against the incumbent in a state Trump won twice by double digits. Murkowski was one of seven Republican senators who voted to convict Trump in February 2021 for inciting the Jan. 6 riot at the Capitol.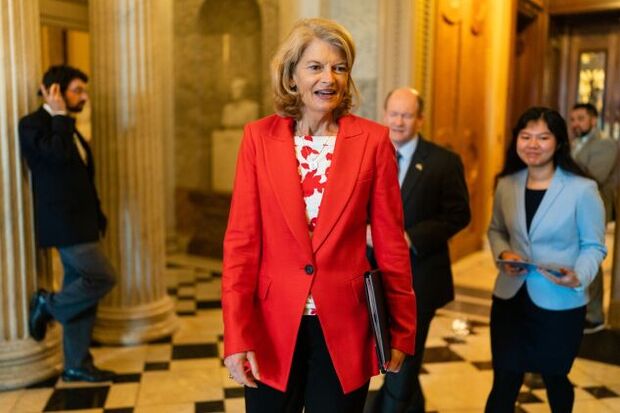 Murkowski, who's seeking her fourth full term, has battled with others in her party before and reached out to Democrats and independents for support. She overcame a GOP primary loss in 2010 by winning a write-in campaign.
This time, she's expected to be helped by Alaska's complex new voting rules, including a ranked-choice system in the general election. If no candidate receives a majority of the vote, Murkowski could benefit as the second choice of many Democrats and independents.
Murkowski led the all-party, top-four primary field with 44% of the vote as of Wednesday, followed by Tshibaka with 40%. Two more of the numerous other contenders will advance, but none had substantial support. Democrat Pat Chesbro, a retired educator, came in third place in the primary with 6.22%. The other candidates each received less than 2%.
Polling shows abortion is more important to Alaska's Democrats and independents than to Republicans, according to Art Hackney, a GOP consultant in Anchorage who's not working for any of the Senate candidates. Hackney said the issue "definitely will be in play" in the November election, and because of ranked-choice voting "it favors Murkowski."
Right to Privacy
Murkowski and Sen. Susan Collins (R-Maine) cosponsored with two Democrats a bill (S. 4688) introduced this month that would revive Roe's guarantee of abortion rights and codify it in federal law.
Jim Lottsfeldt, an Anchorage consultant and longtime Murkowski adviser, said Alaska polls consistently show strong support for abortion rights and the state constitution guarantees a right to privacy. He said the issue would be an important factor in the general election because of the clear distinction between Murkowski and Tshibaka, who wants to ban abortions.
During the Senate primary campaign, the longest running pro-Murkowski TV ad — first airing shortly after the Supreme Court's abortion decision in June — focused on Tshibaka's alleged opposition to delivering contraceptives in the mail. Lottsfeld's firm produced the ad, which was sponsored by the pro-Murkowski super PAC, Alaskans for Lisa.
Tshibaka's campaign responded by running a TV ad saying Murkowski had distorted her position by "falsely claiming Tshibaka won't protect women's access to birth control pills."
"Senator Murkowski has always had a clear and principled stance in supporting a woman's right to choose," Murkwoski campaign spokesperson Shea Siegert said. Tshibaka's opposition to abortion reflects "extremist and anti-Alaska views," Siegert said.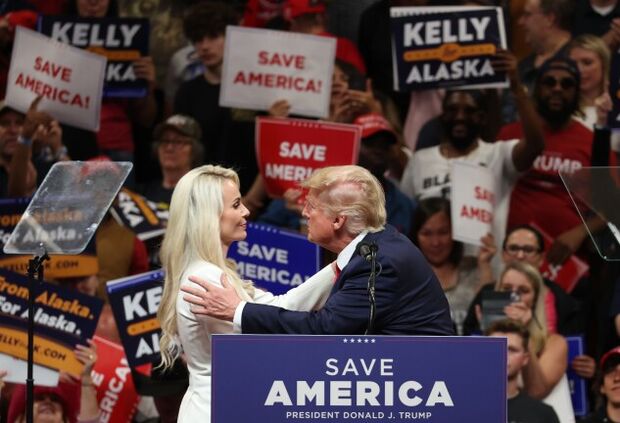 Murkowski is the one who will be seen as extreme if she "insists on making abortion the centerpiece of her campaign," Tshibaka campaign spokesperson Mary Ann Pruitt said.
"Kelly Tshibaka is pro-life and recognizes that the Supreme Court has placed any abortion regulation in the hands of the states," Pruitt said. "What this election is really about is Murkowski's 21-year record of cozying up to D.C. insiders at the expense of the people of Alaska."
She pointed to Murkowski's votes for measures favored by the Biden administration on guns, infrastructure, and the environment.
Tshibaka hired former Trump campaign advisers to lead her campaign. But Murkowski holds a significant financial advantage. Her allied super PAC is responsible for nearly all of the more than $3 million in FEC-reported outside spending in the Alaska Senate race, so far. That's before Senate Leadership Fund, a super PAC aligned with Minority Leader Mitch McConnell (R-Ky.), has spent any of its promised $7.4 million for ads backing the senator.
Murkowski's campaign committee also had spent more and had more cash on hand than Tshibaka's as of the pre-primary reports filed with the FEC on Aug. 4.
To contact the reporter on this story: Kenneth P. Doyle in Washington at kdoyle@bgov.com
To contact the editors responsible for this story: Kyle Trygstad at ktrygstad@bloombergindustry.com; Bennett Roth at broth@bgov.com