Abortion, New Map Spur Watergate-era Liz Holtzman to Run Again
At least 13 former Congress members ran for House, Senate
Candidates face campaign trail with new technology, districts
Elizabeth Holtzman was outraged when she first read that the Supreme Court might be on the verge of overturning Roe v. Wade.
The 80-year-old New York Democrat, who was once the youngest woman ever elected to the House after unseating a 25-term incumbent in 1972, determined this is the right moment for a return to politics.
She joined protests after Politico reported on a leaked draft opinion scrapping the 1973 decision — then a new congressional map provided an opportunity to run.
"I'm not sitting on the sidelines," Holtzman said in an interview. "I'm not a sidelines person."
She's not alone. Holtzman is among more than a dozen former members of Congress seeking a return to Capitol Hill on a political battleground shaken up by redistricting.
They were driven by different causes. For Dennis Ross (R-Fla.), it was Russia's invasion of Ukraine. For Donna Edwards (D-Md.), it was the Jan. 6 insurrection.
"I grew up in a military family," Edwards said. "And my dad always told us, 'You run toward the fire, not away from it.'"
Some have already lost in primaries or, in Ross' case, dropped out, while several remain viable contenders. Some have been absent one term, while others are coming back after decades.
Holtzman rose to prominence on the Judiciary Committee during its impeachment inquiry over the Watergate scandal. She's now vying for the 10th District along with a sitting congressman, a former New York City mayor, and the lead counsel during a Trump impeachment trial.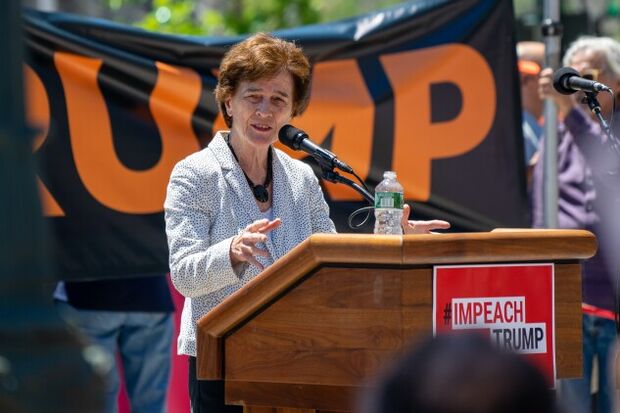 Opportunities Abound
The Association of Former Members of Congress tracks when people who join the group decide to run again.
Spokesman Grayson Moore said the number this year, at least 13, is much higher than in the past. That includes two running for the Senate: Abby Finkenauer (D-Iowa), who lost a June primary, and Kendra Horn (D-Okla.), who was nominated this week.
"After a wave election or a whole bunch of unexpected losses, you see an opportunity," Moore said.
Redistricting and a rash of retirements have also spurred a run on seats.
Ryan Zinke (R), who represented Montana before joining the Trump administration as Interior secretary, is favored to be elected again after the state added a district in reapportionment. There was an opening for Edwards when the 4th District's current congressman, Anthony Brown, launched a bid for Maryland attorney general.
Neither aided Bruce Poliquin (R), who's nonetheless taking on the Maine Democrat who unseated him in 2018, Rep. Jared Golden, in what the Cook Political Report with Amy Walter rates as a Tossup race.
Once-again-freshman Rep. Pete Sessions (R) said from his experience, former work in Congress will help these candidates. The former chairman of the National Republican Congressional Committee and House Rules Committee was unseated in 2018 but was elected in a new district two years later.
Longer Odds
Some face — or did face — longer odds. Max Rose's (D) rematch chances against Rep. Nicole Malliotakis (R-N.Y.) looked bright until a state court threw out the Democratic-drawn map, altering the partisan lean of the district.
Paul Broun (R-Ga.) and Renee Ellmers (R-N.C.) finished well behind in crowded open-seat primaries.
Florida's 10th District attracted two former members, Democrats Alan Grayson and Corrine Brown. The latter pleaded guilty to tax fraud in May and was sentenced to time served in prison. The two previously represented neighboring districts and worked well together, said Grayson, who is looking for a third stint in the House.
"I wish I could be working with her," Grayson said. "But the circumstances have not made that possible, and that's the way it goes in politics."
Ross, who was running for Florida's 15th District, dropped out of a packed primary because of fundraising issues. The newly drawn district resembles his old one, which solidified his initial decision to run.
"I felt almost a parental passion to go back and help correct what has gone wrong since I left," Ross said.
Digital Campaign
Beyond the changed politics, the comeback candidates are adjusting to more digital races. Campaigns rely heavily on an online presence, particularly since Covid-19 altered strategies in 2020.
"I don't think there's many that are knocking on doors today and getting out and actually meeting the voters," Ross said. "I think it's building an image through today's technology."
Holtzman's first campaign was defined by her grassroots and personal efforts, which contrasted with the incumbent Emanuel Celler. She said "shoe leather" was all she needed then, but also cited the technological realities of today as a challenge.
Still, despite the changes in campaigning over the past 40 years, Holtzman said this campaign is neither easier nor harder than when she started.
"In some ways, it's the same," Holtzman said. "I was the underdog when I first ran. I'm probably the underdog now."
To contact the reporter on this story: Mia McCarthy at mmccarthy@bloombergindustry.com
To contact the editors responsible for this story: Kyle Trygstad at ktrygstad@bloombergindustry.com; Loren Duggan at lduggan@bgov.com