Abortion Initiative May Be Doomed By Typos: Ballots & Boundaries

Printing errors that smooshed words together on a petition form could end a record-setting abortion-rights signature drive in Michigan.
Planned Parenthood Advocates of Michigan collected more than 750,000 signatures for a proposed ballot measure to add the right to an abortion and contraception to the state Constitution. Abortion opponents are pointing to 43 typos that could make the language unusable on the ballot and therefore ineligible to go before voters this November.
Examples of the garbled petition language: "DECISIONSABOUTALLMATTERSRELATINGTOPREGNANCY" and "OFTHEFETUS'SSUSTAINEDSURVIVALOUTSIDETHE."
There's "no legal or constitutional process for changing the text of the amendment at this late stage," said Christen Pollo, spokeswoman for anti-abortion group Citizens Supporting Michigan Women and Children. "There's no fixing this confusing gibberish."
Fred Wszolek, a GOP consultant, said the group plans to file a legal brief tomorrow urging the Michigan Board of State Canvassers to reject the petition.
"We are confident that we're in compliance with all legal requirements for ballot proposals," Darci McConnell, a spokeswoman for the ballot measure campaign Reproductive Freedom for All, said in an email. — Alex Ebert
(Was this newsletter forwarded? You don't have to rely on a thoughtful friend. Get your own. SUBSCRIBE here .)
KANSAS: RECOUNT
Foes of abortion are going to get a partial recount of the Kansas ballot initiative they lost by over 165,000 votes.
To make the recount happen in nine populous counties, one activist paid by credit card to meet most of the $120,000 required. Under Kansas law, the person seeking a recount pays for it unless it changes the outcome, in which case the cost is on taxpayers. — Associated Press
MICHIGAN: TAX BREAK
A conservative group backing a $500 million Michigan income tax break for private and religious school tuition is submitting signatures and preparing for legislative action on its initiative petitions.
Let MI Kids Learn says it submitted more than 500,000 signatures last week for the first measure in its two-bill package (S.B. 687 and S.B. 688). A spokesman said the group intends to submit the second batch of signatures this month.
If the state confirms the validity of roughly 340,000 signatures for each of the petitions the GOP-controlled state Legislature will be able to enact the bills with a vote, likely during the lame duck session after the November general election. Gov. Gretchen Whitmer (D) wouldn't be able to veto the bills due to Michigan's unique initiated petition process. — Alex Ebert
Voting Law
WISCONSIN: CONVENIENT-VOTING COMPLAINT
Think "food truck" but with absentee ballots and voter registration officials instead of tasty treats.
Racine—one of Wisconsin's few liberal strongholds—purchased and outfitted the state's first and only mobile election center van with grant money from the Center for Tech and Civic Life—a group supported by Facebook founder Mark Zuckerberg. These two facts have made the van a focal point for Republican ire claiming the practice violates a July Wisconsin Supreme Court ruling prohibiting absentee ballot drop boxes.
In a state Election Commission complaint, the Wisconsin Institute for Law & Liberty argues that putting election services on wheels violates state law because it disproportionately benefits Democrats.
The complaint could be the first step to getting the issue before the Republican-controlled state Supreme Court. — Alex Ebert
NEVADA: HAND COUNTING
Nevada voting-rights groups are asking the Secretary of State to ban hand counting as the main method of tallying ballots instead of merely regulating it. The Secretary of State is considering new rules for hand counts to ensure that counters come from different political parties and don't bring their own pens, among other requirements.
Distrust in voting machines has led some counties to consider counting ballots by hand instead, which the voting groups argue will lead to inaccuracies and delays. A statewide regulation on how those counts are conducted could be adopted later this month. — Brenna Goth
FLORIDA: VOTING LAWSUIT
A provision in Florida's 2021 voting law restricting precinct "line warming" activities is "astonishingly broad" and "unconstitutionally vague," voting and civil rights groups argue in briefs filed with the US Court of Appeals for the 11th Circuit.
The appeals court stayed a district court's order requiring preclearance before Florida enacts new laws governing "line warming," absentee ballot drop boxes, and third-party voter registration groups. Arguments in the Florida case are scheduled for Sept. 15 in Miami. —Jennifer Kay
ALASKA: WHO'S THIRD?
The winner of today's special election to fill a vacancy in Congress just might be a runner-up.
Alaska's new voting system lets people declare their backup preferences of who to send to Washington. If the person with the most votes pulls less than a majority (50% plus one), election officials go back to the ballots of those who wanted the last-place finisher to win. Their second-choice picks then get tallied to decide which of the leaders comes out on top.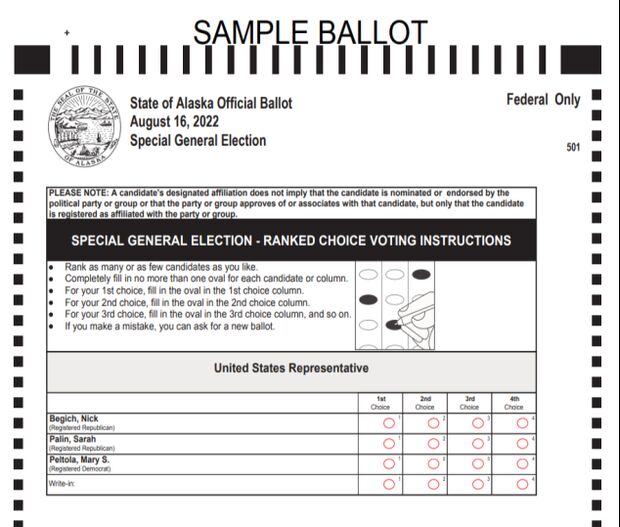 Running for the seat are Democrat Mary Peltola, a former state representative; Republican Sarah Palin, who served a partial term as Alaska governor and was a vice presidential nominee; and Republican Nick Begich, grandson of the Democratic congressman succeeded in office by Rep. Don Young (R), whose term will be completed by the winner of today's election.
The winner won't be known until at least Aug. 31 — 15 days after the election, when Alaska election officials certify the results. — Greg Giroux
Read more: Cheney, Palin Face Verdicts From Republican Voters
Bloomberg Election Risk Index
Former President Donald Trump and his loyalists are supporting people who deny the results of the 2020 election for governor in five key states this fall, more than enough to tilt a close 2024 presidential race away from the duly elected winner.
Tight races this November in Arizona, Michigan, Nevada and Wisconsin, and a possible Republican win in Pennsylvania, will determine who is in charge of making election decisions in states where the White House is won or lost. Here's the state of play in those and other states, complete with the underlying data: Bloomberg Election Risk Index.
Razor's Edge Races
Another in a series spotlighting close congressional contests after redistricting changes.
Today: Michigan's 3rd District
Where Is It? West. The district is dominated by most of Kent County in and around Grand Rapids.
Who Drew It? Michigan's independent redistricting commission
2020 Presidential Vote: Joe Biden 53%, Donald Trump 45%
Demographics: 70% White, 11% Black, 11% Hispanic, 3% Asian
Cook Political Report Rating: Leans Democratic
Nominees: Hillary Scholten (D), John Gibbs (R)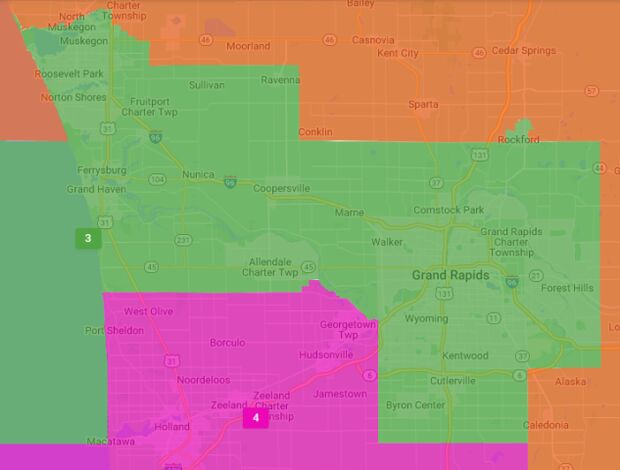 What to Watch: Michigan's redistricting, which was conducted by a commission for the first time, converted the 3rd District from a mildly Republican-leaning area that Trump won by 3.2 percentage points in 2020 to a Democratic-leaning constituency that Biden would have carried by 8.5 points. Rep. Peter Meijer, the only first-term House Republican who voted to impeach Trump after the Jan. 6, 2021, attack on the Capitol, was ousted in the Aug. 2 primary by Gibbs, a former Housing and Urban Development official who has Trump's backing. Lawyer Scholten is making a second bid for the seat after losing 53%-47% to Meijer in 2020. — Greg Giroux
Next edition: Virginia's 7th District
Caught Our Eye
Resources
Add Us to Your Inbox
SIGN UP for Ballots & Boundaries, your check-in on ballot initiatives, state voting laws, and redistricting.
To contact the reporters on this story: Alex Ebert in Madison, Wisconsin at aebert@bloomberglaw.com; Greg Giroux in Washington at ggiroux@bgov.com; Jennifer Kay in Miami at jkay@bloomberglaw.com; Brenna Goth in Phoenix at bgoth@bloomberglaw.com
To contact the editor responsible for this story: Katherine Rizzo at krizzo@bgov.com