Abortion Ad Money Flows Mainly to Michigan: Ballots & Boundaries
.

We're watching six states where ballot questions will demonstrate the depth of sentiment about abortion rights in post-Roe v. Wade America.
Michigan stands out as the center of the bullseye for persuasion campaigns.
Anti-abortion groups including Citizens to Support Michigan Women and Children have spent at least $23.3 million to tell voters why they should reject that state's right-to-abortion amendment (Proposal 3), according to the ad-tracking company AdImpact. Compare that to $17.9 million in advertising by
abortion-rights advocates.
Those ad campaigns dwarf the balance sheets for a similar ballot question in California. Backers of that state's effort to place abortion rights in the state Constitution (Proposition 1) has raised more than $9 million and the opposition has raised less than $300,000, according to campaign disclosures.
Financial parity was never in the cards, said Catherine Hadro, spokeswoman for the No on Proposition 1 campaign. "We have always known that we would be outspent by the 'yes' campaign," she said.
For a flavor of the kind of ads the money in Michigan and elsewhere is buying, and a rundown of the differences among the abortion ballot questions, READ MORE from Alex Ebert.

(Was this newsletter forwarded? It's free! GET YOUR OWN)
OKLAHOMA: MARIJUANA ELECTION
Nope, not too early to be thinking about spring ballots.
Gov. Kevin Stitt (R-Okla.) has set a March 7, 2023 election for voters to decide on legalizing marijuana and tax sales at 15%. The State's Supreme Court had invalidated the proposition (Question 820) from the November ballot. –Tiffany Stecker
Razor's Edge Races
Highlighting close contests worth watching after crucial redistricting changes.
Today: New York's 17th
Where Is It? Hudson Valley north of New York City. The district includes all of Rockland and Putnam counties and parts of Westchester and Dutchess counties.
Who Drew It? Court-appointed special master Jonathan Cervas, a postdoctoral fellow at Carnegie Mellon University.
2020 Presidential Vote: Joe Biden 54%, Donald Trump 44%
Demographics: 64% White, 20% Hispanic, 7% Black, 5% Asian
Cook Political Report Rating: Toss-up
Nominees: Rep. Sean Patrick Maloney (D), state Assemblyman Mike Lawler (R)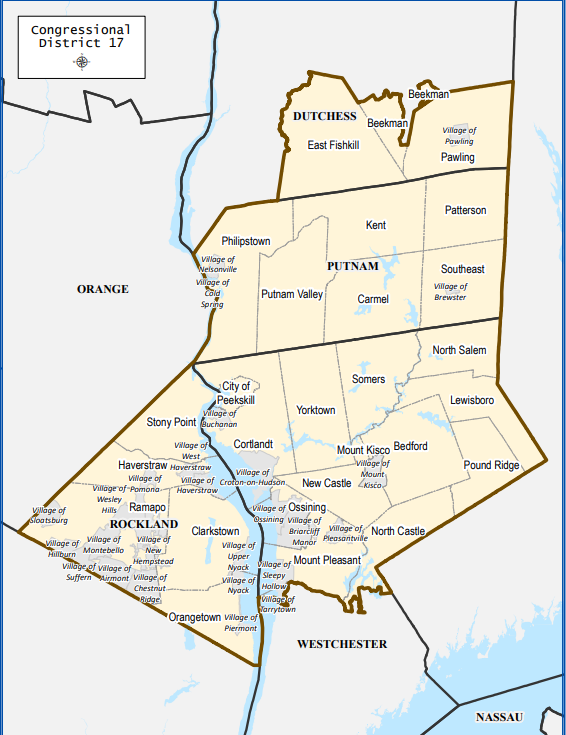 Why You Should Watch: Maloney is trying to save his own job as he also has the unenviable task of leading the Democratic Congressional Campaign Committee, the House Democrats' campaign arm, in a difficult midterm election climate for his party. The nonpartisan Cook Political Report with Amy Walter on Oct. 24 moved the Maloney-Lawler race into the "toss up" category from "Lean Democrat." While the redrawn 17th District is more Democratic-leaning than the district where Maloney was re-elected in 2020,ab most of its residents aren't Maloney's current constituents. Lawler and Republican groups have hammered Maloney for saying in 2018 he would end cash bail. Maloney has linked Lawler to the Donald Trump-aligned "extreme MAGA wing" of the Republican Party and underscored their differences on abortion and gun policy. – Greg Giroux
Election Law
FLORIDA: OVERWHELMING REQUESTS
For the last several months, a persistent group of election skeptics has been inundating local election officials with public records requests, seeking data that they believe will prove that the 2020 presidential election was stolen.
The requests are emanating from a single home in central Florida, targeting each of the more than 3,000 counties in the US and demanding records on voting machines and email communications between election officials and vendors of those machines. Election officials say the deluge is taking valuable time away from preparations for the upcoming midterms, which will determine who controls Congress and oversees the vote count in 2024. READ MORE from Margi Murphy and Jack Gillum
NEVADA: HAND COUNT PLANS
The Nevada Supreme Court curtailed plans for a hand count of paper ballots in Nye County's Nov. 8 election. Nye County won't be able to livestream the hand count and read the ballot selections out loud, under the court's order.
The ACLU of Nevada challenged the procedures in a lawsuit, arguing results could be improperly released before voting is over. Nye County plans to pilot a hand count alongside use of electronic tabulators. — Brenna Goth
PENNSYLVANIA: GO AHEAD
Pennsylvania counties are allowed to contact voters to correct errors in mail-in ballot. So says the state Supreme Court, which also agreed to again consider whether mail-in ballots have to be counted even if they arrive with incorrect or missing handwritten dates on their outer envelopes.
Republicans had failed to persuade a lower-court judge to issue an injunction in time to prevent ballot curing ahead of the Nov. 8 election, and a 3-3 high court deadlock kept that decision in place. In a separate case, the state Supreme Court granted a request by the Republican National Committee, the state party and several voters who sued several days ago, asking it to clarify the issue of undated ballot envelopes. — Associated Press
Caught Our Eye
Resources
Add Us to Your Inbox
SIGN UP for Ballots & Boundaries, your check-in on ballot initiatives, state voting laws, and redistricting.
To contact the reporters on this story: Alex Ebert in Madison, Wisconsin at aebert@bloomberglaw.com; Greg Giroux in Washington at ggiroux@bgov.com; Brenna Goth in Phoenix at bgoth@bloomberglaw.com; Jennifer Kay in Miami at jkay@bloomberglaw.com; Tiffany Stecker in Sacramento, Calif. at tstecker@bgov.com