A Pot Legalization Election Like No Other: Ballots & Boundaries
Bloomberg Government subscribers get the stories like this first. Act now and gain unlimited access to everything you need to know. Learn more.

There's no reason for Oklahoma's 2.2 million registered voters to show up at the polls on Tuesday unless they feel strongly about recreational cannabis (and/or the tax money full legalization might bring).
The statewide ballot has no candidates and no other questions —a twist that makes turnout hard to predict. Another layer of uncertainty: Oklahoma already legalized medical marijuana, and has 369,000-plus card-holding therapeutic cannabis consumers.
"It remains to be seen whether those who are already legally allowed to consume marijuana will be motivated enough to vote for its recreational usage," said Matt Hindman, an associate professor of political science at the University of Tulsa.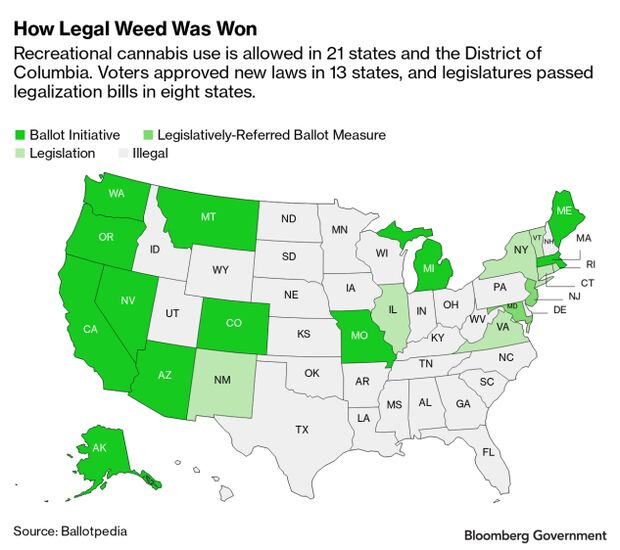 There'll be a lot for strategists to evaluate. Will Oklahoma demonstrate the pot issue's potency? Does odd timing and a single topic depress voter participation? And what about demographics?
This election's voters "might skew a little younger" than usual, said Michael Crespin, a professor of political science at the University of Oklahoma. Tiffany Stecker explains the details.
(Was this newsletter forwarded? It's free. SUBSCRIBE and get your own.)
More Ballot Questions
OHIO: Abortion Amendment
A campaign to place abortion and contraception rights into the Ohio Constitution cleared a key legal hurdle when Ohio Attorney General Dave Yost—an abortion opponent—approved summary language for the proposed fall 2023 ballot measure.
There are "significant problems with the proposed amendment, and if adopted, it will not end the long-running litigation on this topic, but simply transform it," Yost wrote in his letter approving the language. "In this matter, I am constrained by duty to rule upon a narrow question, not to use the authority of my office to effect a good policy, or to impede a bad one."
Few citizen-initiated measures get to the Ohio ballot. The coalition of abortion providers and physicians behind this proposal next needs language approval from the Ohio Ballot Board, and then must get more than 400,000 registered voter signatures coming from half of Ohio's counties—most of which are rural and sparsely populated. — Alex Ebert
MISSISSIPPI: Everything *BUT* Abortion
Starting in the 1990s, Mississippi had an initiative process that allowed people to put proposed state constitutional amendments on the ballot. The state Supreme Court ruled in 2021 that the process was invalid. Now there's an effort to bring it back, with an asterisk.
Republican lawmakers are advancing a proposal that would restore the ability to enact public policy through statewide ballot initiatives, but explicitly state that only state legislators could change abortion laws. — Associated Press
KANSAS: Abortion Changes
After last year's dramatic vote on abortion rights in Kansas, abortion foes in the Legislature are regrouping and looking for ways to do incrementally what couldn't be done all at once.
A state Senate-approved bill would require a doctor to be physically present to write a prescription for pregnancy-ending pills — banning online or teleconference prescribing. Another would make abortion providers ineligible for a state malpractice insurance fund. — AP
SOUTH DAKOTA: Gender Neutrality
Voters will decide in 2024 whether to amend the South Dakota Constitution to include gender-neutral language.
"It's time for our constitution to be updated to reflect the leaders we have elected in our great state," Republican Rep. Jess Olson said before the final vote. — Keloland TV

MARYLAND: DECISION NEAR
Maryland Sen. Ben Cardin says he'll decide as soon as this month whether he'll run for a fourth time. And if the 79-year-old opts to hang up his hat, his fellow Democrats won't have to look far for alternatives.
Rep. David Trone said he's interested, and previewed a campaign based on his "experience." Rep. Jamie Raskin didn't rule it out but said he's been more focused on his ongoing treatment for lymphoma.
Sen. Chris Van Hollen (D-Md.) showcased another potential candidate when Prince George's County Executive Angela Alsobrooks was his guest for the State of the Union address. Her majority-black D.C. suburb has been decisive in statewide Democratic primaries. — Zach C. Cohen
House '24
DEMOCRATS: RETREAT REGROUPING
Democrats should especially look to places like New York and California to do better in 2024 than they did in their majority-losing election of 2022, Rep. Ami Bera (D-Calif.), vice chair for outreach for the moderate New Democrat Coalition, said in a press conference on the sidelines of the caucus's retreat in Baltimore.
Bera name-checked former California Assemblyman Adam Gray (D), who will once again try to defeat freshman Rep. John Duarte (R-Calif.) after their contest was decided by less than half a point, and praised Adam Frisch (D), who's running again against Rep. Lauren Boebert (R-Colo.).
The Boebert-Frisch match-up was the narrowest House race of last year's cycle. This time around, "his calls are getting returned, I'm sure," Bera said in an interview. — Zach C. Cohen
Voting Law
SCOTUS: Tell Us More
The US Supreme Court wants to know more about the North Carolina Supreme Court's unusual decision to rehear a Republican challenge to a congressional map.
The high court is giving parties in Moore v. Harper until March 20 to file briefs on "the effect on this Court's jurisdiction" of the North Carolina Supreme Court's Feb. 3 announcement it would revisit its decision to invalidate a map from the Republican-controlled state legislature and adopt an interim map drawn by a lower court.
Under that map, Democrats and Republicans won seven districts apiece, while the legislature's preferred map could elect 10 or 11 Republicans. The North Carolina Supreme Court agreed to rehear the case after Republicans won a 5-2 majority on the state Supreme Court in the 2022 election and overturned the 4-3 Democratic majority that said the legislature's map was so partisan it violated the North Carolina Constitution.
The North Carolina Supreme Court's rehearing is scheduled for March 14. — Greg Giroux
GEORGIA: Who Votes and How?
Georgia Republicans are considering election legislation that would ban ballot drop boxes and that could make it easier for residency challenges to knock thousands of people from the voter rolls.
The sponsor says the bill would ease voter concerns and stop counties from interpreting existing law in different ways. Civil rights groups say it would lead to mass disenfranchisement. — (AP)
Resources
Add Us to Your Inbox
SIGN UP for Ballots & Boundaries to keep up with congressional campaign trends, ballot initiatives, state voting laws, and redistricting.
To contact the reporters on this story: Tiffany Stecker in Sacramento, Calif. at tstecker@bgov.com; Zach C. Cohen in Washington at zcohen@bloombergindustry.com; Greg Giroux in Washington at ggiroux@bgov.com; Alex Ebert in Madison, Wisconsin at aebert@bloomberglaw.com
To contact the editors responsible for this story: Katherine Rizzo at krizzo@bgov.com; Bennett Roth at broth@bgov.com
Stay informed with more news like this – from the largest team of reporters on Capitol Hill – subscribe to Bloomberg Government today. Learn more.