Futuristic Washington-to-NYC Train Gets Boost in Spending Bill
Congress is poised to vote today on spending legislation that would provide $86.5 billion for transportation projects, including a $10 million downpayment for a high speed, magnetic levitation train between Washington and Baltimore that could eventually extend to New York City.
The futuristic floating train, being pushed by Central Japan Railway Co. and its U.S. affiliate Baltimore Washington Rapid Rail, would travel at 311 miles per hour and potentially shave travel time between New York and Washington to an hour.
NYC-to-Washington Maglev Train Tempts Congress With 1-Hour Trips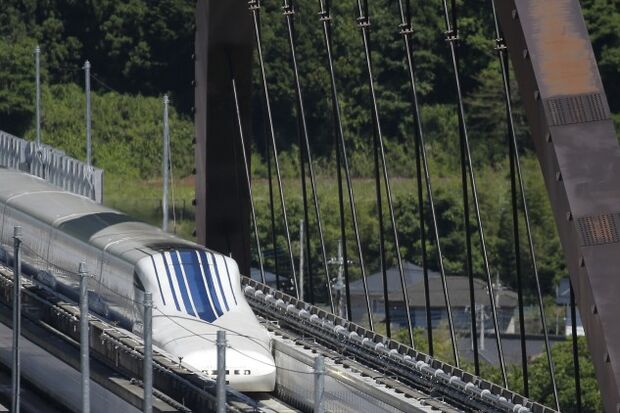 Overall in fiscal 2019, the Transportation Department would be funded at $86.5 billion and Housing and Urban Development at $44.2 billion. Their combined discretionary funding is $71.1 billion — $1 billion more than in the previous year.
The T-HUD portion of the funding bill would spend more than the administration wanted on infrastructure and includes language directing how and when transportation money is used. Some lawmakers have seen Trump's Transportation Department as interpreting less specific language in ways that meet the administration's priorities, particularly when it comes to spending on projects in rural areas at the expense of urban needs.
The measure, released overnight, would continue grants under the Better Utilizing Investments to Leverage Development, or BUILD program, which President Donald Trump's budget sought to zero out. It includes $900 million — $600 million less than enacted in fiscal 2018 — to be evenly divided between urban and rural areas.
The legislation also would provide $3.3 billion in HUD Community Development Block Grants and $1.25 billion for the HOME program, both of which Trump's budget would have scrapped.
Chinese Connection
Absent from the bill are restrictions on the use of Federal Transit Administration grants to acquire rail cars and other "rolling stock" from companies incorporated or located in the U.S. and that receive subsidies from countries with non-market economies that are subject to monitoring by the U.S. Trade Representative. The intended target was CRRC Corp., which receives subsidies from China.
The omission prompted criticism from the Rail Security Alliance, a freight rail industry group.
"Taxpayer dollars should not be used to subsidize the activities of a Chinese state-owned enterprise that seeks to undermine American security and innovation," Erik Olson, the group's vice president, said in an email. "We are disappointed that Congress ultimately decided to not include this common sense provision in the final bill despite being passed overwhelmingly by both chambers of Congress. We look forward to working with members on both sides of the aisle to develop alternative proposals moving forward."
Capital Investment Grants would be funded at $2.6 billion, which would cover all signed Full Funding Grant Agreements and allows additional money for projects in the development pipeline. Lawmakers stipulate that the Transportation Department would have to obligate 85 percent of those funds by Dec. 31, 2020.
Aviation programs would be funded at $17.5 billion, which is $549 million less than in the previous year but still $1.3 billion more than Trump requested, according to a House Appropriations summary document. The Airport Improvement Program would receive an additional $500 million for airport infrastructure.
"This is not a deal I would have made on my own, but that's not how deals work. Everyone gave something," Senate Appropriations Committee Vice Chairman Patrick Leahy (D-Vt.) said in a statement. "Together, we reached a bipartisan agreement that not only makes responsible investments to secure our borders, but invests in the American people by supporting scientific research, rebuilding our nation's infrastructure, and investing in rural communities."
To contact the reporter on this story: Shaun Courtney in Washington at scourtney@bgov.com
To contact the editors responsible for this story: Paul Hendrie at phendrie@bgov.com; Robin Meszoly at rmeszoly@bgov.com; Jonathan Nicholson at jnicholson@bgov.com