2022 Politics Weigh on House GOP Debating Revival of Earmarks
House Republicans mulling whether to lift 2011 earmark ban
Concerns remain about optics around earmarks, spending
House Republicans' internal deliberations about whether to support the return of earmarks threaten to affect the party's ability to win back control of the chamber in 2022.
Democrats, who control both the House and Senate, are working to allow lawmakers to once again propose federal spending for specific issues in their districts after a decade-long ban. House Republicans would be free to participate, but they'd have to eliminate their own party's earmark prohibition, put in place in 2011.
The change has set off a fierce debate within the GOP conference, with practical and political concerns on both sides of the argument.
Rep. Steve Chabot (R-Ohio), whom House Democrats targeted in the last election, said every Republican "is going to have to think long and hard" about the electoral impacts earmarks could have.
The political dilemma: Declining to sign on opens a potential line of blanket criticism — already being used in the aftermath of the coronavirus relief package — that Democrats are the party of wasteful spending. But touting the local projects a member got financed is traditionally one of the strengths incumbents bring into their re-election campaigns, so not taking advantage of this funding opportunity could weaken Republicans' case to voters in the midterms.
House Republicans have met several times in recent weeks to discuss them but as of Monday morning hadn't decided on whether to end their own ban. Republican Whip Steve Scalise (R-La.) said there's no timeline yet for when Republicans must decide.
Rep. Patrick McHenry (R-N.C.), said while he personally won't request earmarks, he estimated about 60% of members supported bringing them back.
"There are legitimate national infrastructure pieces that don't get the proper attention because this branch of government has disarmed itself," he said.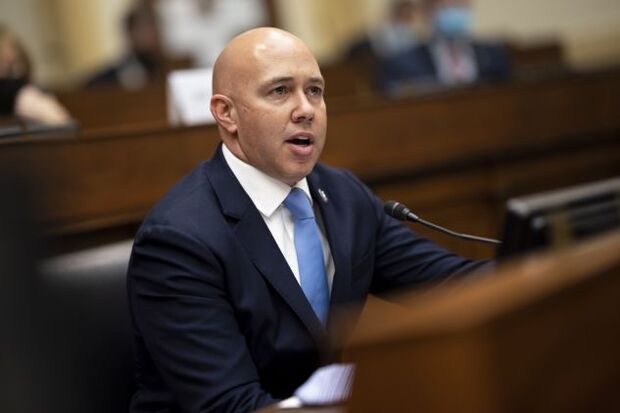 Rep. Brian Mast (R-Fla.), who faced a competitive challenge in 2020, said there's "no doubt" turning down the chance to participate in earmarks would haunt Republicans in the midterms. He also decried the current process, which hands more power to the administration's Office of Management and Budget.
"We appropriate dollars for a specific project, but then we all have to go back to OMB and beg that they send the money we appropriated for something," he said in an interview. "It's wholly stupid. It's wholly Congress giving away the authority we're supposed to have."
Vocal Opposition
Republicans supportive of congressional-directed spending say the process needs to be more transparent and less open to fraud than the earmarks of the 2000s.
Those opposed to them have been vocal: The House Freedom Caucus and Republican Study Committee announced they won't back an earmark return because of concerns about past abuses resurfacing, as well as their effect on increasing the national debt.
"There are 25 trillion reasons to be against earmarks," said Rep. Jim Jordan (R-Ohio.), a House Freedom Caucus founding member and Judiciary Committee ranking member, who said he's found other ways to ensure funding for priorities in his district, including the last tank factory in the country.
Supporters of lifting the ban say it's disingenuous to link earmarks to federal spending, which has risen since the ban was put into place. But groups advocating for limiting federal spending, such as the Club for Growth, have consistently opposed earmarks, even when former President Donald Trump indicated his support for them.
Political Argument
David McIntosh, Club for Growth's president and a former member of Congress during the earmarking era, said he's warning lawmakers that returning to earmarks could open them up to attack ads if items deemed to be frivolous pass within a larger bill.
In addition, McIntosh said Republican leadership will lose the ability to claim the high ground on limiting federal spending.
"It would be very hard for [House Republican Leader] Kevin McCarthy to make a big pitch that Republican should get back the majority in 2022 when they sign up with the Democrats to restore some of the most swampy feature of how government work in the past," he said.
The optics among voters might be changing. In 2018, a quarter of Republican registered voters were opposed to earmarks, while 38% were in favor, according to a Morning Consult/Politico poll. And a declining number of U.S. adults say they think the federal budget deficit is a big problem, according to data from Pew Research.
Democrats are moving ahead with earmarks, with or without Republicans. A proposal released by House Appropriations Chair Rosa DeLauro (D-Conn.) would ban earmarks for for-profit companies and spending for earmarks would be capped at 1% of discretionary funding. Requests would be made public, searchable, and limited to 10 per member.
DeLauro said there's "a lot of interest" among Republicans with whom she's spoken. Unlike her Senate counterpart Patrick Leahy (D-Vt.) she has yet to commit to splitting funding designated for earmarks between Democrats and Republicans.
"Let them sort out where they are," she said.
What to Do
House Republicans have debated where they stand on earmarks since before the ban started. Rep. Glenn Thompson (R-Pa.) said the initial ban was never supposed to be permanent.
"The promise made was, 'Let's pump the brakes on it and then within six months we'll figure out how to make it better,'" he said, adding the lack of follow-up was a "failure of leadership."
Republicans came close to partially lifting the ban in 2016, but then-Speaker Paul Ryan (R-Wis.) killed the plan at the last minute.
Rep. Thomas Massie (R-Ky.), who came to Congress in 2013, said his sense was leadership at the time felt even if their members supported some earmarks, it wouldn't fly with voters.
"I think they felt it was bad optics," Massie said. "It just seems too toxic."
To contact the reporter on this story: Emily Wilkins in Washington at ewilkins@bgov.com
To contact the editors responsible for this story: Kyle Trygstad at ktrygstad@bgov.com; Bennett Roth at broth@bgov.com