2020 or 1968: Campaign Ads Echo Another Fraught Election Year
Bloomberg Government subscribers get the stories like this first. Act now and gain unlimited access to everything you need to know. Learn more.
More than a half century after his grandfather, Robert Kennedy, was assassinated while seeking the presidency, Rep. Joe Kennedy III has been airing a campaign ad highlighting the current civil unrest that has echoes of the turbulent election year of 1968.
The television spot running this month on TV stations across Massachusetts shows peaceful demonstrators facing heavily armed police and soldiers, as Kennedy declares that "we will not return to normal because normal was broken and this country was built to be something better."
The protests and debate over police changes following the May 25 death of George Floyd, an African American, in police custody in Minneapolis, are becoming fodder for 2020 campaigns. Political ads referring to the unrest have run in about a dozen Senate and House primary contests, as well as the race between President Donald Trump and former Vice President Joe Biden, according to data from Advertising Analytics, a firm that tracks political ads.
About $1 million worth of TV ads on the issue ran between May 25 and June 15. While those spots account for only a fraction of the money spent on paid media, they may be a trial run for broader messaging on the issue. They also underscore how differently the two parties are treating the unrest to appeal to their supporters.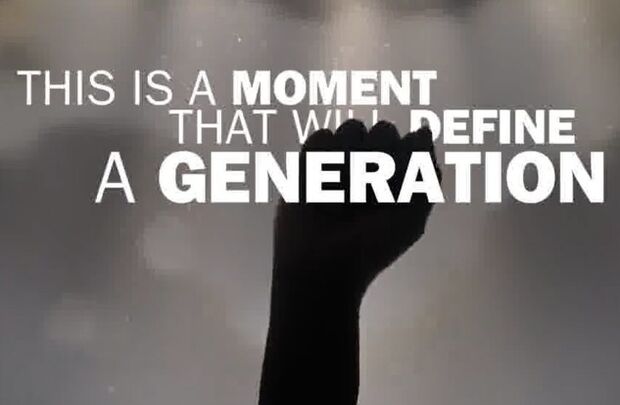 While Democrats like Kennedy see a movement for social justice, some Republicans see a call to arms to defend law and order. The bookend to Kennedy's message in a Democratic primary in a blue state is an ad from Bob Hamilton in a Republican primary for an open Senate seat in Kansas. "Put looters behind bars," Hamilton tells voters. "Stop radicals from defunding the police and call out the liberal media for stoking it all."
Marjorie Greene, who came in first in a June 9 Republican House primary in Georgia, had perhaps the most extreme version of the law-and-order message. She sponsored an ad in which she toted a rifle and promised to battle "Antifa terrorists," who she says "have declared war on America — looting and burning our cities." GOP leaders, citing racist remarks she made in Facebook videos, have distanced themselves or outright endorsed Greene's opponent in the Aug. 11 runoff
"It makes sense to try to harvest the news agenda to activate your constituency," said Kathleen Hall Jamieson, professor of communication at the University of Pennsylvania. While this may work for candidates facing primaries, dynamics may change before November, making it hard to predict how important these issues will be in the general election, Jamieson, who's studied campaigns for decades, said in a phone interview.
Echoes of Nixon
The law-and-order theme has been a familiar refrain for the Republicans dating back to the turmoil of the 1960s, when Richard Nixon embraced it to help win the presidency in 1968. Trump has echoed Nixon in tweets and in a Rose Garden ceremony Tuesday when he signed an executive order on policing standards.
"Americans know the truth: Without police, there is chaos; without law, there is anarchy; and without safety, there is catastrophe," the president said.
Trump's campaign hammered on this message with a TV ad aired this month that warned "Antifa is destroying our communities — rioting, looting." The ad shows Biden taking a knee against a backdrop of burning buildings. Local law enforcement officials say there is little evidence that Antifa, a loose group of anti-facist protesters, were the prime instigators of violence following Floyd's killing.
But Trump's law-and-order message will be a tougher sell today than it was for Nixon five decades ago, according to Democrats, who point to polls reflecting shifting attitudes about police bias, especially among White Americans.
"Trump is running as a Nixonian 'law and order' candidate, but this isn't 1968 — when Nixon was running as a challenger to succeed the retiring Lyndon Johnson," Democratic media consultant Rich Davis said in an email. "If an incumbent fire chief makes the case he's the candidate of firefighting, it's less effective delivered while standing in a pool of flames waving a blowtorch."
Democratic messages have homed in on blaming Trump's leadership for chaos. "As Americans stand up for justice, Donald Trump divides and inflames," one of the latest ads sponsored by the pro-Biden super PAC Priorities USA says. It shows police clearing protesters before Trump's photo op holding a bible in front of a church in Washington's Lafayette Square.
Biden's campaign also has been buying millions of dollars worth of online ads, many with fundraising messages targeted at supporters. "We're counting on your help to send a powerful message to this president that we've had enough of his hatred, division and calls for violence," says the text of one of Biden's latest Facebook ads, presented above a picture of Trump and a line of police in riot gear.
One Republican Senate candidate, John James, has tried a campaign message in Michigan clearly meant to resonate beyond polarized primary voters. James, who's Black, has been running an ad since early June in which he faces the camera and emphasizes agreement that Floyd's killing was evil but looting and burning are criminal.
"I believe that Americans desperately want to come together," says James, who is expected to be the GOP nominee against Sen. Gary Peters(D). "I believe that love is stronger than hate."
To contact the reporter on this story: Kenneth P. Doyle in Washington at kdoyle@bgov.com
To contact the editors responsible for this story: Bennett Roth at broth@bgov.com; Kyle Trygstad at ktrygstad@bgov.com
Stay informed with more news like this – from the largest team of reporters on Capitol Hill – subscribe to Bloomberg Government today. Learn more.